Chinese Maker Of Nike Sneakers Told To Provide Past Social Insurance To Workers As Factory Strike Enters 10th Day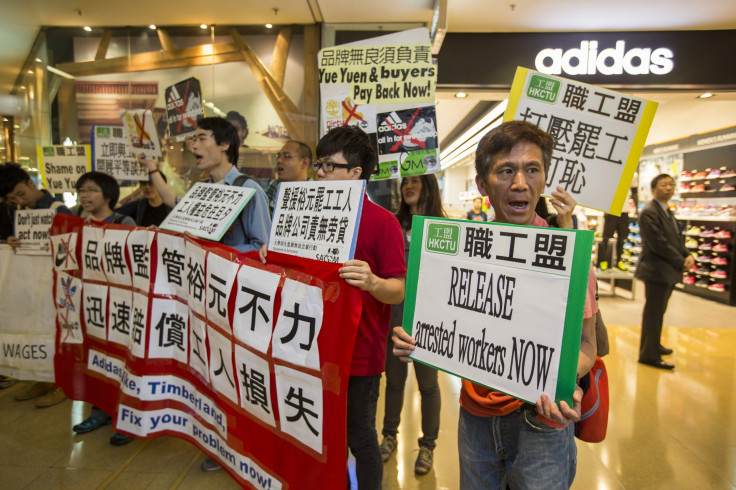 Manufacturers in the Pearl River Delta Economic Zone, just north of Hong Kong, are facing growing labor unrest as Chinese workers flocking to city jobs pressure companies to keep costs low and prevent foreign customers from moving to rival production centers.
Thousands of factory workers for Taiwanese footwear maker, Yue Yuen Industrial Holdings Ltd. (HKG:0551), which makes shoes for Nike, Crocs, Adidas and Timberland, walked off their jobs on April 14 in the southern city of Dongguan.
The Dongguan City Union, a local affiliate of the official Guangdong Federation of Trade Unions that represents workers in the city of eight million, has called for an election of worker representatives to advance negotiations with Yue Yuen, according to a letter obtained by China Labor Watch, a nonprofit group based in New York City.
"Although it did not meet Yue Yuen workers' expectations, this official document explains that according to law, a factory must reimburse social insurance as long as workers demand it," China Labor Watch's executive director, Li Qiang, said in a statement on Thursday.
The Bureau of Social Insurance, which oversees the implementation of a three-year old law requiring employers to pay pension, health and injury benefits, also signed the letter and added that Yue Yuen must meet the workers demand to catch up with their past unpaid social insurance.
Workers have complained their employer isn't paying the required 11 percent of monthly salaries into pension plans as required by social security regulations. The company also hasn't paid its share on workers' salaries that can be as much as 3,500 yuan ($560) a month, including overtime, which varies seasonally.
The entire 15,000-worker staff at one of Yue Yuen's four operations at the manufacturing complex has halted production of Nike shoes. The workers have continued to clock into work, and then leave. China Labor Watch, which said that it has been in communication with workers on the ground, believes many more staff are remaining at their posts, but not working after company officials threatened to fire anyone who is absent for more than three days, starting Thursday.
Nike, based in Beaverton, Ore., wasn't immediately available for comment.
As the strike enters its 10th day, about 30,000, or three-fourths of the employees at the complex, are believed to be involved.
In addition to their demands for unpaid social insurance, workers are demanding a 30 percent pay raise from the base monthly salary of about $240 and a one-time seniority payment. Yue Yuen has made a counteroffer to pay workers a living subsidy of about $37 a month. It would also start paying fully into the pension plans by next month and provide the unpaid social insurance by the end of 2015.
Yue Yuen, which is owned by Pou Chen Group, based in Taichung, says on its website that the company makes 300 million shoes annually, representing one-fifth of the global market for sneaker and casual footwear production.
© Copyright IBTimes 2023. All rights reserved.
FOLLOW MORE IBT NEWS ON THE BELOW CHANNELS