Chinese Police Blame Internet Rumor Mongers For 'Illegal' Power Plant Protest; State Media Sympathetic To Protesters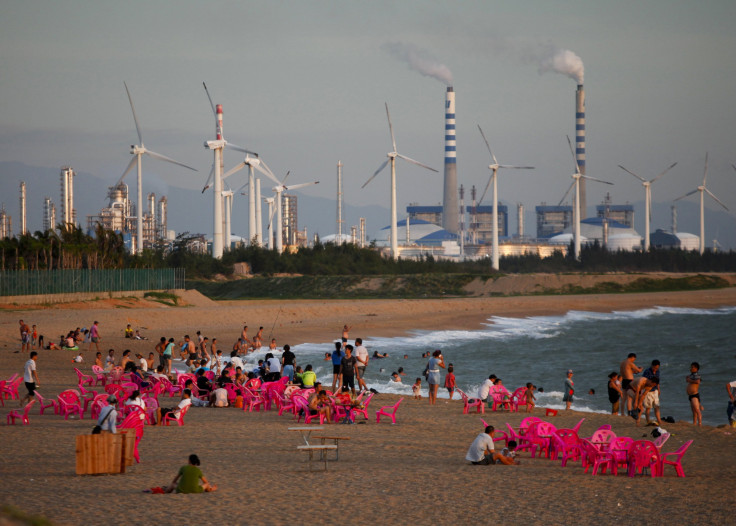 SHANGHAI -- Local police in southern China have labeled Sunday's 10,000-strong protest against the expansion of a local coal-fired power plant "illegal," and say they are taking legal action against "many" people for spreading rumors and inciting the protest via social media.
However, in an apparent sign of the strength of public and media concerns about China's environmental problems, the country's official news agency and other state media have suggested that local citizens had valid concerns about the plant's environmental impact. They also said the local government had waited too long to consult with the public. The protest, in the city of Heyuan in Guangdong province, followed months of campaigning by local citizens, who said the first phase of the plant had damaged air quality in the area.
Several thousand citizens initially held a peaceful sit-in outside city government offices, but were dispersed by police. More people then joined them on a march through the streets, and there were reportedly scuffles between some protesters and riot police. The local Communist Party deputy secretary eventually addressed the crowd, reassuring citizens that the project had not yet been approved, and the protest eventually broke up.
However at a news conference on Wednesday, Heyuan police said that "some Internet users" had used social media to "wantonly incite the public to take part in an illegal demonstration and mass sit-in," the China News Service reported. It said the police were now taking legal action against a number of people (they gave only the surname of one of those detained, Ou --), both for stirring up the protest, and for "spreading and fabricating rumors online."
The police said the demonstration had "severely damaged public order" and had a "negative social impact." City government officials also repeated that there was "no basis at all" for rumors that construction of the second phase of the project would start in May -- as some demonstrators apparently believed. Officials also denied reports that the new Heyuan project actually involved a power station originally planned for the nearby city of Shenzhen, which was abandoned in the face of public opposition in 2013.
Calling on citizens "not to listen to rumors, or spread them," a city government spokesman, Cheng Yuehua, stressed that work on the project was still in its "preliminary stages," and that the government was still carrying out an environmental impact assessment. When this was finished, he said, the authorities would "announce the results to the people," carry out "in-depth" public opinion surveys, and bring in respected experts to advise on how to proceed. He also said the government would open an office where the public could get information about the project.
Cheng said the government understood people's concerns but asked them to express their views in "a rational and legal way," and not use "extreme methods" like street demonstrations. The police added that anyone who "incited, organized or planned" illegal gatherings would be punished.
The 8 billion yuan ($1.3 billion) plant is a joint venture between the Shenzhen Energy Group and Hong Kong's Hopewell Holdings, which has described it as one of Guangdong's "most efficient and environmentally friendly coal-fired power plants." The local government has also repeatedly quoted statistics showing emissions from the first phase of the plant have consistently met national standards.
However, a report by China's official news agency suggested that since the plant opened four years ago, air quality in Heyuan had "fallen swiftly." It said that, in 2011, the area had 'good' air quality every day of the year, whereas in the first eleven months of 2014 there were only 129 days with 'good' air. Dragon TV, a Shanghai-based satellite channel, broadcast interviews with local women who said their children had been getting sick more often and said it was often hard to breathe. It also quoted Liu Dongbin, a delegate to the advisory body to the local legislature, who said he had data showing that the first phase of the power plant had "had an impact" on pollution, and that the second phase "would make it worse."
The TV report added that despite the government's reassurances, "it seems the situation is not as optimistic as they say." And it said that while citizens had been expressing concerns publicly since last summer -- including raising a petition of 30,000 signatures -- the local government did not hold its first public consultation until the middle of March this year, which was "clearly a bit late."
Central government sensitivity about air quality in Heyuan may have been heightened by the fact that the city also supplies water to Hong Kong. But the case is also another example of the increasingly complex relationship between public worries about the environment, government concerns for stability, and an official media sometimes caught between the two. While media organizations generally report government policy, they also seek to reflect public concerns about the environment -- especially at the local level.
The strength of such feeling was highlighted in late February when former CCTV reporter Chai Jing released an online documentary on the roots of China's air pollution. The film, "Under the Dome," was watched by more than 100 million people in China within two days of its release. However it was later taken down by the authorities -- in a sign of official concern about media and Internet debate sparking public protest. Indeed some protesters in Heyuan seemed to confirm such fears by saying that the documentary had inspired them to take action.
Chinese media have warned however that the Internet allows unscientific information to spread rapidly and have argued that some environmental protests have been based on misinformation.
Official concerns about the potential of online information to lead to protests were emphasized in 2013, when the government passed a law allowing people to be jailed for three years for writing or spreading 'rumors' that were read by 5,000 people or retweeted 500 times. Legal experts expressed concern about the vague definition of rumors though some recent reports suggest the charge is being used regularly. And human rights groups say China's security establishment is currently taking wide-ranging measures to rein in activism by civil society groups and nonprofits.
At the same time the government has acknowledged that China faces a severe environmental challenge. The country's ministry of environmental protection has vowed to take tougher action against polluters this year -- and following a recent fire at a factory making paraxylene (PX), a chemical used in plastic bottles and man-made fibers, it announced on Wednesday that all PX plants in the country would now be inspected.
The environment ministry also this week announced a draft regulation that said it would allow some nonprofits to monitor environmental watchdogs, and require environmental departments to assist with related lawsuits by public interest groups. The draft also says citizens "have the right to acquire environmental information and participate in and supervise environmental protection."
It's a reminder that the complex relationship between the need to appease public opinion and improve the environment on the one hand, and the Chinese authorities' desire for stability on the other, looks set to continue.
FOR FREE to continue reading
✔️ Unlock the full content of International Business Times UK for free
offer available for a limited time only
✔️ Easily manage your Newsletters subscriptions and save your favourite articles
✔️ No payment method required
Already have an account? Log in
© Copyright IBTimes 2023. All rights reserved.