Chinese Wine? Moet Hennessy to Produce Premium Reds at the Foot of the Himalaya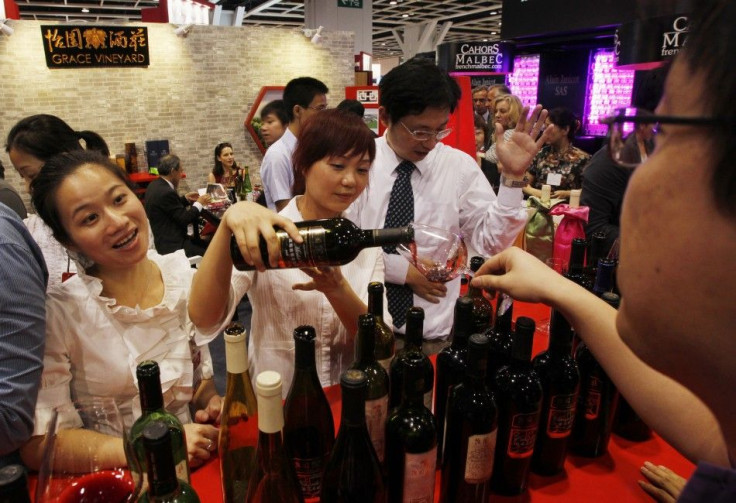 (REUTERS) - French wine and spirits maker Moet Hennessy wants to produce a super-premium red wine at the foot of the Himalayan mountains in southern China, targeting the palates of the country's wealthy wine drinkers, in a move whose results won't be known for years.
Moet Hennessy will partner with Chinese liquor maker VATS Group to produce the wine primarily from Cabernet sauvignon, Merlot and Cabernet franc grapes, Moet Hennessy Chief Executive Christophe Navarre said on Thursday.
Those grapes, the main varietals used in Bordeaux red wine blends, will be largely planted by the joint venture, although some superior vines from existing VATS vineyards at the foot of snow-capped Mount Meili in Deqin county may also be used.
What's important to produce a top-quality wine is the soil and the climate, Navarre said at a signing ceremony in the town of Shangri-La, the seat of government of the Tibetan autonomous region in the far northwest of Yunnan province that includes Deqin.
China will be our number one market this year, Navarre told reporters. I'm very confident in the continued growth of the luxury market.
The average altitude of the vineyards, higher than most winemaking at some 2,400 meters (about 8,000 feet), could pose risks, but those may be mitigated by Shangri-La's mild weather.
The combination of soil, sunshine and climate make it ideal for the type of grapes needed to make robust, Bordeaux-style wine that should be ready in three to four years, said Navarre.
Foreign wine makers are risking millions of dollars to develop wines that take years to come to market, against the uncertain backdrop of how the economy and consumer spending will evolve over the next few years.
Although wines produced in China have, by many accounts, improved greatly in recent years, in the decade or more that foreign firms have been setting up local partnerships, few investments have produced widely marketed wines, and the highest quality wines, and prices, remain elusive.
For its part, Moet Hennessy envisages some 30 hectares of vineyards, but the company best known for its Moet & Chandon champagne and Hennessy cognac is not making any predictions.
The objective here is not market share, not sales revenue, Navarre said. The first objective is to produce the best quality.
Although the name of the eventual wine has not been decided, the joint venture launched Thursday will be called Moet Hennessy Shangri-La (Deqin) Winery Co Ltd. The company did not disclose details of its financial investment.
China's wine market is rapidly moving upscale as increasingly affluent consumers embrace wine, marketed in the country as a prestigious drink.
China last year became the world's No. 5 wine market, according to a study this month by trade show group Vinexpo and International Wine and Spirit Research, a market researcher.
Chinese wine consumption will grow dramatically by 54 percent from 2011-2015, the study said.
Foreign winemakers, particularly from France, are investing in the Chinese provinces of Shandong in the east, and Ningxia and Gansu in central China to produce high-end wine.
This is Moet Hennessy's third investment in China in five years, following its acquisition of Chinese white-spirits brand Wenjun in 2007, and an investment last year to produce a premium sparkling wine in Ningxia.
The area Moet Hennessy picked in Deqin is in a dry and warm valley along the Lancang River, with moderate temperatures and strong sunshine.
The growing period is long, which allows slow maturation of fruit, so this region is ideal for growing grapes, said Duan Changqing, a wine expert and professor at Beijing Agricultural University.
Jim Boyce, a Beijing-based expert on Chinese wine and author of the blog Grape Wall of China, agreed that China offered the best potential growth for the foreseeable future.
Despite China's high wine consumption, he said, the average person drinks less than one bottle per year. So smart money says establish a base here.
China is such a huge market, with everything from billionaires who can afford to drink Chateau Lafite daily to those whose upper limit is 50 yuan, so there are plenty of niches to fill.
(Reporting by Lionel Laurent; Editing by Chris Lewis, Don Durfee and Helen Massy-Beresford)
© Copyright Thomson Reuters 2023. All rights reserved.