Chris Brown-Nia Guzman Feud Update: Rihanna Thinks Royalty's Mother Is Wrong About 'Loyal' Singer's Tattoos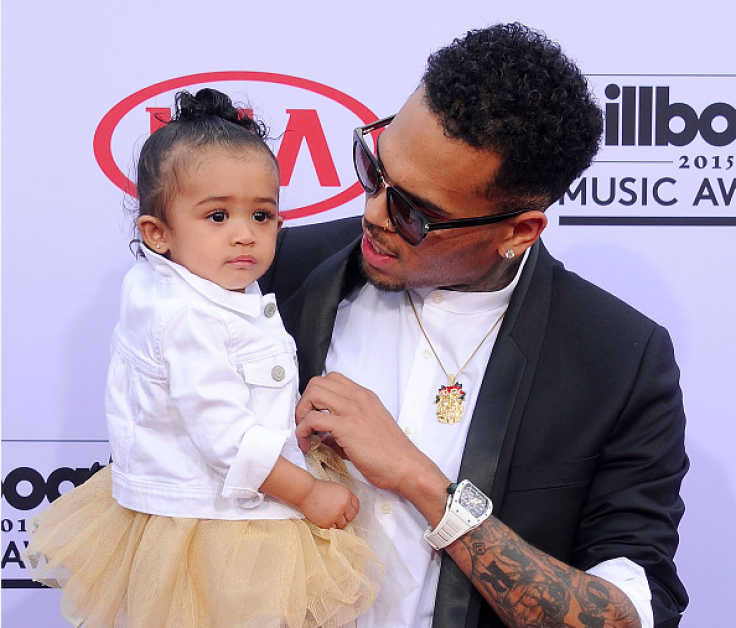 Rihanna is taking Chris Brown's side as he continues feuding with Nia Guzman -- the latest issue being the two tattoos on the back of his head.
Royalty's mother, Guzman, does not approve of the 'Loyal' singer's latest tattoos, but Rihanna likes them. The "Unfaithful" singer feels that Guzman is wrong that Brown's tattoos will scare his one-year-old daughter.
"Royalty seems like a very smart and courageous little baby. She knows her daddy and knows daddy loves her," a source close to Rihanna told Hollywood Life. "That's ignorant for someone to think Royalty will be scared by Chris' tattoos."
Rihanna reportedly feels that the toddler will be inspired by Brown's body art.
"If anything, they will inspire her. She may even become an artist herself," the source reportedly said. "Baby's aren't scared of much like we adults are. Instead, they're very inquisitive."
Rihanna, who recently sparked romance rumors with Brown, reportedly likes the tattoos.
"[Rihanna thinks] he's brave for getting tats on his head," another source told Hollywood Life. "That's not the most pleasant spot on the body to get inked. Rihanna loves it though. She thinks it's sexy and edgy. Just like Rihanna, Chris is an artist. This is what they do. This is simply a form of expression and Chris is one of the best at it."
On Thursday, Brown posted a photo of the tattoos on his Instagram account, captioning it: "I do what the f*** I want! #rockstar #500 #onehellofanight #legendarynights @iamkingrico."
"Nia thinks Chris is running out of body parts to put more tattoos on. The only place really left is his face. Even though she hates seeing his face, she doesn't want him tatting it up. She doesn't want Royalty to be scared around him and think he's some kind of monster," Hollywood Life cited a source as saying, in another report. "That's Chris for you, always overdoing everything," the insider continues. "What he needs to realize is that he's overdue in child support. She wishes he would cough up more money than the pennies he's giving her so she can raise Royalty appropriately."
Brown and Guzman have been feuding since the former filed legal papers for Royalty's custody. Tensions between them escalated after Guzman did not allow Brown to FaceTime with his daughter.
Despite, Guzman's several efforts to keep the toddler away from Brown, the two united last week during the singer's tour.
© Copyright IBTimes 2023. All rights reserved.