Chris Brown, Rihanna Remix 'Birthday Cake': 10 Other Awkward Music Collaborations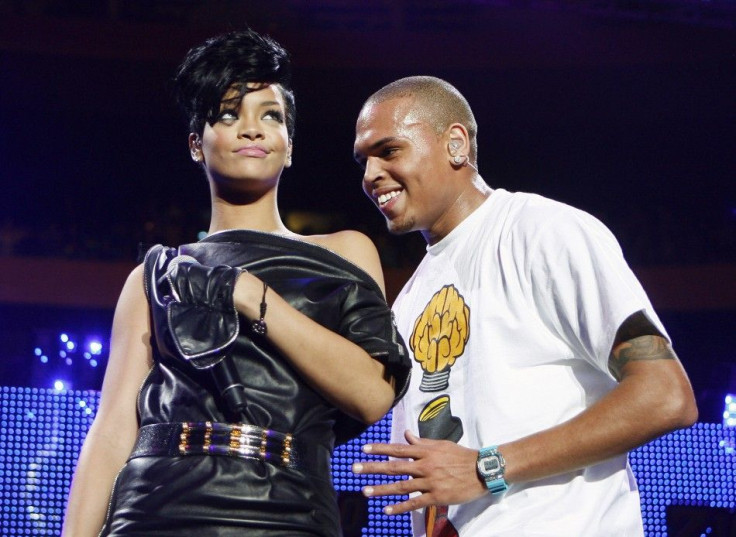 Chris Brown and Rihanna have reunited for Birthday Cake and Turn Up The Music, remixed singles that have fans questioning if the two are back together. But wait, wasn't it awkward for the exes to work together? (PHOTO: REUTERS / Lucas Jackson).
Chris Brown and Rihanna have released remixes of each of their new songs. The duo stunned fans on Monday when Rihanna tweeted a remixed version of Chris Brown's single, Turn Up The Music, on which she is featured.
Turn up the music remix # RihannaNavy #Teambreezy enjoy!!! Rihanna wrote on Twitter.
On the same day, Brown tweeted a remixed version of Rihanna's Birthday Cake. During the song, Brown delivers some suggestive lyrics that are sure to have fans wondering if the two are making more than just music.
The remixed singles come almost one year after Rihanna lifted the infamous restraining order that she had against Brown, following the 2009 Grammy assault. While the collaboration is controversial to say the least, the two artists don't seem to care what the public has to say.
Rihanna recently took to Twitter with posts like They can say whatever, Ima do whatever... No pain is forever <-----YUP! YOU KNOW THIS, as well as, Music heals the world...we need more!!!!
While Brown echoed, Let them be mad!!!! We make music. Don't like it, don't listen!
With these two recent collaborations, we can't help but think of some other songs that just made us feel, well . . . awkward. Here are 10 more awkward collaborations in music.
Eminem Feat. Elton John - Stan
As much of a sensation as it was, the collaboration at the 2001 Grammys between Eminem and Elton John had many people feeling weird. But that's what happens when you put one of the most famous gay pop stars in the world with a macho rapper accused of making homophobic comments.
David Bowie & Mick Jagger - Dancing In The Streets
When Mick Jagger and David Bowie shot the video for their rendition of "Dancing in the Street, it was all sorts of corny. Between the actual dancing in the streets and the two singers getting into each other's faces, we just had to include this video on the awkward list.
Paul McCartney and Michael Jackson - Say Say Say
The collaboration between Michael Jackson and Paul McCartney didn't really conjure up that awkward feeling until four years after the video for "Say Say Say," was actually shot. It was then that the two were no longer friendly due to the fact that the insanely rich Jackson decided to invest in some Beatles publishing rights. To add insult to injury, supposedly it was McCartney who schooled Jackson about the benefits of publishing money. Awkward!
Nelly feat Tim McGraw - Over and Over
When "Over and Over," by Nelly and Tim McGraw came out, it made headlines because of its unconventional collaboration. But other than that, what really makes this song especially bad is the fact that Nelly is sing-rapping throughout all of it. If there is one lesson to be learned from all of this, it's to never mix hip-hop and country.
Snoop Dogg feat Willie Nelson - Superman
It doesn't take a rocket scientist to realize what brought these two artists together. In 2009, Snoop Dogg and Willie Nelson collaborated on the acoustic "Superman." With lyrics like, "Too many pain pills, too much pot," we think this is more of a waste of time than it is awkward.
Celine Dion feat. R. Kelly - I'm Your Angel
With "I'm Your Angel," R. Kelly took the inspiring ballad thing way too far. Maybe it was because he recorded it with Celine Dion, who is known for recording that kind of material. The same year that the song was recorded, Kelly was arrested on three misdemeanor charges of disorderly conduct, including one charge on violating noise ordinance for playing loud music from his car. We have a feeling that song wasn't "I'm Your Angel."
Public Enemy & Anthrax - Bring the Noise
Bring The Noise was an interesting stretch of a collaboration between thrash metal's own Anthrax and hip-hop activists Public Enemy. At one point in the song, Anthrax lead singer Scott Ian says, Whatcha gonna do? Rap is not afraid of you. Beat is for Sonny Bono, beat is for Yoko Ono. Awkward, much?
Linkin Park & Jay-Z - Big Pimpin/Papercut
Jay-Z and Linkin Park didn't just make one song -- they did a whole album together. Some of the tracks worked, while some, like Big Pimpin'/Papercut, seemed forced. Still, they sold five million of the albums worldwide.
Ozzy Osbourne feat. Miss Piggy - Born to be Wild
In all fairness to Ozzy Osbourne's collaboration with Miss Piggy, he was making an appearance on The Muppet Show. Even so, she's a muppet and he's the Prince of Darkness. The two together just do not go.
ICP & Jack White - Leck Mich Im Arsch
We know that Jack White is the type of artist to try "different" things. But we never thought he'd go insane with Insane Clown Posse. They came together to collaborate on, of all things, a Mozart cover called "Lech Mich Im Arsch."
© Copyright IBTimes 2023. All rights reserved.