Chris Brown Shoved Woman Who Tried To Kiss Him While With Girlfriend Karrueche Tran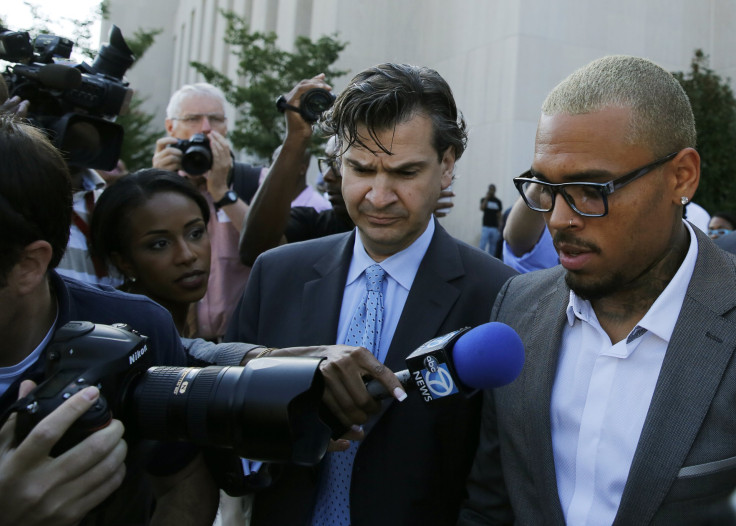 Chris Brown may be in trouble with the law again after shoving a female fan who tried to kiss him during a nightclub appearance in Houston, Texas. Brown pled guilty to simple assault earlier this month to settle a case related to a sidewalk fight last October with a man at hotel in Washington, D.C.
Brown had another close encounter over the weekend while performing at Limelight Houston. While he was walking through the crowd with his girlfriend, 26-year-old model Karrueche Tran, an unidentified woman stepped in front of Brown and reached out apparently to kiss him. Brown shoved the woman with his right forearm, brushing her out of the way. TMZ said the woman didn't appear to be hurt.
Brown has a history of violence, stemming from his attack on then-girlfriend Rihanna in 2009. Most recently, in September, Brown pled guilty to misdemeanor assault for punching photograph-seeking fan Parker Adams, 25, of Beltsville, Maryland. "I would like to tell the court I'm sorry," Brown said in the D.C. Superior Court, according to the Washington Post. Brown, 25, was sentenced to time served after he spent two days in a D.C. jail following his arrest and was ordered to pay $150 in court costs. Brown previously pleaded guilty in the case and his trial had been set for April, but was delayed, according to the Associated Press.
Brown was initially arrested for felony assault after allegedly punching Adams in the face, TMZ reports. Brown was posing for a photo with two fans when Adams and another man rushed to get into the picture. The performer, who didn't appear to be under the influence of alcohol, reportedly said, "I'm not into this gay s--t, I'm into boxing," before punching Adams in the face. The fight allegedly continued on the ground.
© Copyright IBTimes 2023. All rights reserved.