Chris Brown Slammed For Commenting On Ex Rihanna's Instagram Post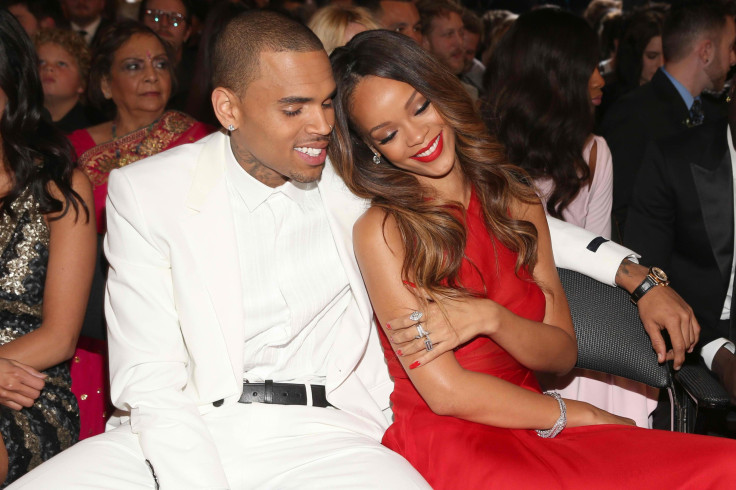 Chris Brown was bashed for commenting on Rihanna's recent post on Instagram.
Rihanna looked like a goodess in her recent post that caught the eyes of her ex, Brown. On Monday, the "Work" singer shared one of her outfits at the Barbados Carnival on Instagram. Rihanna totally rocked her bejeweled bikini. The post garnered over four million likes, but what stood out the most was the "Loyal" singer's comment, a pair of eyes emoji looking left, which displeased her fans.
"PLs keep your negative energy away from Rihanna @ChrisBrownOfficial," one wrote in the comment section per E! News. "Chris gtfo," another one commented. "@chrisbrownofficial tf you lookn for the bruises you left her ?" another fan wrote. "@chrisbrownofficial not today Satan, not today," another one added.
READ: Rihanna flaunts a red low-cut Giambattista Valli gown at the "Valerian" premiere
"Damn. Chris Brown really messed up. Rihanna ain't paying no attention to Him," ashleylol25 wrote. "And telling by all the publicity Chris is getting from his comment, I'm sure he's regretting commenting in the first place, but due to the fact that what he did to her is not forgotten. I lost respect for him. He should know better."
While others found inspiration on Rihanna's post, most of the comments were about Brown and Rihanna's past. The ex-couple made headlines in 2009 after the "Party" singer assaulted the "Diamonds" songstress.
Rihanna's dad was abusive, so she made up her mind to find a man that was not like him. It was painful for her that her relationship with Brown turned out to be the same as her parents. "I said to myself, 'I'm never gonna date someone like my dad. Never'," Rihanna said in a 20/20 interview with Diane Sawyer (via MTV) in 2009.
The "Umbrella" singer described her relationship with Brown as an "obsession." "The more in love we became, the more dangerous we became for each other, equally as dangerous," she said. After the assault, Rihanna and Brown reunited. Her decision confused the public. Then they split again.
Brown tried to reconnect with Rihanna and even released a single titled "Changed Man." Rihanna said she never heard the record. During the interview, the "We Found Love" singer admitted that she still has feelings for Brown. But she had no plans to reconcile with him.
"I don't have a desire at all to be with him," Rihanna said. "I don't see how we could get back together. But I'm not God, so I can't predict the future."
What's your take on Brown reacting on Rihanna's photo on Instagram? Does he still love her? Drop a comment below.
© Copyright IBTimes 2023. All rights reserved.