Chris Cornell's Brother Pens Emotional Letter About Suicide Awareness, Mentions Chester Bennington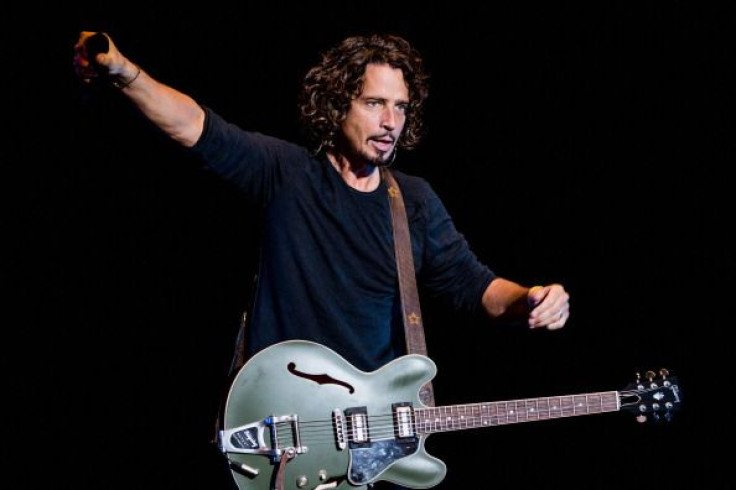 A few months after the Soundgarden frontman's death, Chris Cornell's older brother, Peter, shared an emotional letter about suicide awareness on his Facebook account Monday.
Returning after a long hiatus on social media, Peter thanked those working to spread the message of suicide prevention, and also expressed his regret about not doing this in early May, before his brother hanged himself.
Cornell hanged himself May 18 in his room at MGM Grand Detroit. He was found dead by his bodyguard, who kicked in the door to the musician's room at the hotel, and unsuccessfully tried to revive him. It is still unclear why Cornell killed himself.
My Friends:

Again you humble me with your kindness, empathy, love and support.

Although I pulled myself off Social Media, I've been able to glimpse bits and pieces of the selfless way so many people around the world continue to honor and pay tribute to my Brother.

I truly couldn't believe the way you picked up and carried the message of doing push-ups for suicide prevention. Please don't stop. What a devastating way to have my eyes opened to how many lives around me, and all of us, have been touched by such tragedy. Going forward I hope prevention is a conversation we can have more freely. Removing the stigma that discussing suicide is like speaking about a dirty little secret. If only … what I'd give to have had the tiniest shred of this awareness in early May.

I cannot deny the pain of this loss. In some ways I cling to it. Refusing to let go because I want to keep my little Brother close, even if all that's left are memories. At least we are rich with memories. I replay them all to often, starting with our childhood and reliving the glory that was Seattle in the 90's.

This process of grief has connected me to so many other grieving hearts and souls. As I said previously, my Brother belonged to the world and so many have been crushed by the weight of this passing. I revived this FB page to return the compassion you have shown to me from the very moments after this tragedy … THANK YOU and THANK YOU AGAIN!!! If it's possible for this path to walk a little softer, it's only because I haven't had to walk it alone.

Compassion is like a new word to me these days. This horror has connected me to family I have not known for many, many years. It's a bittersweet connection that is equal parts reliving the devastation and lovingly tearing down the fences that have separated us for so very long. Compassion arms me with the ability to feel for their loss as you and I have felt for each other. In some ways my family lost my Brother twice. That is a burden I don't share with them. I've grown new ears and hopefully a bigger heart.

I miss my interaction with YOU but a hiatus from social media helps me from continually picking at the wound. It's unfortunate the social media platform that allows us to share each other's heartbreak and healing also becomes a forum for conspiracy theories and absurd conjecture that defy decency and continually attempt to blur the facts. The entities that fuel these avenues of chaos are self-serving at best. When is enough enough? Hasn't the time come for my Brother to be allowed to rest in peace? Haven't the children endured more than a child ever, ever, ever should?

Much love to ALL of you!!! Hold your families close. May peace find all of us

Goodnight Chester. Goodnight Brother.

PC
The tribute letter also mentions Linking Park singer Chester Bennington, who also took his own life July 20 at his family home in Palos Verdes Estates, California.
Angeles County coroner's office said Bennington's cause of death was suicide by hanging, but several fans have raised doubts about the cause of the singer's death.
Many conspiracy theorists have claimed that Bennington and Cornell were murdered as both died in a similar fashion.
The two were close friends and Cornell's death had a severe impact on Bennington, who also attended the former's funeral. Bennington was heartbroken and his group paid tribute to Cornell by performing "One More Light," which is a Linkin Park song about suicide.
"We were booked to play the show so that we could promote our new single 'Heavy' and then we heard the news about Chris Cornell and had had a little pow-wow in the dressing room before we went on and we said, ya know, the things that good for the band to do is play 'Heavy,' but the right thing to do is play 'One More Light' because it's about the loss of a friend," bandmate Mike Shinoda told Radio.com, days after Cornell's death, according to Variety.
"When we were doing a sound check Chester couldn't even make it through the song, he was getting halfway through and getting choked up. And even when we did play the whole song, and it was live on TV, or taped for film for TV, he kind of just stopped like towards the end like he missed the last couple lines, just couldn't finish the song," he added.
While both Bennington and Cornell's deaths were ruled suicides, fans said there was too much of a coincidence that Bennington died two months after his friend in the same manner.
© Copyright IBTimes 2023. All rights reserved.