Chris Hemsworth Trolls Chris Evans On His 40th Birthday With Chris Pratt Photo
KEY POINTS
Chris Hemsworth shared a photo of Chris Pratt for his birthday tribute to Chris Evans Sunday
He wrote that Evans will "always be number 1 in my book"
Fans praised Hemsworth's trolling and also wished Evans a happy 40th birthday
Chris Hemsworth wished "Avengers" co-star Chris Evans a happy birthday — by sharing a photo of Chris Pratt.
To celebrate Evans' 40th birthday Sunday, the "Thor" actor, 37, penned a heartfelt message for him on social media.
"Happy 40th birthday Chris Evans, you'll always be number 1 in my book," Hemsworth wrote on Instagram Saturday.
However, instead of attaching a photo of Evans to his birthday tribute, Hemsworth hilariously trolled his fellow Marvel star by sharing a picture of himself with Pratt, 41, on the set of "Thor: Love and Thunder," which is set to hit theaters in February 2022. In the snap, the "Guardians of the Galaxy" star can be seen wearing his Star-Lord costume, while Hemsworth has on Thor's blonde wig.
Hemsworth's post, which has received over 5.2 million likes, was flooded with laughing emojis from fellow celebrities and fans. They also didn't forget to wish Evans a happy 40th birthday.
"Nice one," commented Rudhraksh Jaiswal, Hemsworth's co-star in 2020's "Extraction."
"Chris Evans looks different," a follower joked, while another said, "Man. Chris has changed over the years."
"A little concerned at how many people in the comments don't get that it's a joke," another user wrote, addressing those who corrected Hemsworth about the photo.
During a 2019 interview with Variety, Hemsworth spoke about his friendship with his "Avengers" co-stars and how he formed a "brotherly bond" with Evans.
"There's a mentor element with [Robert] Downey. There's an incredible friendship with Scarlett [Johansson] and [Jeremy] Renner and [Mark] Ruffalo," he said. "With Chris Evans, I have a real brotherly bond. I think they wouldn't pair us up on this press tour, because we just spend the whole time screwing around and none of it is on topic."
The outlet later reached out to Evans about Hemsworth's statement, and the "Gifted" star confirmed it.
"Which is such bulls—!" Evans said while laughing. "We had too much fun together, and truly like kids in school, we were separated because we weren't getting s— done."
Evans also shared his idea for a movie that he and Hemsworth could do together after wrapping up their Marvel stint.
"I would love to do one of those '80s buddy comedies, where we could shed the characters we are known for," he said.
Aside from Hemsworth, Evans' friends and thousands of fans also showered him with love on his birthday. The actor took to Twitter Sunday to thank everyone who made the day extra special for him.
"Thank you for all the birthday love!! Feeling incredibly grateful today. You put a smile on this haggard, old face. I love you all!!" Evans tweeted.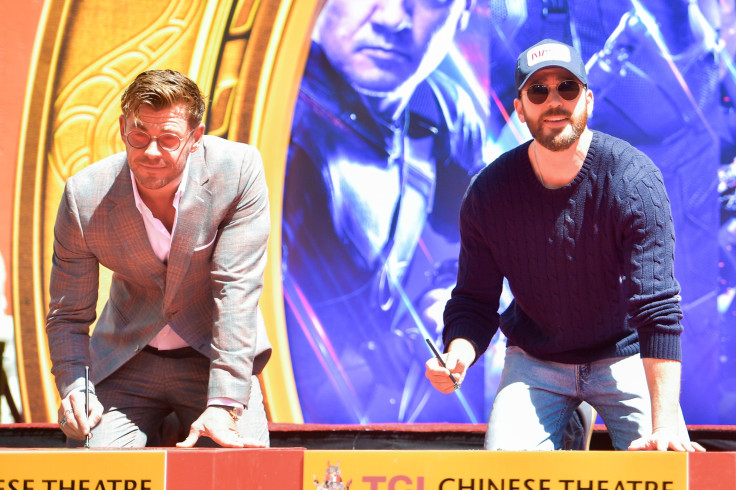 © Copyright IBTimes 2023. All rights reserved.