Cinco De Mayo Celebrations In US This Year Marred By Trump's Immigration Policies: Reports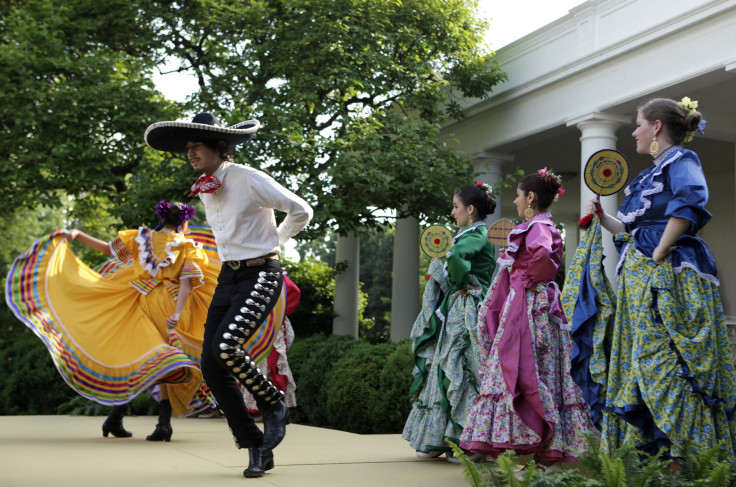 Cinco de Mayo, which is widely recognized as a time to drink margaritas, eat guacamole and celebrate Mexico's cultural heritage, is celebrated to honor the Battle of Puebla that took place on May 5, 1862. However, the celebrations have been marred this year by President Donald Trump's stance on undocumented immigrants and the U.S.-Mexico border wall, reports said.
This year, the celebration across U.S. is reportedly lesser as Trump steps up federal immigration enforcement. His immigration policies and rhetoric have compelled some Mexican-Americans and immigrants to go low with celebrations. Some immigrant enclaves have canceled or reduced Cinco de Mayo celebrations fearing that party-goers could be exposed to possible deportation. For example, in Philadelphia, a Cinco de Mayo-related celebration was canceled after organizers thought turnout would dip considerably over concerns about immigration raids.
Read: 7 Facts About Cinco De Mayo Celebrations
For 25-year-old Mexican-born Yazmin Irazoqui Ruiz, a medical student in the U.S., Cinco de Mayo is a reason to eat tacos and listen to Mexican music. However, she said that she is hesitant to take part in the festivities this year due to Trump's tough immigration policies.
Irazoqui Ruiz said: "I mean, what is it about? You want to eat our food and listen to our music, but when we need you to defend us, where are you?" ABC News reported.
The other reason of people refraining from attending Cinco de Mayo parties is that they could take a worse turn. In the aftermath of Trump's crackdown on undocumented immigrants, Mexicans can be attacked and mocked at. In Waco, Texas, a college fraternity at Baylor University was suspended after throwing a Cinco de Mayo party, where students were reportedly dressed as construction workers and maids, shouting slogans, "Build that Wall," referring to the president's promise of building the border wall. The party sparked an investigation and a campus protest, reports said.
Joanna Renteria, a Mexican-American blogger in San Francisco said: "I don't like to be so angry or shut people down for celebrating. But when anyone makes an ignorant comment about my culture, it does affect me."
In the White House too, for the first time in 16 years, Cinco de Mayo celebrations have been canceled, reports said.
Instead of a White House celebration this year, Vice President Mike Pence hosted a reception celebrating Cinco de Mayo in the Eisenhower Executive Office Building, adjacent to the White House, according to La Opinion. The celebrations were initiated by former President George W. Bush.
Speculations were rife that Trump would not continue the tradition of celebrating Cinco de Mayo in the White House this year amidst his stance against undocumented immigrants from various countries, the Washington Examiner reported.
Cinco de Mayo honors the Mexican army's unlikely victory over France at the Battle of Puebla. During the battle, also known as El Dia de la Batalla de Puebla, a group of only 2,000 Mexicans were outnumbered by 10,000 French troops. However, only 100 Mexican soldiers had died during that war, while the French lost about 500.
© Copyright IBTimes 2023. All rights reserved.