Cindy Hyde-Smith vs. Mike Espy Polls: Who Has The Lead In The Mississippi Senate Election?
After midterm election recounts in some southern states, political attention has shifted to Mississippi's special election runoff Tuesday, with Republican Sen. Cindy Hyde-Smith leading in the only poll since the primary election over Democrat and former Agriculture Secretary Mike Espy.
Hyde-Smith has a double-digit lead on Espy in a poll conducted from Nov. 19-21 and Nov. 23-24. RRH Elections, with Bold Blue Campaigns and JMC Analytics & Polling, showed Hyde-Smith with a 54 percent to 44 percent lead on Espy, with a margin of error of 4 percent.
Hyde-Smith and Espy are looking to fill the seat of longtime Republican Sen. Thad Cochran, who left office for health reasons. Hyde-Smith was sworn into office in April after her appointment by Gov. Phil Bryant. The Senate term runs through January 2021.
In the Nov. 6 primary election, Hyde-Smith received 41.5 percent of the vote, while Espy received 40.6 percent and Republican Chris McDaniel received 16.5. Since no candidate received 50 percent, a runoff election was set for Nov. 27.
Espy is seeking an upset victory in a deep red state after Democrat Doug Jones edged Republican Roy Moore in a December 2017 special election to fill former Attorney General Jeff Sessions' Alabama Senate seat. Should Espy prevail, Republicans would hold just a 52-48 advantage in the Senate.
It will be an uphill battle for Espy, as President Donald Trump won Mississippi in 2016 by about 18 points. Trump, who will attend rallies for Hyde-Smith this week in Tupelo and Biloxi, continues to have very strong approval ratings in Mississippi.
But Espy may have a stronger chance for a win after a video surfaced on social media this month of Hyde-Smith jokingly claiming that if she were invited to a "public hanging," she would be in "the front row."
Hyde-Smith was also seen in a video advocating for voter suppression, claiming that laws making it "just a little more difficult" for attendees of the state's "liberal" universities to vote are a "great idea."
The comments have drawn scrutiny and backlash. Lobbyists for Major League Baseball recently made a $5,000 donation to Hyde-Smith's campaign and later asked for it back after the "public hanging" comment. Walmart, Pfizer, AT&T, Boston Scientific, Union Pacific, and Leidos also asked for Hyde-Smith to return campaign contributions.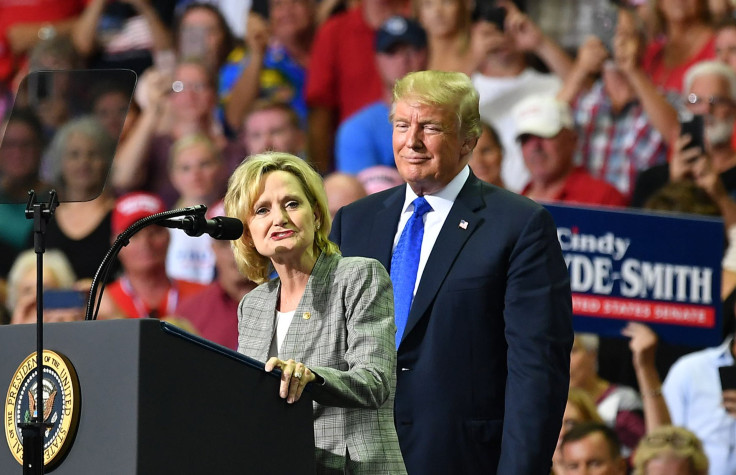 © Copyright IBTimes 2023. All rights reserved.