CNN Flint Democratic Debate Highlights 2016: Best Video Clips, Questions, Insults And Gaffes From Clinton And Sanders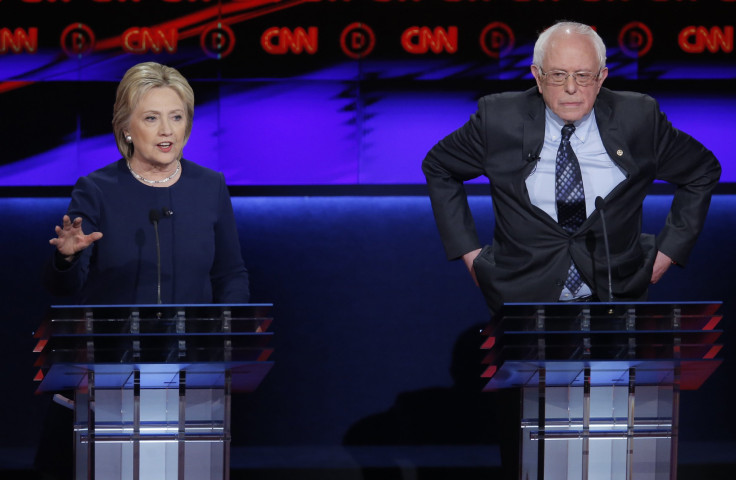 The stakes were high Sunday night in Flint, Michigan, for Democratic presidential candidates Hillary Clinton and Bernie Sanders, as there was just one day left before the Michigan primary. The clear winner will take a majority of the state's 148 delegates, so neither candidate wanted to seem unprepared for the debate.
In Flint, the community's water crisis loomed large over debate discussion. Clinton and Sanders have previously held events with residents affected by the water crisis, so both candidates came across as being eager to establish their credentials on the subject.
Typically, how the candidates are perceived in the debate by voters depends largely on how the audience reacts. At Whiting Auditorium, the debate venue, the Democratic National Committee and CNN had a limited number of tickets to give out to the general public.
Hundreds of seats had already been set aside for Sanders and Clinton's campaigns, Democratic Party leaders and debate sponsors. But 300 tickets were made available to Flint residents. The expected audience seating capacity was 1,381.
Here are some video clips of the most applauded response, gaffes and zingers from Sunday night's debate:
Sanders took every opportunity presented to him to differentiate his presidential positions against Clinton's, including on Wall Street, being arrested as a freedom fighter and gun control.
Sanders says Clinton's Wall Street "friends destroyed this economy" https://t.co/jMlc0bZST3 #DemDebatehttps://t.co/OiNONYYojM

— Bloomberg Politics (@bpolitics) March 7, 2016
.@BernieSanders talks desegregation and his arrest in Chicago: https://t.co/APX4X4fvKz #DemDebate pic.twitter.com/CdfQwxB46i

— Complex Life (@ComplexMagLife) March 7, 2016
.@HillaryClinton "Giving immunity to gunmakers and sellers was terrible mistake." #DemDebate https://t.co/2cXmVJqD3m https://t.co/YPvqfv16Ib

— CNN (@CNN) March 7, 2016
During a lengthy segment on the Flint water crisis, Clinton and Sanders called for Michigan's Republican Gov. Rick Snyder to resign. However, it was Clinton's first time making the statement.
When the debate moved from Flint's water crisis to the auto industry bailout, a federal major government action that had major impacts on jobs and the economy in Michigan, exchanges between Clinton and Sanders turned icy.
It was especially acrimonious when Sanders tried to stop one of Clinton's frequent attempts to interrupt him, but this instance could have been construed as condescending.
Every woman watching the #DemDebate cringed when Bernie shushed Hillary this way: https://t.co/56KbfRl2Nj pic.twitter.com/sdse9H3ePC

— Mic (@micnews) March 7, 2016

Sanders got in a couple of jokes during the debate.
The Vermont Senator, a sworn atheist, also discussed his Jewish heritage.
Clinton and Sanders said they would like the opportunity to run against Donald Trump, the Republican presidential front runner.
.@BernieSanders: "I would love to run against Donald Trump" #DemDebate https://t.co/NoOSP5ydnk https://t.co/X4CfiMiDXD

— CNN Politics (@CNNPolitics) March 7, 2016
.@DonaldTrump's "bigotry, his bullying, his bluster" won't wear well on Americans says @HillaryClinton at #DemDebate https://t.co/oskYZOMmeM

— CNN (@CNN) March 7, 2016
Both canidates were given an opportunity make closing statements.
@HillaryClinton closing statements #DemDebate #cnn pic.twitter.com/i3ITk4MWld

— Jeremiah Rappel (@JeremiahRappel) March 7, 2016
@BernieSanders closing statements #DemDebate #cnn pic.twitter.com/QjLrJ4PLUw

— Jeremiah Rappel (@JeremiahRappel) March 7, 2016
According to Twitter analysis of tweets sent during the debate, there were a few moments that stood out for those following along on social media: Sanders' stating that he hates to say the word "yuge," a reference to Trump's pronunciation of "huge;" the Vermont senator's shushing Clinton, during a testy exchange; and both candidates' discussion of their faith were the most-tweeted moments of the debate.
2016 Democratic Presidential Candidates | InsideGov
© Copyright IBTimes 2023. All rights reserved.