Coachella 2012 Set Times Released: Decisions, Decisions [FULL SCHEDULE]
The official set times for Coachella 2012 have been released, with two days to go before the festival kicks off its first weekend.
Hey . . . SET TIMES! the festival's Twitter account wrote late Tuesday night, attaching photos of the schedule for Friday, Saturday and Sunday of Weekend 1.
As with most festivals with multiple stages, folks will have hard decisions to make over which band to see, if two or more favorites are playing at the same time.
Friday festival goers will have to decide between Swedish House Mafia on the Coachella main stage and the much-anticipated reunion of Refused. Fans of The Black Keys, Explosions in the Sky and M83 (who's made a big splash in recent months with Hurry Up, We're Dreaming) will also have a hard decision, as all three are scheduled to play between 9:45 p.m. and 11:05 p.m., on the Coachella main stage, outdoor theater and Mojave tent, respectively.
Fans of Radiohead should be able to enjoy the band's 11:05 p.m. headlining slot on Saturday without stressing over any conflict, unless they are also fans of rapper A$AP Rocky, EDM star Sub Focus, or DJ Kaskade.
It'll be a battle between Sweden and the UK, as Miike Snow and SBTRKT are scheduled to play around the same time, one in the outdoor theater, the other in the Gobi tent. Another conflict will arise for fans of folky, singer-songwriter tunes, around dinner time, when Andrew Bird plays at the same at the same time as Laura Marling.
Before heading over to catch Dr. Dre and Snoop Dogg on the main stage at 10:35 p.m. on Sunday, spend 20 minutes with Swedish DJ Avicii, who goes on at 10:10 p.m. in the Sahara tent. You can also catch Florence and the Machine at the outdoor theater before walking to the neighboring main stage to see Snoop and company.
Scroll down for the full set times for Coachella 2012, weekend one. Do you spot other schedule conflicts?
Happy Coachella!
Also visit: Coachella 2012 Lineup: 10 Artists to Watch (And It's Not Snoop Dogg)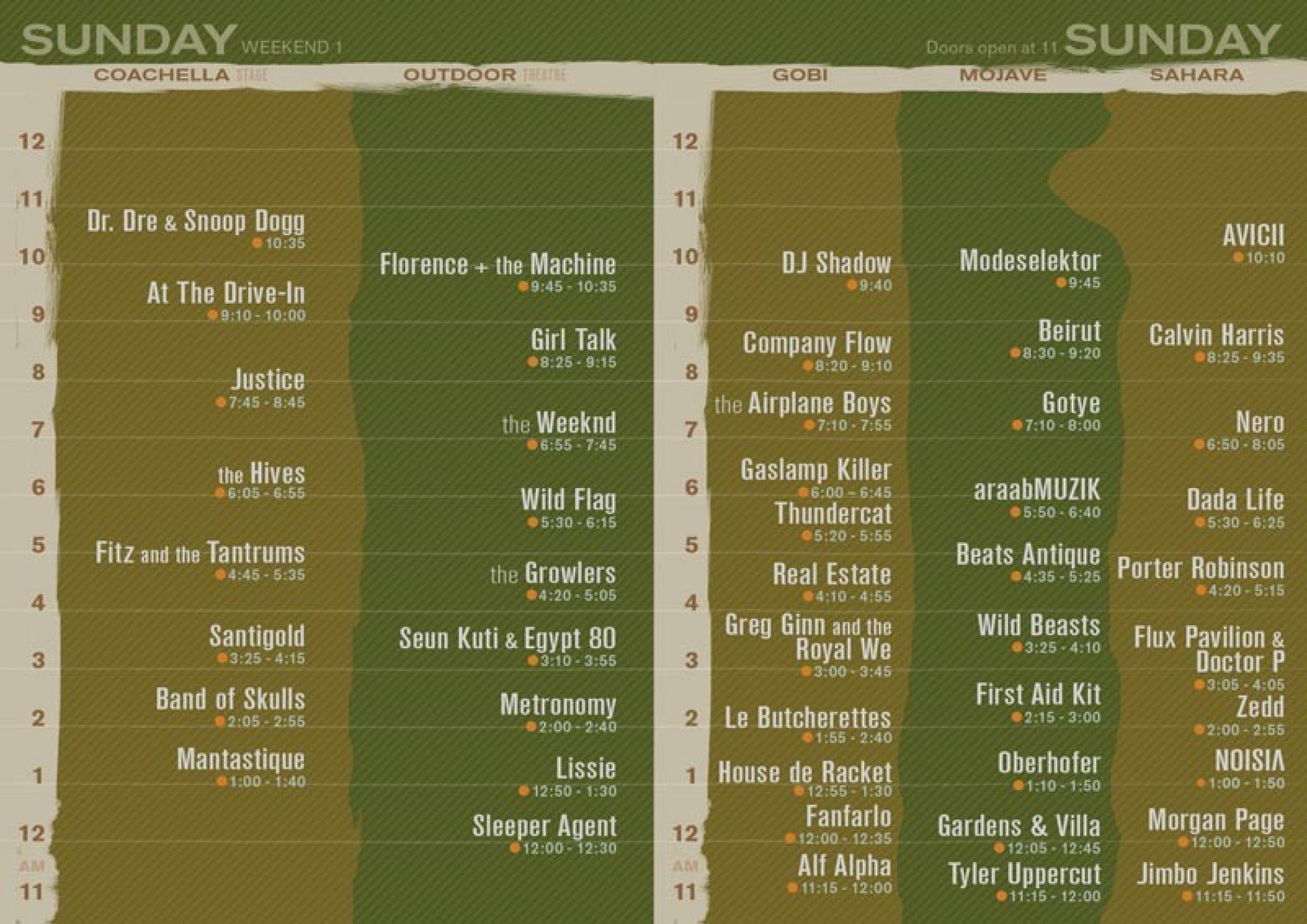 © Copyright IBTimes 2023. All rights reserved.