'The Colbert Report' Final Episode: Stephen Colbert's Legacy Remains Strong As He Looks To Take Loyal Audience To CBS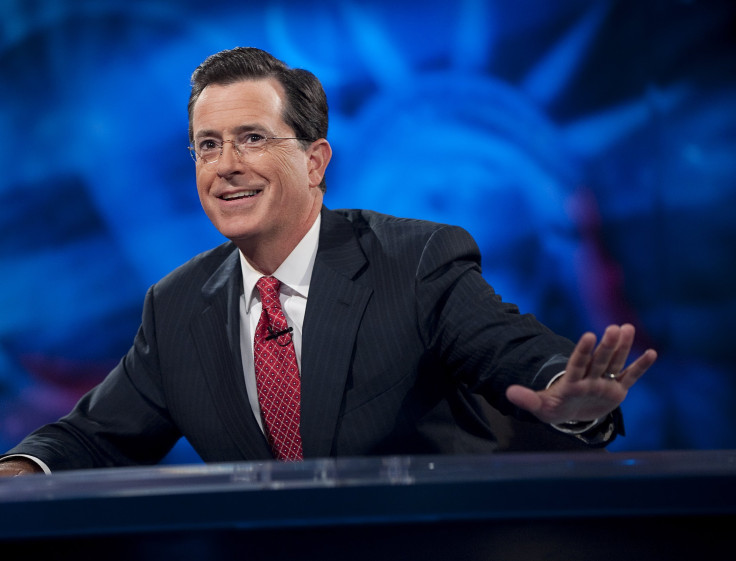 It will go down as one of the most anticipated, but also ambiguous ends in television history. The finale of Comedy Central's "The Colbert Report," which airs Thursday night (11:30 p.m. EST), will be the end of not just the series, but presumably the conservative blowhard character Colbert has been playing for every second of the show's nine-year run.
The show might even kill the fictional Colbert -- the Grim Reaper is scheduled as the final guest. The real Colbert, however, is off to take over a more conventional job, replacing David Letterman on "The Late Show" when the veteran host retires in May. Colbert, though, leaves behind an impressive legacy at Comedy Central, where his show made an unexpectedly large impact.
"The Daily Show," also on Comedy Central, has spawned an impressive list of protégés, who, since starting out as correspondents for host Jon Stewart's show, have had tremendous success after leaving the program. Steve Carell went on to become one of the biggest comedic actors in Hollywood and John Oliver continues to make waves on HBO with his biting "Last Week Tonight." None has been more inexorably linked to "The Daily Show," however, than Colbert, whose "Report" (with a silent "t") seemed to be the yin to the yang of the "The Daily Show," airing directly after and using Colbert's facetious conservative persona as a counterweight to Stewart's obvious liberalism in pursuit of the same satiric goals.
Yet, "The Colbert Report" managed to set itself apart by doing something else, not just writing top-class satire but tapping into the power of its audience in a way no show had before. In a digital age, with many Americans simultaneously on the Internet while watching television, audience engagement became the key to the unique success of "The Colbert Report." The show often used the interconnectivity of its audience, linked together via the Internet and social media, to rally its fans to action that went beyond the call of entertainment. At times, "The Colbert Report" was not a show with fans but a community with Colbert as its leader. And that community even had a name: "Colbert Nation."
"Colbert represents the voice of America," celebrity brand expert Jeetendr Sehdev told International Business Times. "He is more humanized and more accessible than someone like Jon Stewart, who plays more of a traditional talk show host." Sehdev noted that the host's accessibility has made him a true power brand with much a higher proportion of his fans classified by Sehdev as "loyalists" -- regular viewers who push the show to others via word of mouth -- than other hosts such as Jimmy Fallon or Jimmy Kimmel.
Colbert began most of his segments addressing his audience with "Nation." The title immediately inviting fans into a community that could bond over being in on a huge inside joke -- the joke being Colbert's assumed persona. While it may not have been a well-kept or even intended secret, it felt like an inside joke all the same. And for every episode for nine years, Colbert has signed on and signed off of "The Report" in character as a naively jingoistic, conservative talking head -- an incredibly difficult shtick to make work for so long.
"Jimmy Kimmel Live!" host Jimmy Kimmel told the New York Times, "I remember pleading with [shared manager James] Dixon to tell Stephen it was a terrible mistake to do a character the whole time," Kimmel said. "That it wasn't going to last, and also not to name the show 'The Report' as a joke. It was just going to confuse everybody. And he did, anyway, and of course, it was a smashing success in every way"
Colbert did make it all work, to unprecedented ends for a half-hour comedy show that airs at 11:30 p.m.
On behalf of the show, Colbert founded a political action committee, "Americans for a Better Tomorrow, Tomorrow," as a satirical comment on the Citizens United Supreme Court decision on campaign finance. However, the Super PAC raised very real money to the tune of $1.02 million.
In 2006, Colbert sent his fans to a poll run by Hungary's Ministry of Economic Affairs and Transport to name a bridge under construction in the Central European country. Colbert Nation made the host the runaway winner to get the bridge named after him, though he was later disqualified.
Colbert is even responsible for a new word in the dictionary, "truthiness," as well as a flavor of Ben & Jerry's ice cream available in grocery store freezer cases everywhere, Stephen Colbert's AmeriCone Dream.
These are just a few of the many real-world contributions of "The Colbert Report," contributions not achieved by a run-of-the-mill comedy show, and they were accomplished while making fans laugh the entire way. So powerful is Colbert's reach that Time magazine released an article Wednesday titled, "5 Times Stephen Colbert Changed the World," and Rolling Stone's Rob Sheffield wrote an obituary for the host's right-wing persona.
All the same, there some are apprehensive about how the host will fare leaving his right-wing crusader persona behind on his move to CBS. Despite the high number of loyal fans who are likely to follow Colbert to CBS, Sehdev does not believe the host will have more leeway than anyone else to sell whatever new persona he will employ to his new wider and more mainstream audience.
"I don't think he has a bigger window," says Sehdev. "Audiences are very unforgiving." The expert says fans today know exactly what they want to see and don't have a lot of patience.
However, that might be much ado about nothing. "The Colbert Report" proved not just Colbert's mastery of his character, but a mastery of his audience, a skill that is likely to make his transition a success. "The Colbert Report" might be ending, but Colbert Nation has no reason to go anywhere.
Will you be watching when Stephen Colbert takes over for Letterman? Tweet your thoughts to @Ja9GarofaloTV.
© Copyright IBTimes 2023. All rights reserved.