'Collisions' VR Film Premiere At Davos Shows What It Was Like To Witness An Atomic Test In The 1950s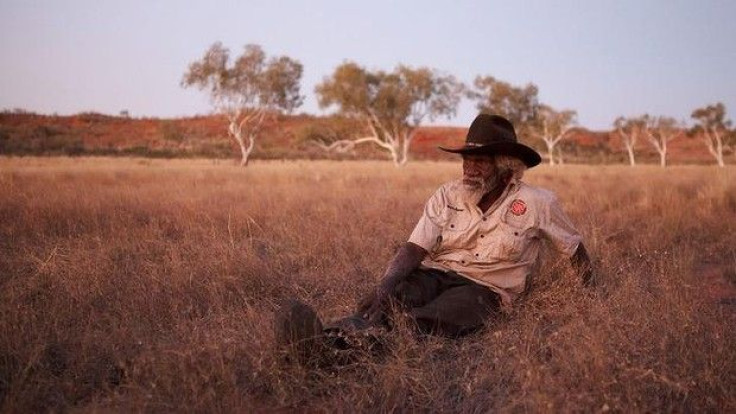 DAVOS, Switzerland — He pauses in the sun-glinted scrub, his body buckling from the force of the detonation. The mushroom cloud forming overhead is a pure mystery to this aboriginal man wandering the bush in South Australia. He knows nothing about the atomic test underway on this day in the 1950s, not its origin or its purpose, only that the land is being remade around him. Kangaroos sprint past him, fleeing the boom and the wall of ash moving toward him. He looks up, mesmerized, as a cone of smoke surges skyward, forming into what he discerns as the figure of a god, speaking to him not in words but through imagery, attesting to its presence.
More than mere observers of this long-ago atomic test, we are rendered participants in this moment through an animated reenactment captured on film in virtual reality. This is the most affecting moment of a new 15-minute film, "Collisions," which marked its world premiere here in the Swiss Alps on Wednesday at the World Economic Forum. It will screen next week at the Sundance Film Festival, and then in April at the Museum of Modern Art in New York.
These are early days in the emerging medium known as VR. While virtual reality gear now amounts to some of the hottest-selling gadgetry on earth, the viewing possibilities remain minimal, and dominated by commercial interests more inclined to treat it as a gimmick than a mode of storytelling. Video games, pornography and advertising are taking early steps to carve into VR, with journalism and documentary filmmaking largely lost in the haze.
"Collisions" represents a concerted effort to change that, harnessing the formidable potential of VR to bring viewers deeply into the terrain under exploration. The film is the brainchild of Lynette Wallworth, an Australian documentary filmmaker who has gained a reputation as a pioneer in the realm of so-called immersive film — experiences that bring viewers into the action, provoking emotional responses.
Last year here at Davos, she displayed an interactive video installation, "Evolution of Fearlessness," featuring 11 women around the globe who had endured extreme trauma, most of them political refugees from lands such as Afghanistan, Eritrea and Iraq. "Collisions" is the result of her travels in her native Australia and her encounter with Nyarri Morgan, the Martu man who stumbled on the atomic test more than a half-century ago in the course of his ordinary desert wanderings.
Morgan — who was here for the screening with his wife, Nola Morgan, making their first journey beyond Australia — is a quiet and affecting presence on screen, a testament to the ways in which seemingly discrete realms can have profound impacts upon one another as technology continues to evolve. He and his family had no direct contact with the rest of human civilization until the 1960s, according to the film, yet their world was shaken by his long-unexplained encounter with atomic weaponry, whose existence sprang from the strategic imperatives of warfare in another realm altogether.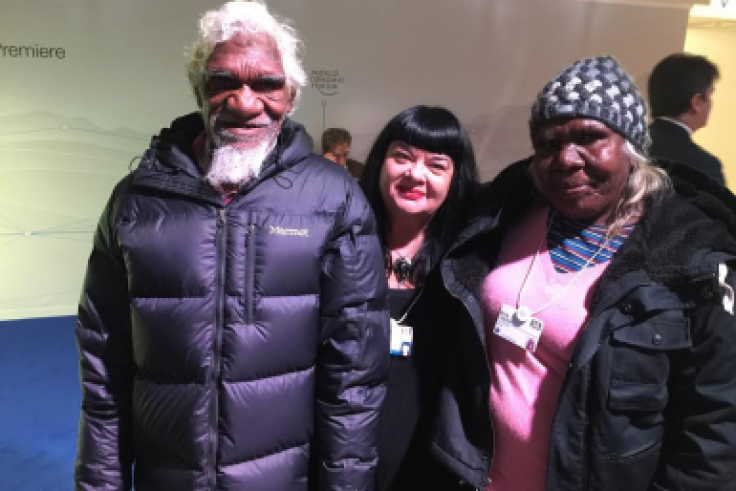 Collisions amounts to an effort to harness technology to bridge such divides in a spirit of understanding. Screened via a Samsung Gear headset that sells for $99 using the company's Galaxy line of smartphones, it is a meditation on how modes of living in one corner of the earth can shake faraway people in unexpected fashion, while underscoring the discrete cosmologies at work from culture to culture.
We first meet Morgan as he welcomes us with a traditional chant. We follow him as he plants small brush fires to protect against greater conflagrations and generate fresh growth in a process that, he tells us, has been handed down for hundreds of generations. He draws a circle with his hands as he describes these generations, denoting that this is a process not confined to the past but inclusive of the future.
The Morgan family embraced the film as a chance to forge a connection.
"They wanted to give a sense of what their space feels like," Wallworth tells International Business Times in an interview following the screening. "What I love about VR is that it makes it all personal. Everything in their world is near you. This technology allows us to feel present in a place we can't ordinarily go."
Wallworth shot and edited the film with the support of a new Sundance residency program centered on VR, the festival's effort to claim a piece of the emerging technology for narrative film.
"A lot of the early VR efforts are experiences," Wallworth says. "You have lots of digital transitions and no real story. "Collisions aims to be immersive and compelling but also hold a story within it."
The film's producer, Oakland, Calif.-based Nicole Newnham, hopes Collisions will mark a milestone in VR's evolution, offering evidence it can be harnessed to make media more representative of the world as inhabited by humans, and more inclusive — a place for stories made by and about women, people of color, and cultures often confined to the margins.
"It's like being in the early days of cinema," Newnham tells IBT. "You're inventing a new language."
© Copyright IBTimes 2023. All rights reserved.