'Conan In Cuba': Watch The Best Moments From Conan O'Brien's Trip To Havana [VIDEOS]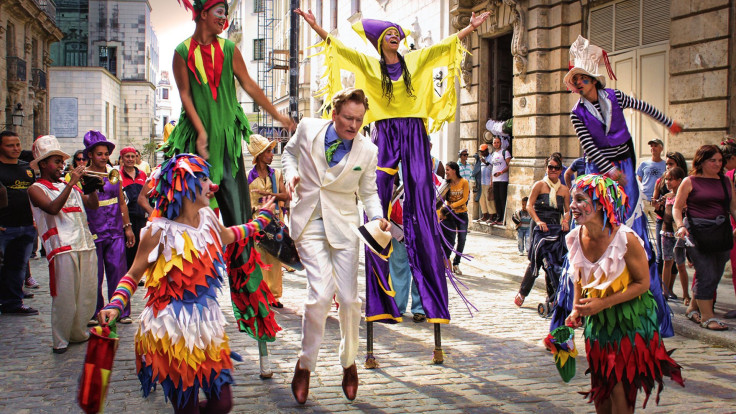 When Conan brought his late night show to TBS, it was a bold move, but that was nothing compared to where the host took "Conan" for Wednesday's episode – Cuba. Not since Jack Parr in 1959 had a late-night host filmed an episode from the country. But with a Congressional lifting of the embargo between the U.S. and Cuba on the horizon, O'Brien wanted to take advantage of the opportunity to visit the Caribbean country.
"I felt really strongly about this — I don't want this to be a snarky American comedy take. I don't want this to be political," O'Brien told reporters in New York last week. "A lot of my [on-location sketches] are me as a fish-out-of-water. I want to go as a comedian who's making fun of himself and I want to try and make the Cuban people laugh. In that regard, I think we were successful."
Whether salsa dancing, or trying to ingratiate himself to locals with his comically limited Spanish, O'Brien's visit was an entertaining one to say the least. Here are the best moments from Wednesday night's episode of "Conan," filmed in Havana, Cuba:
Greetings From Cuba
O'Brien welcomed fans Monday from a desk in an alleyway in Havana, sporting an all-white suit and joined by a "Cuban Andy" instead of Andy Richter.
Conan Tries Salsa
O'Brien gave Cuba's traditional dance a shot and, once again, attempted to use his middle school-level Spanish to impress some locals.
Conan Takes Spanish Lessons
Determined to be better communicate with the Cuban people, O'Brien took Spanish lessons at a local school.
Conan Goes Native
O'Brien met some locals along Cuba's waterfront promenade and was soon blending in with the crowd...drinking rum from a box and smoking cigarettes.
Conan Watches the Sunset
O'Brien took in a Havana sunset at the end of one of his days in the country, imagining how CNN might sensationalize the event.
Conan Rolls A Cigar
Speaking of smoking, O'Brien paid a visit to a cigar factory to learn to make a famous Cuban cigar. His attempt was unsuccessful.
What did you think of "Conan in Cuba?" Tweet your thoughts to @Ja9GarofaloTV
© Copyright IBTimes 2023. All rights reserved.