As Congress Grills Former Pharma Exec Shkreli, Here Are Four Potential Fixes For High Drug Prices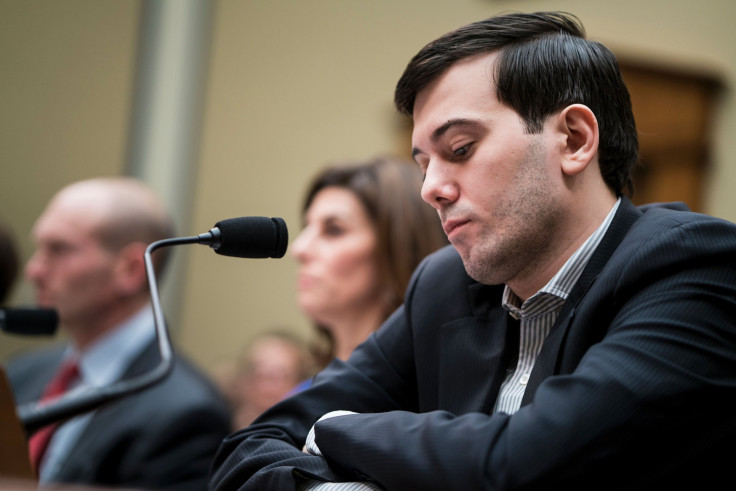 A committee of the U.S. House of Representatives grilled pharmaceutical executives on Thursday at a hearing on price hikes for prescription drugs. The public considers this a pressing issue, according to a survey last fall by the Kaiser Family Foundation, so lawmakers are looking for solutions to appease constituents without placing undue restrictions on the pharmaceutical industry.
Martin Shkreli, former CEO of Turing Pharmaceuticals, appeared at the hearing in Washington, D.C., and so did Howard Schiller, interim CEO at Valeant Pharmaceuticals. Turing and Shkreli came under fire last year after dramatically raising the price of a decades-old drug called Daraprim, and Valeant hiked the price of two heart medicines after purchasing them last spring.
On Tuesday, the U.S. House Committee on Oversight and Government Reform, which is hosting the hearing, released documents obtained from Turing showing Shkreli was brazen about his motives for raising Daraprim's price from $1,700 per bottle to $75,000, saying in an email that "almost all of it is profit." The drug is used to treat toxoplasmosis, a condition that afflicts AIDS patients, among others.
Plenty of past hearings have addressed the high price of medicines. In November, the U.S. Senate Special Committee on Aging held one on sudden increases. The Department of Health and Human Services hosted a daylong forum on high prescription drug prices later that month.
If lawmakers were inspired to take action in the coming months given their momentum, here are four ways that advocates and policy experts say they could re-shape the way pharmaceutical companies set prices.
1. Institute price controls. One of the most controversial options is to set a maximum price that companies are permitted to charge for prescription drugs. Known as a "price control," these limits are already in place in 11 countries in the Organization for Economic Cooperation and Development.
Lynda Dee, co-chair of the Fair Pricing Coalition, believes this is the only way the government can truly protect patients. "These are people's lives we're talking about," she said. "It's not a new tire or a new dress."
Ezekiel Emanuel, vice provost at the University of Pennsylvania, agrees that price controls would be the most effective solution. In a recent New York Times editorial, he pointed out that in Australia an agency purchases all medicines required in the country at a price that it agrees upon with the manufacturer.
However, concerns that controls might limit investment, or cause pharmaceutical companies to scale back their ambition for discovering new medicines, have made this solution politically unpopular. Among experts, it's widely considered an improbable solution. Emanuel says the chance of price controls passing Congress this year is "zero."
2. Permit the government to negotiate drug prices. A solution that's frequently proposed in the drug pricing debate is to permit federal insurance programs such as Medicare to negotiate lower drug prices with pharmaceutical companies. Medicare covers 55 million Americans and prescribes about $103 billion worth of drugs a year. But the program is prohibited from negotiating prices directly with pharmaceutical companies. Instead, the task is dispersed among private insurers that operate its prescription drug plan.
Scott Ramsey, a health economist at Fred Hutchinson Cancer Research Center, says this simple permission could make more of an impact on drug prices than any other change. But he says it is critical to also empower Medicare to refuse to cover drugs if the agency concludes that they do not offer enough benefit for the price.
Most Expensive Prescription Drugs | HealthGrove
Other countries, including the U.K., that have adopted this model have been criticized for excluding pricey cancer drugs from the nation's formulary, but Ramsey and Emanuel say this is the only way to give teeth to negotiations.
"That's the hard place that I don't think we've been willing to go," Ramsey said. "But I think it's the only way to reign in what's kind of out-of-control pricing right now."
3. Hasten the process of generic drug approvals. A lack of competition can drive prices higher, and the FDA has a backlog of 3,800 applications for generic drugs awaiting approval despite the fact that the agency is receiving $1.5 billion from drug companies over five years for the explicit purpose of speeding this process.
Experts at today's hearing will discuss barriers that continue to stand in the FDA's way, since creating competition for even decades-old drugs can ensure they remain affordable. For example, part of Turing's strategy was to restrict the distribution rights for Daraprim to limit competitors' ability to obtain one and learn to manufacture a cheaper copy.
Ramsey says it may be necessary for the government to better incentivize pharmaceutical companies to develop generic drugs. This could entail handing out subsidies or providing zero-interest loans, or offering a cash reward to companies that successfully brings a new generic drug to market.
4. Increase transparency of drug prices. Other reformists push for greater transparency as a more elegant solution. The hope is that by forcing companies to reveal how they set prices or disclose true expenses, those companies will be shamed into keeping prices within a reasonable range. This approach is based on the same thinking behind a recent rule by the Securities and Exchange Commission that forces companies to disclose the pay gap between executives and employees.
Dee of the Fair Pricing Coalition supports this approach, and says patient groups like hers would watch the results closely. "Show me," she said. "Show me how, show me why, show me what you spent, and justify these price increases."
However, Ramsey is skeptical that pharmaceutical executives would be sufficiently embarrassed by this tactic. Emanuel agrees. "I don't see how transparency gets us anything, realistically," he noted.
© Copyright IBTimes 2023. All rights reserved.