Congress Omnibus Spending Bill 2015: US Solar Shares Rise On Key Tax Credit Extensions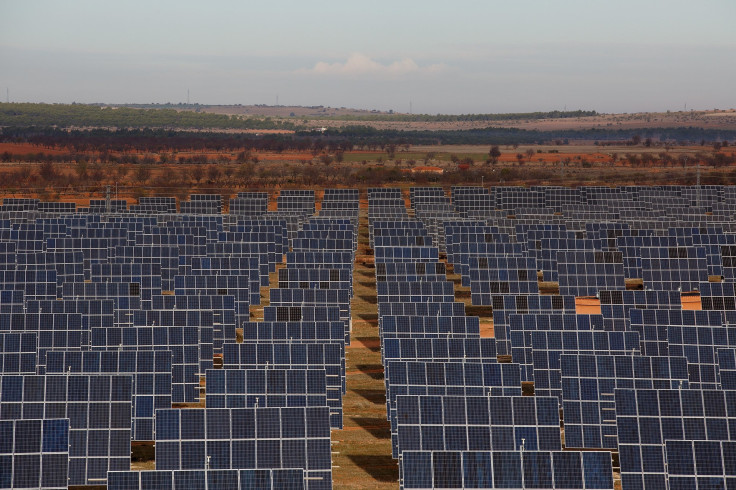 Shares of U.S. solar energy companies rose Thursday morning after Congress agreed to extend key federal tax credits for the renewable energy sector. Policymakers unveiled the incentives Wednesday as part of a $1.15 trillion federal spending bill, which lawmakers are set to consider for final approval Friday.
SolarCity Corp. (NASDAQ:SCTY), the California solar installer chaired by Elon Musk, saw shares jump 8.46 percent to $58.40 a share after the market opening in New York. Shares of Sunrun Inc. (NASDAQ:SUN), a San Francisco-based residential installer, rose 11.6 percent to $13.02 a share after opening. 8point3 Energy Partners LP (NASDAQ:CAFD), a limited partnership formed by First Solar Inc. and SunPower Corp., saw shares gain more than 3 percent to $15.15 a share.
The federal tax credits helped fuel a nationwide expansion of solar panels and wind turbines. Costs of both technologies have plunged over the last decade, making renewables competitive with coal-fired and natural gas-fired power plants in certain parts of the country. But industry leaders and clean energy supporters have argued the wind and solar sectors still need federal support to ensure stable long-term growth.
The budget proposal would extend the life of the Investment Tax Credit (ITC), which allows solar power companies to claim tax credits at 30 percent the price of a solar array. The credits were previously scheduled to fall to 10 percent in 2017 — propelling developers to install record amounts of solar power this year, with even more construction on tap for 2016.
Now, the ITC, which applies to household rooftop systems as well as sprawling utility-scale installations, would remain at 30 percent through 2019. After that, the tax credit would steadily decline to 10 percent in 2022, where it will remain.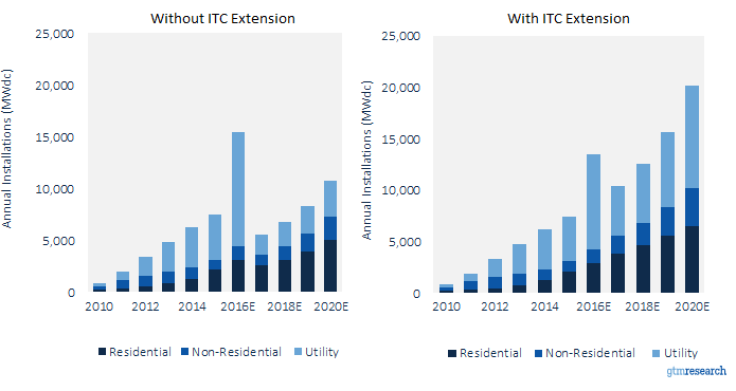 The proposed extension would result in 25,000 megawatts of additional solar capacity over the next five years — a 54 percent jump over a no-extension scenario, according to solar analysts with GTM Research, which tracks clean energy industries. Those additional projects could foster around $40 billion in investment between 2016 and 2020, the researchers estimated.
"Bipartisan members in both Houses have reestablished America as the global leader in clean energy, which will boost our economy and create thousands of jobs across America," Rhone Resch, president and CEO of the Solar Energy Industries Association, the solar sector's biggest trade group, said in a statement Wednesday.
Congress also opted to renew the Production Tax Credit (PTC) for wind developers, which technically lapsed at the end of 2014. While developers who had started construction last year were able to tap it this year, new projects were expected to nosedive without renewable government tax credits.
The PTC awards developers 2.3 cents for every kilowatt-hour of electricity generated by wind farm. The policy has helped more than quadruple U.S. wind power since 2008, from about 16,700 megawatts of installed capacity to nearly 65,000 megawatts by the third quarter of 2015 — enough to keep the lights on in more than 18 million average U.S. homes, according to the American Wind Energy Association, the industry's main lobbying group.
Under the federal spending plan, the PTC would return for 2015 and 2016, then gradually drop in value through 2019. As before, the rules would allow wind projects to qualify for the subsidy as long as developers start construction before the end of the period.
"This plan will drive more development, and near-term prospects look strong — especially as utilities, major end-use customers, and municipalities seek more low cost emissions-free renewable energy," Tom Kiernan, CEO of the wind energy group, said in a statement.
The nonpartisan Joint Committee on Taxation estimated that continued solar tax credits will cost taxpayers $9.3 billion, while extending tax credits for wind power will cost $14.5 billion.
© Copyright IBTimes 2023. All rights reserved.