'The Conjuring 2: The Enfield Poltergeist' Releases First Chilling Photo of Janet Hodgson; Details On The True Story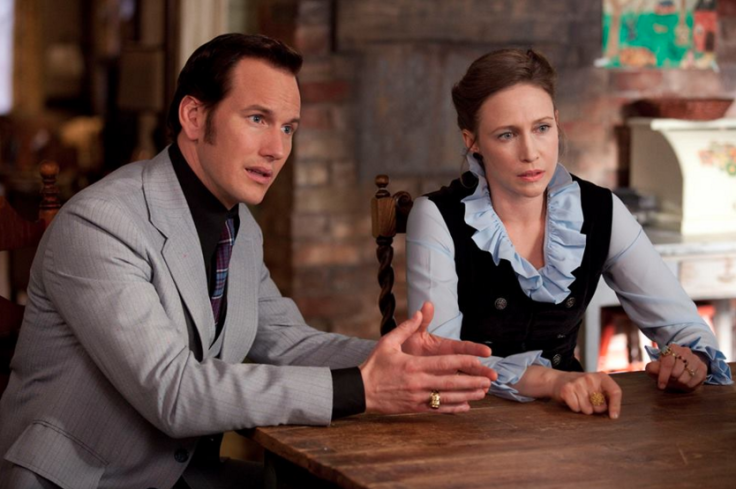 Get ready to start 2016 with a fright. The first official photo of horror flick "The Conjuring 2" is out and it is bound to send shivers down your spine.
The image was first released by Entertainment Weekly as part of their exclusive sneak peek at upcoming 2016 releases. While the photo doesn't feature paranormal investigators Ed (Patrick Wilson) and Lorraine Warren (Vera Farmiga), it does show what the supernatural force they're battling is capable of. A room, which has a number of crosses hanging on the wall, is completely destroyed. A chair and dresser are knocked over with the contents of the draws strewn everywhere. In front of it all is a young girl in a red nightgown. She's sitting on the ground, but appears to be looking up at something frightening.
So, who is the girl in the photo? "The Conjuring 2" viewers will meet Janet Hodgson (Madison Wolfe), an 11-year-old girl from Enfield, London. But she's not just any pre-teen. In 1997 she was tormented by supernatural forces.
That's right, "The Conjuring 2" will follow another one of Ed and Lorraine Warren's true life paranormal investigations. The story begins with the Hodgson family, made up of single mother Peggy and her four children – Margaret, 12, Janet, 11, Johnny 10, and Billy, 7. The family began to experience weird occurrences like moving furniture and banging on the walls. However, one day, strange things started happening to Janet.
A Daily Mirror photographer was able to capture photos of Janet being thrown across the room, some images featuring her hovering in the air. "The Conjuring 2" appears to have been inspired by the image as the nightgown that actress Madison Wolfe is wearing in the first look photo appears to be very similar to that of the one the real Janet Hodgson was wearing.
"The haunting that afflicted the Hodgson family is probably one of the most documented paranormal cases in the world," James Wan told EW.
Fans of the horror movie franchise can watch Ed and Lorraine Warren's paranormal investigation into the Hodgson family when "The Conjuring 2: The Enfield Poltergeist" hits theaters on June 10, 2016.
© Copyright IBTimes 2023. All rights reserved.