Coronavirus Challenge: There Are Not Enough Glass Vials To Package A Vaccine When It Is Finally Made
KEY POINTS
The challenge is not only creating a coronavirus vaccine but also distributing it
The world is already facing glass shortages, making this effort even more difficult
It could take up to two years to produce enough vials just to meet U.S. vaccine demand
Even if the United States or someone else does manage to create a coronavirus vaccine soon enough, the effort to get it to millions of people quickly enough will be thwarted by what would seem a simple problem — there simply are not enough glass vials available, and there has been little effort by the administration to address it.
Rick Bright, the Trump administration's vaccine expert ousted last month because of what Bright claimed was his desire to "prioritize science and safety over political expediency," said in his whistleblower complaint that the U.S. is unprepared to address the immense demand for a coronavirus vaccine. The 60-plus page whistleblower complaint, filed with the U.S. Office of Special Counsel, specifically highlights issues with manufacturing specific kinds of glass needed for the vaccine.
President Donald Trump initially promised a vaccine by the fall, a claim most experts found dubious at best given that the record for the fastest vaccine ever developed is four years for the mumps, and Trump walked his promise back 48 hours later.
Bright wrote in his complaint: "In addition to identifying the need to purchase basic but critical supplies to administer the vaccine, Dr. Bright also raised concerns about a global shortage of glass vials that are required for vaccine production. According to major glass producers, all major pharmaceutical tubing suppliers are sold out of borosilicate tubing. It could take up to two years to produce enough vials for U.S. vaccine needs, while some therapeutics will also require vials. Dr. Bright advised leadership to devise an immediate strategy to address this critical shortage, to no avail."
George Zorich, a pharmacy expert and CEO of ZEDPharma, told Politico that "Probably the biggest challenge will be scaling up the actual vaccine. It's one thing to have clinical trial samples and materials in lab quantities. It's another challenge actually scaling that up effectively."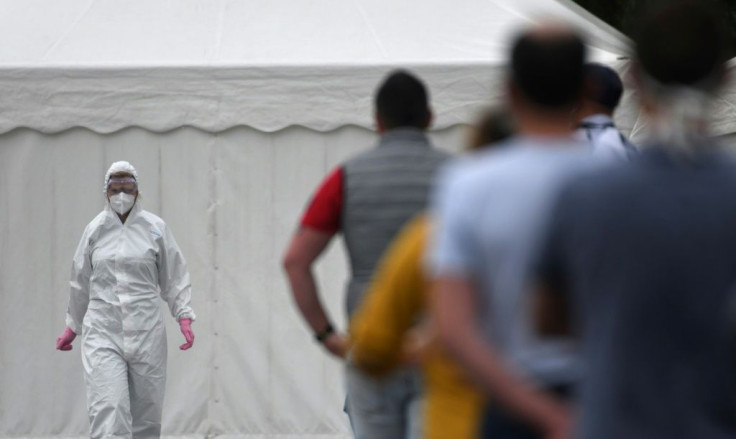 In February, Dr. Anthony Fauci, the White House's top infectious diseases expert, spoke about the costly challenges of developing a vaccine, saying that "You invest hundreds and hundreds and hundreds of millions of dollars to scale up on something that you hope might work. That's the real glitch there. It is going to be a challenge to get a major company to do that."
Moderna Theraputics, which is working with the National Institute of Health on new coronavirus vaccine technology, has received $430 million in federal funds, while the government gave Johnson & Johnson $456 million for its experimental vaccine, providing some context as to the kind of up-front financial investment required to develop a vaccine.
While much focus has been placed on the successful development of a vaccine itself, what Bright, Zorich, Fauci and many others have warned about are the logistical and supply chain challenges of distributing the coronavirus vaccine.
The world is already facing a glass shortage that Bright said the Trump administration is not taking seriously, and the type of glass required by this effort is not easily acquired, as Howard Sklamberg, a former FDA official and now an attorney at Arnold & Porter, told Politico: "Not all glass is the same. A manufacturer making champagne glasses can't just switch to making medical vials."
© Copyright IBTimes 2023. All rights reserved.