Coronavirus News: Dozens Of Bodies Discovered In Trucks Outside Brooklyn Funeral Home
KEY POINTS
Authorities discovered dozens of bodies in unrefrigerated trucks outside a funeral home
The funeral home owner stated that their freezer was broken
Funeral homes are required to store bodies in approapriate conditions
Authorities in New York City reportedly found dozens of bodies inside unrefrigerated trucks outside a funeral home in Brooklyn. The incident happened a week after the city announced its freezer truck initiative.
It was shortly after 11 a.m. ET on Wednesday when officials received a call about foul odor coming from trucks outside the Andrew T. Cleckley Funeral Services in Brooklyn. Upon arriving at the scene, officers discovered each of the trucks were holding dozens of bodies in body bags stacked inside the trucks. In fact, a police source reportedly told ABC News the two trucks were holding 50 bodies each. Neighbors also told the outlet bodies were placed in the unrefrigerated trucks "on and off" for a month.
Funeral homes are required to store bodies waiting for burial or cremation in appropriate conditions and to follow proper infection control. Unrefrigerated trucks are not suitable for storing bodies, but the funeral home director explained its refrigerator was broken and that they ran out of places to store the bodies.
"The Department has been notified of storage issues of decedents and alternate arrangements are being made by the funeral home," the New York State Health Department said in a statement to ABC News.
According to WABC, city authorities sent proper freezer trucks to hold the bodies, while the NYPD also responded to the scene for crowd control because of the infection risk.
An investigation on the incident is ongoing, but the New York Department of Health has issued two summonses for the improper handling of human remains.
It is so far unknown how many of the people in the trucks had died as a result of the pandemic.
Incidentally, it was only last week when New York City announced its initiative to place the bodies of some COVID-19 victims in freezer trucks instead of burying them on Hart Island. The idea is to temporarily freeze the bodies of the deceased during the pandemic to reduce the strain on hospitals and funeral homes.
That said, the coronavirus victims will still be buried on Hart Island if they are left unidentified, or if their next of kin still has not been reached 15 days after death.
As of April 29 at 1:00 p.m. ET, New York City has recorded 159,865 coronavirus cases and 12,287 confirmed deaths. There are also 5,302 people whose death certificates marked "COVID-19" or equivalent as the cause of death but did not have a positive COVID-19 test.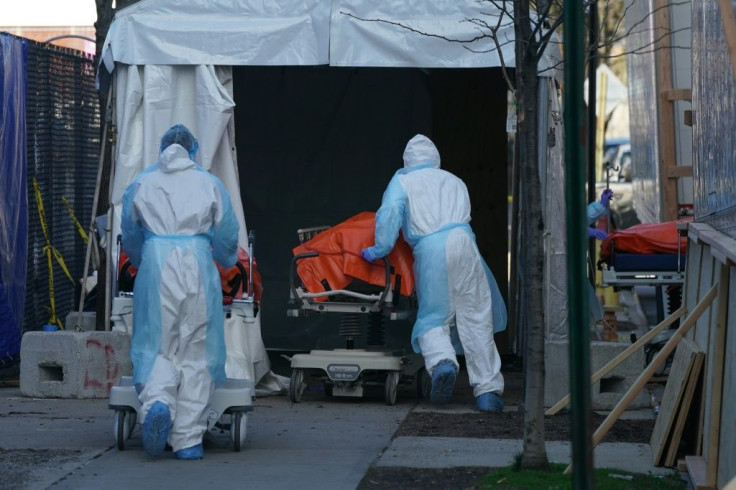 © Copyright IBTimes 2023. All rights reserved.