Coronavirus Second Wave: Fauci Warns US May Hit 100,000 New Cases Daily
KEY POINTS
The Memorial Day reopening of states triggered the new, and far worse, spike in the number of COVID-19 cases and deaths in the U.S.
Dr. Anthony Fauci said the U.S. is "going in the wrong direction" with the sharp increase in the number of COVID-19 cases
Dr. Fauci said he won't be "surprised if we go up to 100,000 a day"
Amid clear signs the resurgence of COVID-19 after Memorial Day threatens to spiral out of control, the United States' top health experts now warn of massive increases in the numbers of COVID-19 cases in the country.
New virus cases have skyrocketed 80% over the past two weeks, according to a New York Times database. This troubling increase is mostly concentrated in the South and West, where the situation is moving towards critical.
Hospitalizations are on the rise in 12 states. Thirty-six states report an increase in new coronavirus cases compared to last week. Fifteen states recorded their highest seven-day averages of cases Monday. And the death rate is starting to climb with Arizona now reporting a rising death toll.
The direst prediction was made by Dr. Anthony Fauci, Director of the National Institute of Allergy and Infectious Diseases (NIAID), who testified along with other health experts for over three hours Tuesday before the Senate Committee on Health, Education, Labor. They were asked about their professional opinion on President Donald Trump's response to the pandemic and the country's progress in reopening the economies of individual states.
Dr. Fauci told senators he wouldn't be surprised if the U.S. begins to see daily new cases hitting 100,000 a day given current trends. He also said he can't accurately predict the number of cases and deaths in the U.S. before the pandemic is over.
He warned that whatever this figure, "it's going to be very disturbing, I will guarantee you that." He also said he's "very concerned" about the increase in new cases in many states.
Dr. Fauci's prediction of 100,000 new cases a day isn't far-fetched considering the U.S. has seen more than 40,000 confirmed cases per day for the last three days.
"We are now having 40-plus thousand new cases a day," he said. "I would not be surprised if we go up to 100,000 a day if this does not turn around. And so I am very concerned."
There were 41,000 cases Sunday, 45,000 cases Monday and 43,000 cases Tuesday, based on data from Worldometer. Deaths are also rising. There were 290 deaths Sunday, 370 Monday and 740 Tuesday.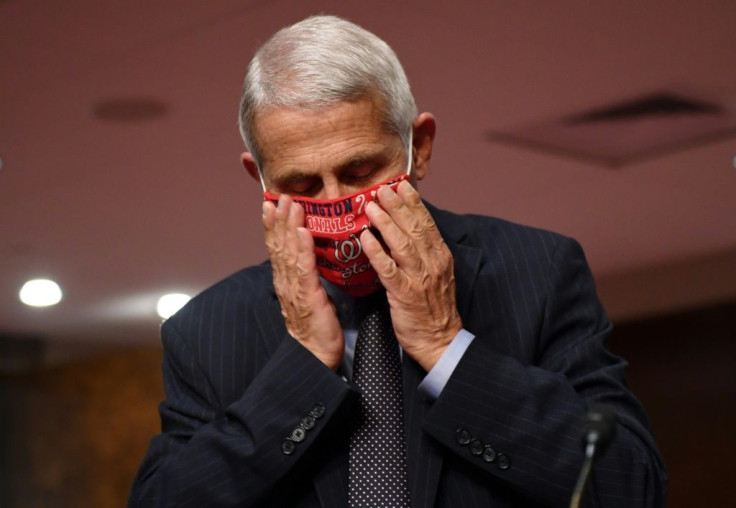 Dr. Fauci pointed out the U.S. is "going in the wrong direction" with the sharp increase in the number of COVID-19 cases. He said he's very concerned about states where the disease in spiking.
"Clearly, we are not in total control right now," he said. "I'm very concerned about what's going on right now, particularly in the four states that are accounting for about 50% of the new infections," he said. These states are Florida, Texas, California and Arizona.
Dr. Fauci's anxious concern over the surge in new cases was seconded by Dr. Robert Redfield, director of the U.S. Centers for Disease Control and Prevention (CDC). Dr. Redfield confirmed Dr. Fauci's conclusion the U.S. is seeing "significant increases" in new cases, especially in the southeast and southwest regions. He also revealed hospitalizations have increased in 12 states.
Dr. Redfield also said there is an urgent need for an "aggressive modernization" of the outmoded contact tracing procedures in the United States. He batted for a "substantial investment" in contact tracing for health experts to get a better grip on the disease.
Both Dr. Fauci and Dr. Redfield strongly urge Americans to wear face coverings. Dr. Fauci said "we recommend masks for everyone" and "masks are extremely important."
On the other hand, Dr. Redfield pleaded with younger Americans to wear masks. The current COVID-19 spike is claiming younger victims, as records show. At least half of the new cases are people below 40 years of age.
© Copyright IBTimes 2023. All rights reserved.
FOLLOW MORE IBT NEWS ON THE BELOW CHANNELS