Coronavirus Second Wave: US Reports 30,000 New Cases Two Days Straight, Highest Since May 1
KEY POINTS
The U.S. again reported 30,000 confirmed COVID-19 cases in a single day on Friday and Saturday
The fear among health experts is this daily toll will rise as states reopen and the presidential campaign season begins in earnest
CDC estimated 145,000 additional deaths in the U.S. by July 11
An alarming surge in the number of daily COVID-19 cases and the frequency of these spikes saw the United States reel from 30,000 confirmed cases on Friday and Saturday, the highest totals since May 1. Data from Johns Hopkins University also shows a spike in new cases across the South, West and Midwest.
Many health experts said the surge was inevitable given the rush among states to reopen their paralyzed economies. Others argue this might be a "second wave," while some contend the country remains in the first wave that began last January.
The U.S. Centers for Disease Control and Prevention (CDC) forecasts there will likely be an additional 129,000 and 145,000 total COVID-19 deaths by July 11. It estimates the number of new deaths over the next four weeks will be concentrated in Alaska, Arizona, Arkansas, Florida, Hawaii, North Carolina, Oregon, South Carolina, and Utah.
Of these states, Arizona, Florida, Nevada, South Carolina, as well as California reported record-high single-day increases in COVID-19 infections over the weekend. Florida and South Carolina reported their third consecutive day breaking single-day records.
Florida is predicted to emerge as the newest COVID-19 hotspot in the country replacing New York. On Saturday, Florida reported 4,049 new cases, a new high that broke another single-day record in the state.
Friday saw the previous largest single-day jump of COVID-19 cases in Florida with 3,822. There were 3,207 cases Thursday, which was also the first time Florida had seen a case number higher than 3,000 in a single day.
There were a total of 93,797 cases reported in Florida as of Saturday. Its latest positivity figure stood at 12%, according to the Florida Department of Health (DOH). Florida was one of the last states to impose stay-at-home restrictions and one of the first to lift them.
Over the last two weeks, the positivity rate ranged from 3% to 12%. The positivity rate refers to the percentage of positive tests among screened individuals.
Experts explain a high positivity rate means a state isn't testing widely enough to know how much of the COVID-19 virus is spreading within its boundaries. On the other hand, a low positivity rate means a state has sufficient testing capacity for the size of its outbreak.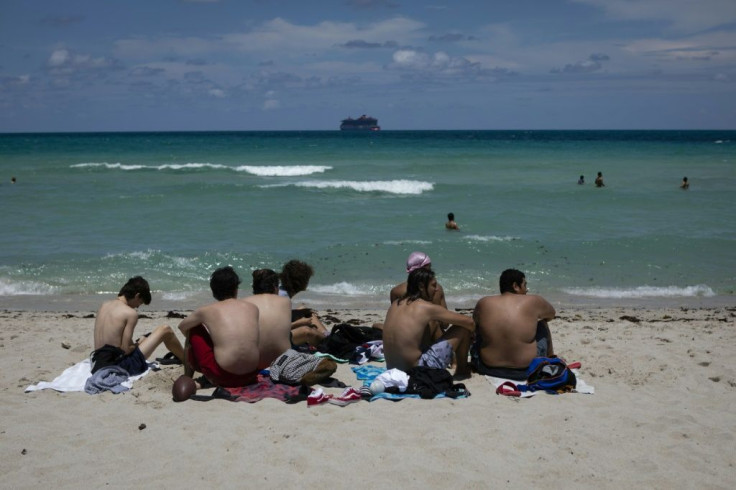 Gov. Ron De Santis, R-FL, however, attributes these successive spikes to increased testing. De Santis' claim isn't accurate since hospitalizations are also increasing. Hospitalizations reveal new cases are being discovered.
Also alarming in some states is an unexpected jump in positivity rates. Positivity rates exceeded 10% in five states: Arizona (17%), Alabama (12%), Washington state (11%), South Carolina (10%) and Florida (12%). A dozen other states had positivity rate averaging 7.5%. These states include Utah, Texas, Mississippi and Georgia.
Some states such as Arizona -- the site of Trump's second campaign rally on Tuesday -- are emerging as candidates for a future COVID-19 epicenter. Arizona reported a record 3,246 new infections Thursday, or almost twice the number on Wednesday. Its latest single-day positivity rate came to 18.6% on Thursday.
On Sunday, COVID-19 cases in Arizona rose by 2,592. The Arizona Department of Health Services (ADHS) said Sunday's spike was one of the top five highest single-day increases since the start of the pandemic.
As of Sunday, ADHS reported 52,390 COVID-19 cases and 1,339 deaths, an increase of one new death. ADHS said the spike in positive cases comes several weeks after Arizona both eased its stay-at-home orders and allowed businesses to reopen on May 15.
"It would be preposterous to think that people going out aren't increasing the positive cases," said Dr. Murtaza Akhter of the University of Arizona College of Medicine. "One of my concerns is whether people are ever going to take public health emergencies seriously."
On Sunday, the U.S. reported 2.28 million confirmed cases and more than 120,000 deaths, according to data from Johns Hopkins UNiversity. The new death toll exceeds the number of Americans killed in World War 1, which stands at 117,500 military and non-military deaths.
© Copyright IBTimes 2023. All rights reserved.
FOLLOW MORE IBT NEWS ON THE BELOW CHANNELS