Coronavirus Transmission Distance Is 13 Feet, Spreads Through Shoes: CDC Report
KEY POINTS
Four meters is the safe social distance, according to a new study out of China
Staff at a hospital in Wuhan that treated COVID-19 patients also had the coronavirus embedded in their shoes
The study also found SARS-CoV-2 widely distributed in the air and on object surfaces at the hospital ICU and general ward
New research out of China claims to show droplets infected with SARS-CoV-2 (severe acute respiratory syndrome coronavirus 2), the virus that causes COVID-19, and sprayed into the air by persons coughing and talking might travel as far away as four meters or 13 feet. It also claims shoes of health workers in Wuhan, China tending COVID-19 patients were infected by SARS-CoV-2.
The U.S. Centers for Disease Control and Prevention (CDC) recently published a study in Emerging Infectious Diseases (EID), its open-access, peer-reviewed journal, showing SARS-CoV-2 can spread further than previous estimates. The study authored by Chinese researchers carries the title "Aerosol and Surface Distribution of Severe Acute Respiratory Syndrome Coronavirus 2 in Hospital Wards, Wuhan, China, 2020."
It sought to determine distribution of SARS-CoV-2 in hospital wards in Wuhan. The new study tested surface and air samples from an intensive care unit (ICU) and a general COVID-19 ward (GW) at Huoshenshan Hospital in Wuhan.
According to the study, "Contamination was greater in intensive care units than general wards. Virus was widely distributed on floors, computer mice, trash cans, and sickbed handrails and was detected in air ≈4 m from patients."
"Furthermore, half of the samples from the soles of the ICU medical staff shoes tested positive," the researchers wrote of samples taken at Huoshenshan Hospital.
The study was conducted from February 19 to March 20. It again confirmed findings by other studies the "main transmission routes for SARS-CoV-2 are respiratory droplets and close contact." It remains unclear from previous studies if SARS-CoV-2 can be transmitted by aerosols. This claim remains controversial and the exposure risk for close contacts has not been systematically evaluated. Hence, the need for this new study.
The study came to three main conclusions. First, SARS-CoV-2 was widely distributed in the air and on object surfaces in both the ICU and GW. What this suggests is a potentially high infection risk for medical staff and other close contacts.
The second finding had to do with environmental contamination, which was greater at the ICU than in the GW. This finding means far stricter protective measures should be taken by medical staff working in the ICU. Finally, the aerosol distribution characteristics of SARS-CoV-2 in the GW indicate the transmission distance of SARS-CoV-2 might be four meters.
"The SARS-CoV-2 aerosol distribution characteristics in the GW indicate that the transmission distance of SARS-CoV-2 might be 4 m," the study wrote.
This finding contrasts strongly with current CDC guidelines, which recommend six feet for social distancing. On the other hand, the World Health Organization (WHO) claims three feet should be enough for protective social distancing.
The researchers, however, noted two limitations to the study, "First, the results of the nucleic acid test do not indicate the amount of viable virus. Second, for the unknown minimal infectious dose, the aerosol transmission distance cannot be strictly determined."
"Overall, we found that the air and object surfaces in COVID-19 wards were widely contaminated by SARS-CoV-2. These findings can be used to improve safety practices."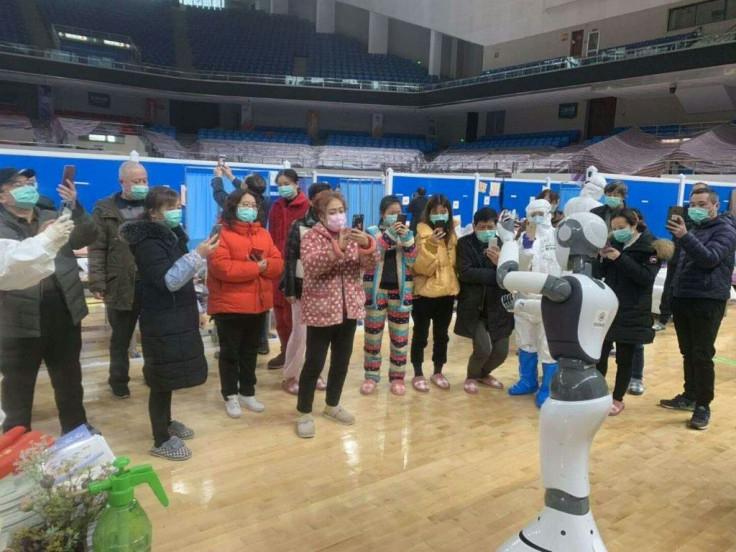 © Copyright IBTimes 2022. All rights reserved.
FOLLOW MORE IBT NEWS ON THE BELOW CHANNELS