Coronavirus Treatment: Fauci Says Remdesivir Has 'Clear-Cut, Significant Positive Effect' On Patients
KEY POINTS
Remdesivir will soon become the first drug authorized by the FDA as a treatment for COVID-19
The go-ahead to fast track remdesivir production follows positive results from a phase 3 clinical trial conducted by NIAID
Participants in the NIAID trial that received remdesivir recovered in an average of 11 days compared with 15 days for patients on a placebo
Already responsible for a series of strong Wall Street rallies, the antiviral drug remdesivir undergoing trials as a treatment for COVID-19 got a huge shot in the arm Wednesday from Dr. Anthony Fauci, Director of the National Institute of Allergy and Infectious Diseases (NIAID).
Speaking from the White House, Dr. Fauci declared remdesivir can block "severe acute respiratory syndrome coronavirus 2 (SARS-CoV-2)," the virus that causes COVID-19. More important from a patient's standpoint is remdesivir shortened the period patients experienced symptoms and slightly reduced the mortality rate.
"What it has proven is that a drug can block this virus," noted Dr. Fauci. He called this finding "very optimistic."
Dr. Fauci also hailed the results of the remdesivir clinical trial conducted by NIAID, calling it "quite good news." He believes remdesivir "will be the standard of care" for COVID-19 moving forward.
Preliminary results from the recent NIAID trial -- the first randomized clinical trial for remdesivir -- show patients given remdesivir recovered 31% faster than those given a placebo. These results were hailed by Dr. Fauci as "highly significant."
"This is really quite important," said Dr. Fauci. He compared this result to a moment in 1986 "when we were struggling for drugs for HIV and we had nothing."
Participants in the NIAID clinical trial that received remdesivir recovered in an average of 11 days compared with 15 days for patients in the control group, who received a placebo. Eight percent of remdesivir patients died during the trial compared to 11% in the placebo group.
Dr. Fauci said the data shows "remdesivir has a clear-cut, significant positive effect in diminishing the time to recover." He did, however, warn remdesivir isn't a complete "knockout" but said the findings are significant because "what it has proven is that a drug can block this virus."
The impressive results of this randomized, international phase 3 clinical trial were enough to convince the U.S. Food and Drug Administration (FDA) to speedup the approval of remdesivir as a treatment of the coronavirus. FDA plans to announce an emergency-use authorization (EUA) for remdesivir as early as Wednesday, according to CNN.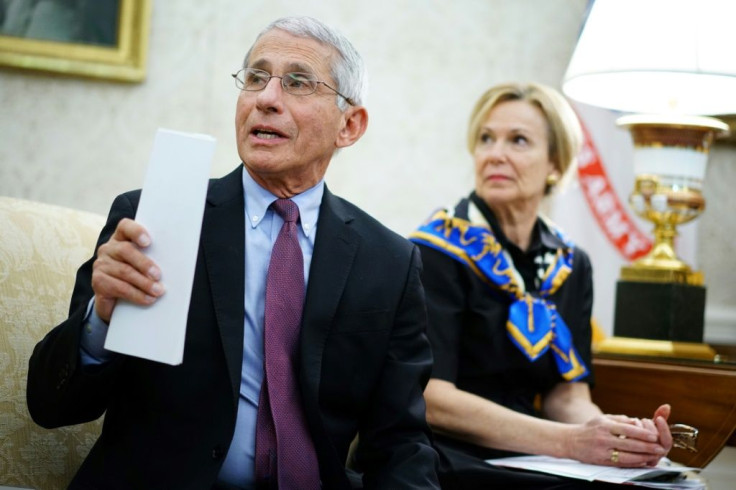 Citing the NIAID clinical trial, Dr. Fauci pointed out the mortality rate trended lower for those that took the remdesivir -- 8% compared to 11% -- compared to those that didn't. He said the trend isn't yet statistically significant and the results will undergo further analysis.
The NIAID phase 3 trial involved more than 1,063 patients. Its results haven't been peer-reviewed but were submitted to a journal for review, said Dr. Fauci, who had analyzed the findings.
Remdesivir was developed by Gilead Sciences, Inc., a biotech firm based in California. It's an investigational nucleotide analog with broad-spectrum antiviral activity both in vitro and in vivo in animal models against multiple emerging viral pathogens such as Ebola, MERS and SARS.
In vitro testing by Gilead Sciences has demonstrated remdesivir is active against SARS-CoV-2. The safety and efficacy of remdesivir for the treatment of COVID-19 are being evaluated in multiple ongoing Phase 3 clinical trials.
© Copyright IBTimes 2023. All rights reserved.
FOLLOW MORE IBT NEWS ON THE BELOW CHANNELS