Coronavirus USA Death Toll Nears 10,000, But Experts Say US Is Undercounting
KEY POINTS
Health authorities are warning the next two weeks will be the most horrific in terms of cases and deaths from COVID-19
"This is going to be the hardest and the saddest week of most Americans' lives," warns the U.S. Surgeon General
Trump said "there will be a lot of death" as the U.S. faces its "toughest week"
The casualty toll inflicted by COVID-19 on the United States in only one month is beyond comprehension. On March 5, or exactly one month ago, there were only 161 confirmed COVID-19 cases and 11 deaths in the entire country. The unimaginable toll as of late Sunday afternoon stood at 333,173 cases and 9,536 deaths, according to Worldometer.
What's even more horrifying are news reports the U.S. is undercounting the number of deaths from the disease but not intentionally. Health authorities interviewed by The New York Times say the official death toll doesn't capture the overall number of COVID-19 deaths.
The lack of guidance from the federal government as to what exactly constitutes a death from COVID-19 is partly to blame for the undercounting. There is no federally-mandated and agreed upon system among all states for identifying and reporting COVID-19 deaths. Doctors also claim some deaths in February and early March, before the casualty count spiked, were likely misidentified as influenza or only described as pneumonia and not as COVID-19.
Even more horrific casualties are to be expected this week and into the next based on statistical models revealed last week and cited since by U.S. health experts leading the fight against the disease and president Donald Trump. U.S. deaths are expected to peak on April 16 based on a statistical model from IHME, or the Institute for Health Metrics and Evaluation at the University of Washington. IHME predicts 2,644 new deaths on April 16.
On Saturday, Trump said "there will be a lot of death" as the U.S. faces its "toughest week" in the fight against the pandemic.
"This will be probably the toughest week between this week and next week, and there will be a lot of death, unfortunately, but a lot less death than if this wasn't done but there will be death," according to Trump.
Coronavirus New York deaths drop
New York State governor Andrew Cuomo says he wouldn't read too much into new data showing a drop in daily COVID-19 deaths in the state, as Vice Admiral Jerome Adams, the U.S. Surgeon General, warns Americans to brace for the "hardest and the saddest" week for "most Americans' lives."
On Sunday, Cuomo said new hospitalizations in the state had decreased by 50% -- an unexpected but welcome development. The number of daily deaths on Sunday fell slightly compared to Saturday, when it rose by 630 from Friday. The drop in deaths is the first in at least a week.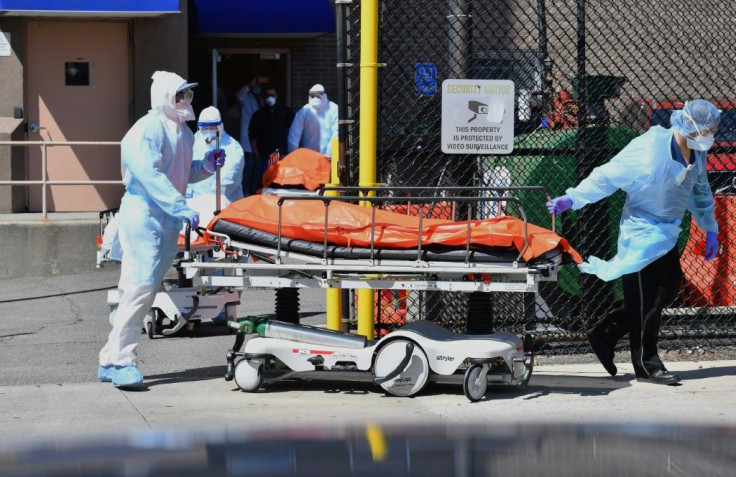 Cuomo cautioned it's not clear if the crisis has hit the long sought after plateau where deaths level-off before finally decreasing. He's said he expects the worst of the COVID-19 catastrophe to strike this week based on data from statistical models.
"The coronavirus is truly vicious and effective at what the virus does," said Cuomo at the state's daily briefing in Albany Sunday. "It's an effective killer."
Adm. Adams on Sunday told Americans to expect hard times ahead.
"This is going to be the hardest and the saddest week of most Americans' lives, quite frankly," he said. "This is going to be our Pearl Harbor moment, our 9/11 moment, only it's not going to be localized. It's going to be happening all over the country. And I want America to understand that."
"I want Americans to understand that as hard as this week is going to be, there is a light at the end of the tunnel," he added.
Total COVID-19 cases in the U.S. as of Sunday, 21:14 GMT, came to 333,173, an increase of more than 21,816 from Saturday. Total U.S. deaths skyrocketed to 9,536, a jump of 1,186 deaths from Saturday, based on Worldometer data. As of Saturday at about the same time, the U.S. had 306,854 cases and 8,350 deaths.
Eight Republican governors won't issue stay-at-home orders
On Sunday, Adm. Adams said his message to the eight Republican governors that haven't issued stay-at-home orders will be to consider even just a temporary shutdown.
"If you can't give us a month, give us a week ... give us what you can," pleaded Adm. Adams
The eight Republican governors have offered a range of excuses for why they haven't followed 42 other governors that have issued stay-at-home orders.
Tiger at Bronx Zoo tests positive for COVID-19
And, in a disturbing development, the first confirmed case of a transmission of COVID-19 from a human to an animal was recorded in New York City. Nadia, a 4-year-old female Malayan tiger at the Bronx Zoo, has tested positive for SARS-CoV-2 (severe acute respiratory syndrome coronavirus 2), the virus that causes COVID-19.
This is the first instance of a tiger or an animal being infected by SARS-CoV-2, said the National Veterinary Services Laboratories (NVSL) of the U.S. Department of Agriculture (USDA). USDA said samples from Nadia were tested after several lions and tigers at the zoo showed symptoms of COVID-19.
The Bronx Zoo said Nadia's sister, Azul, two Amur tigers and three African lions "had developed a dry cough and all are expected to recover." It said the big cats were infected by a person caring for them. This infected man was either asymptomatic or had not yet developed symptoms.
"Appropriate preventive measures are now in place for all staff who are caring for them, and the other cats in our four WCS zoos, to prevent further exposure of any other of our zoo cats," said the zoo in a statement.
© Copyright IBTimes 2023. All rights reserved.