Coronavirus USA Update: 83 Quarantined In New York, 60 US Cases Confirmed
KEY POINTS
Nassau County in New York State self-quarantines 83 people, most of them county residents, to prevent a COVID-19 incident
New York Governor Andrew Cuomo said the state is preparing for the worst-case scenario
NYC Mayor Bill De Blasio said the city has prepared 1,200 hospital beds in case of an outbreak
With 60 COVID-19 cases now confirmed inside the United States, the Nassau County Department of Health Wednesday has ordered 83 Americans that recently returned to New York State from China to quarantine themselves. The health department ordered the self-quarantine over concerns these travelers, most of whom are Nassau residents, might have been exposed to the coronavirus COVID-19 during their trek.
Nassau County is the most densely populated and second-most populous county in New York State outside of New York City. It's also the most affluent county in New York State.
Nassau County Health Commissioner Dr. Lawrence Eisenstein said the U.S. Centers for Disease Control and Prevention (CDC) notified Nassau officials of a plane carrying Nassau County residents with "potential exposure" to COVID-19.
Dr. Eisenstein said because "almost all" of the returnees are Nassau County residents, they are voluntarily quarantined at home "in most cases." He said the department expects these people "to remove themselves from other people including their family members" for the next 14 days. If any of the quarantined Nassau residents exhibit any COVID-19 symptoms, including a cough or fever, local officials will test them for the virus.
"It is our job to, within 24 hours of receiving this notice, reach out to them ... to let them know we are asking them to isolate themselves," said Dr. Eisenstein, CNBC reported.
Of the 83 people being monitored, seven have been tested by Nassau County. Five tested negative and one test is pending at the CDC. Dr. Eisenstein said they don't know when they'll receive the result. He also said one person was "disqualified," but didn't explain why this test was disqualified.
The doctor said if any one of these persons isn't compliant "we would take next steps." He also said state health officials will visit those in self-quarantine daily to monitor them for symptoms. On the other hand, no state or state health officials will enforce the quarantine or ensure the quarantined individuals remain inside their homes.
Nassau County Executive Laura Curran reassured residents county health officials are prepared for a COVID-19 outbreak.
"The health department prepares for this sort of thing all year round," she said at a press conference. "We're monitoring this situation in Nassau very, very closely and have been right from the beginning to respond to any cases should they emerge in our county."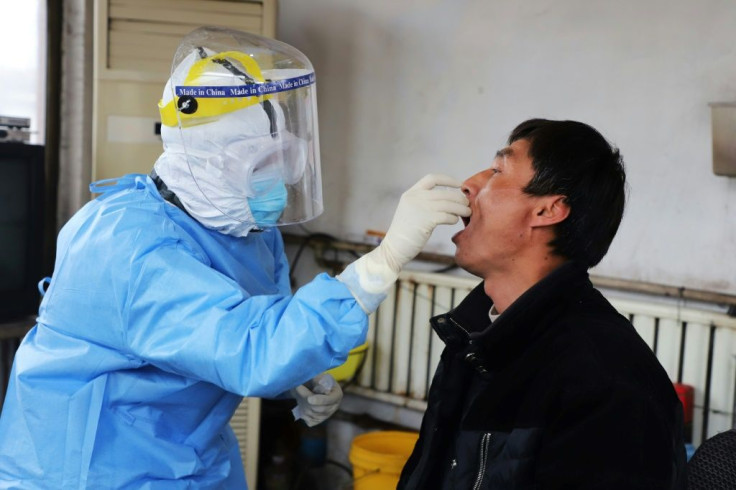 On Wednesday, New York Governor Andrew Cuomo said the state is preparing for the worst-case COVID-19 scenario. He said state and city officials are taking the necessary steps to help state residents should the situation take a turn for the worse.
"I've said before, it's highly probable that you will see a continuing spread of this virus," he said. "It's highly probable that we will have people in New York State who test positive. New York is the front door, internationally."
Cuomo said the state will ask the New York State Legislature in Albany for an emergency supplement of $40 million for the New York State Department of Health.
Also on Wednesday, New York City Mayor Bill De Blasio said the city has prepared at least 1,200 hospital beds in case of a COVID-19 outbreak. He said the hospital beds are available and won't compromise other health services.
De Blasio also said the city will acquire a minimum of 300,000 facemasks after already distributing about 1.5 million masks. The city also plans to ask for federal assistance to acquire these facemasks from private manufacturers. De Blasio also requests CDC to expand its testing of travelers to include Hong Kong, Iran, Italy, Japan, Singapore, South Korea, Taiwan, and Thailand.
© Copyright IBTimes 2023. All rights reserved.
FOLLOW MORE IBT NEWS ON THE BELOW CHANNELS