Coronavirus USA Update: US Death Toll At 414; Becomes 3rd Most Infected Country
KEY POINTS
At least 254,000 Americans have been tested and received results for the COVID-19 coronavirus
There were 32,717 COVID-19 cases and 414 deaths as of Sunday evening
The federal government will deliver eight medical stations with 2,000 beds to California and four medical stations with 1,000 beds to New York
The United States moved past Spain on Saturday (March 21) to become the the world's third most COVID-19 infected country.
As of March 22, 6:13 p.m. ET, the U.S. reported 32,717 cases and 414 deaths, according to data from the Center for Systems Science and Engineering (CSSE) at Johns Hopkins University. Only China with 81,397 cases and Italy with 59,138 cases are worse-off than America. Based on trend lines, it seems likely the U.S. will exceed Italy in total case numbers by early April. CNN reported 32,149 cases in the U.S. as of Sunday and more than 400 deaths.
Real-time data website Worldometer also has the U.S. as the world's third most infected. Its data as of Sunday, 21:41 GMT, reveals 32,356 cases and 414 deaths. From Saturday to Sunday, the U.S. confirmed 8,149 cases -- the largest number in the world -- compared to 5,560 for Italy. The U.S. also added 112 deaths in this time period.
On Saturday as of 02:40 GMT, Worldometer reported 26,711 U.S. cases, which took the country to third place ahead of Spain with 25,496 cases. The U.S. had 85 deaths compared to Spain's 285 and Italy's 793.
The rapid rise in numbers of confirmed cases in the U.S., which is due mostly to the ramped-up pace of testing, is nevertheless worrisome considering the U.S. was eighth on the list of the world's most infected only last Monday (March 16).
At least 254,000 Americans have been tested and received results for the COVID-19 coronavirus. Of this total, more than 30,000 have tested positive, said vice president Mike Pence during the White House coronavirus briefing Sunday evening. Pence said these totals don't include local hospitals or private labs that have conducted tests.
Pence also said commercial labs should prioritize in-patient testing, and new guidance will be sent on that tomorrow. He believes commercial labs should start reducing their huge backlog of testing by the middle of the week. These numbers are the most accurate given by the administration about the actual numbers of persons tested versus the number of tests conducted.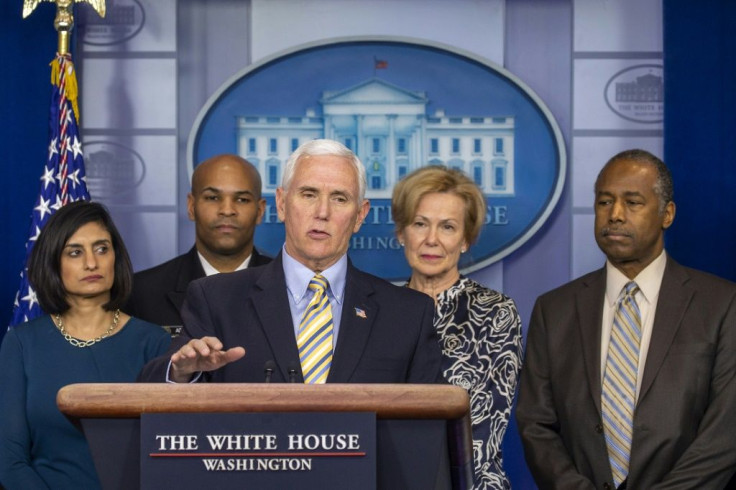 In the same White House briefing, president Donald Trump revealed specifics about the aid being sent to New York, Washington and California, the country's three major COVID-19 outbreak hotspots. He said the following federal medical stations will be delivered within the next 48 hours:
Eight large federal medical stations with 2,000 beds to California
Four large federal medical stations with 1,000 beds to New York
Three large and four small federal medical stations with 1,000 beds total to Washington
Trump also revealed the specific number of items sent to New York and Washington. As of March 19, New York has received:
186,416 N95 respirators
444,000 O-78 surgical masks
84,560 face shields
68,944 surgical masks
352 coveralls
245,486 gloves
Supplies sent to Washington "about 3 days ago:"
369,000 N-95 respirators
575,406 surgical masks
63,788 face shields
107,850 surgical gowns
240,376 gloves
© Copyright IBTimes 2023. All rights reserved.