Coronavirus USA Update: US Death Toll Hits 85; 4,558 Confirmed Cases
KEY POINTS
As expected, COVID-19 cases and deaths in the U.S. keep spiking
Worldometer estimated cases at 4,558 with 85 deaths while saying there were 878 new U.S. cases on Monday alone
Two-week lockdown still "on the table" for entire U.S.
The world war against COVID-19 saw this disease inflict even larger losses on Americans across the country on Monday alone.
The casualty count differs among various sources due to the rapidly changing numbers of daily confirmed cases and deaths, but all agree on total U.S. cases of at least 4,000 as of Monday afternoon. There were some 4,008 confirmed cases of COVID-19 in 49 U.S. states as of 3:53 p.m. ET, Monday, according to CNN. At least 70 persons have died. These totals are based on CNN's compilation of data from state and local health agencies and the U.S. Centers for Disease Control and Prevention (CDC).
The Center for Systems Science and Engineering (CSSE) at Johns Hopkins University reported 4,464 cases and 78 deaths as of 4:32 p.m. ET on Monday. There were 41 U.S. deaths on Friday, meaning the death toll has jumped 90% in three days. The U.S. has the eighth largest number of confirmed cases in the world.
Of total U.S. deaths, 42 are in Washington, 10 in New York, 6 in California, 5 in Florida, 3 in Louisiana, 2 in New Jersey and one each in Colorado, Georgia, Indiana, Kansas, Kentucky, Nevada, Oregon, South Carolina, South Dakota and Virginia.
Worldometer, an online reference website for real-time global statistics, estimated total U.S. COVID-19 cases at 4,558 with 85 deaths as of Monday, 22:15 GMT. It also estimated 878 new U.S. cases on Monday alone, as well as 17 deaths on this day.
If Worldometer's data is accurate, it means 19% of all U.S. cases were tallied on Monday, indicating a stunning rise in uncovered infections. It will also be the largest single day jump in cases since the first U.S. case was recorded on January 21.
Worldometer reported 182,204 cases worldwide (infected and recovered) and 7,139 deaths. Of the total cases, 96,725 are currently infected patients. Of those currently infected, 6% are in serious condition. COVID-19 currently affects 162 countries and territories around the world and the Diamond Princess cruise ship docked in Yokohama, Japan.
Monday also saw a striking change in tone from president Donald Trump who went from being dismissive of the pandemic to a bearer of bad news. Trump on Monday said the pandemic might last into the summer, perhaps until July or August.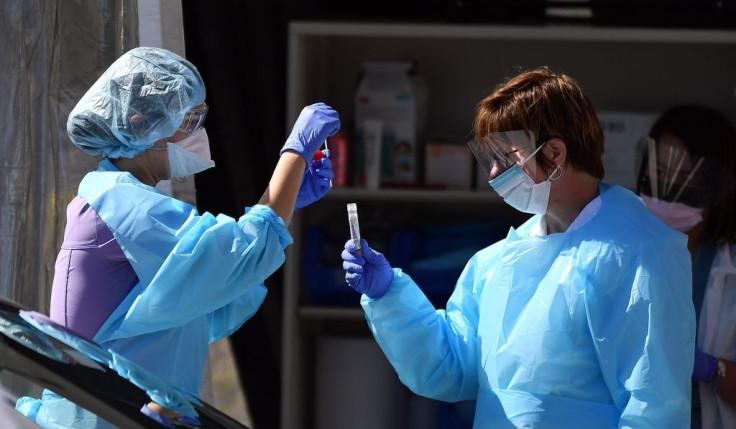 The federal government also strongly denied a rumor the entire U.S. will soon be placed under a two-week quarantine. This denial isn't ironclad, however, since Dr. Anthony Fauci, director of the National Institute of Allergy and Infectious Diseases who crafted the Trump administration's response to the pandemic, had previously asserted all options remain "on the table."
Also on Monday:
Indiana announced the state's first death due to COVID-19. Gov. Eric Holcomb said the fataility had health issues and was in the high-risk category, being over 60 years-old.
Ohio has ordered the closure of many facilities across the state. Gov. Mike DeWine said these facilities must close by the end of Monday. He identified these facilities as fitness centers, gyms, bowling alleys, movie theaters, recreational center and indoor water parks. De Wine also recommends moving the primary election scheduled for Tuesday to June.
San Francisco has ordered residents to stay home in an effort to slow the spread of coronavirus. Mayor London Breed announced in a tweet that residents will be required to stay home starting midnight, except for essential needs.
New Jersey will close all its schools starting Wednesday, according to Gov. Phil Murphy.
South Carolina reports its first COVID-19 death.
New York, New Jersey and Connecticut will ban gatherings of more than 50 people starting 8:00 p.m. Monday. The bans were announced by New York Gov. Andrew Cuomo, Connecticut Gov. Ned Lamont and New Jersey Gov. Phil Murphy. These states will also close down casinos, gyms and movies theaters.
The Statue of Liberty is now closed. The Statue of Liberty National Monument and Ellis Island has suspended operations effective Monday due coronavirus concerns, said the National Parks Service.
Major League Baseball (MLB) said the opening of the 2020 season has been pushed back indefinitely. It previously said the season would be delayed for about two weeks.
The first U.S. participant in coronavirus vaccine trial received his dose on Monday, said the National Institute of Allergy and Infectious Diseases. The study will establish if the vaccine is safe and induces a desired response from participants' immune systems.
© Copyright IBTimes 2023. All rights reserved.