Cory Booker's 'Marijuana Justice Act' And The Battle Over Legal Weed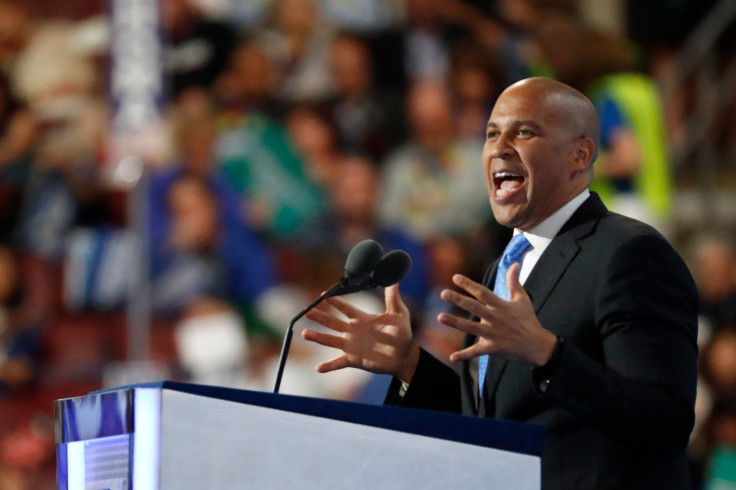 New Jersey Democratic Sen. Cory Booker announced legislation Aug. 1 that would remove marijuana from the federal scheduling system, essentially legalizing it across the country. The Marijuana Justice Act is a proposal that looks to "reverse decades of failed drug policy that has disproportionately impacted communities of color," according to Booker's official website.
"Our country's drug laws are badly broken and need to be fixed," Booker's website said. "They don't make our communities any safer — instead they divert critical resources from fighting violent crimes, tear families apart, unfairly impact low-income communities and communities of color and waste billions of taxpayer dollars each year."
Drug policy crusaders applauded the bill's goals, but expressed skepticism about its chances of passing in a Republican-dominated Congress.
"Sen. Booker's introduction of the Marijuana Justice Act is a very important development for our industry, but it's been hard to get bipartisan support for any issue in this Congressional session, which is what would be needed to pass the bill," Arnaud de Rauly told International Business Times. De Rauly is chief strategy officer for The Blinc Group, a business incubator for brands specializing in vaporizer and marijuana consumption technologies.
Bryan Meltzer, a partner at Feuerstein Kulick LLP, a marijuana law firm providing legal services to companies, funds, investors and lenders, also expressed doubt about the future of Booker's proposal.
"Although public and Congressional support for marijuana legalization has been increasing dramatically, full-scale federal legalization seems highly unlikely in the current political climate," Meltzer told IBT. "Because states' rights remain one of the strongest arguments in favor of legalization, it is much more likely that Congress will undertake less ambitious, legislation that helps fix the illogical taxation and banking issues that currently plague the industry."
African-Americans were almost four times as likely to be apprehended for marijuana possession than their white counterparts, a 2013 American Civil Liberties Union (ALCU) report discovered. Black Americans represented 14 percent of regular drug users but 37 percent of blacks faced arrest on drug charges, according to the Drug Policy Alliance.
Law enforcement officers arrested more civilians for marijuana possession than for violent crime and those arrests were disproportionately of minorities, according to the ACLU and Humans Rights Watch.
Booker's bill also aimed to introduce funding and invest in and restore communities affected by the war on drugs. The money would go into a "Community Reinvestment Fund" for job training, expenses linked to the expungement of convictions, public libraries, recreation centers, health education centers and programs dedicated to youth, according to Booker's site.
"I put the odds of Sen. Booker's bill changing the national dialogue and setting the course for the future at 100 percent," Andy Williams told IBT. He is the CEO of Medicine Man, the largest cannabis dispensary in Denver. "The discussion about social justice around marijuana, the future of legalization, the political implications of the next several elections, and what the business will look like will be influenced heavily by this bill's framework."
The Republican-dominated Congress would likely freeze marijuana legalization at the federal level. The marijuana community has been troubled since President Trump took office and subsequently appointed former Alabama Sen. Jeff Sessions as U.S. attorney general. Sessions favors a return to harsh anti-marijuana law enforcement policies.
Sessions reportedly asked congressional leaders to reverse federal medical marijuana amendments that have been in place since 2014, according to a letter released in June. Sessions argued that revisions "inhibit [the Justice Department's] authority to enforce the Controlled Substances Act."
The Rohrabacher-Farr amendment prohibits the Justice Department from using federal money to block states "from implementing their own State laws that authorize the use, distribution, possession or cultivation of medical marijuana."
Some of President Trump's advisors, like Vice President Mike Pence, also advocated against legal marijuana. When Pence was governor of Indiana the state had some of the harshest marijuana laws in the country. Anyone caught in possession of weed in any amount was subject to a maximum of 180 days in jail and a $1,000 fine.
Booker has criticized Sessions' efforts to revive the War on Drugs. Booker, along with Sens. Dick Durbin and Patrick Leahy, sent a letter to Sessions urging him to support reform.
RT: It's time to legalize marijuana, and end the War on Drugs. #MarijuanaJustice pic.twitter.com/blPCd8tcx9

— Cory Booker (@CoryBooker) August 3, 2017
"Changes to current drug charging policies that lead to more mandatory minimum penalties in low-level, nonviolent drug cases will not enhance public safety and will only increase taxpayer spending on our bloated federal prison system," the lawmakers wrote.
They added, "We are concerned about a possible shift in the Justice Department's treatment of federal drug cases and the specter that mandatory minimum penalties may once again be used by the Justice Department on a routine basis as tools to prosecute low-level nonviolent drug offenses."
© Copyright IBTimes 2023. All rights reserved.
FOLLOW MORE IBT NEWS ON THE BELOW CHANNELS