Country Singer Dylan Schneider Details Terror, Chaos At Las Vegas Mass Shooting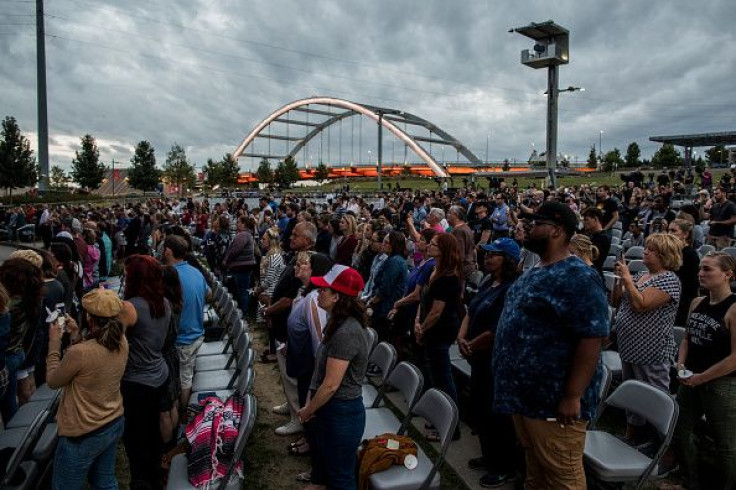 Country singer Dylan Schneider has opened up about the terror and chaos that ensued in Las Vegas on Oct. 1.
Schneider was one of the performers at the three-day Route 91 Harvest Country Music Festival where the mass shooting occurred. While speaking with People, the 17-year-old performer said, "It's disgusting. It's a horrible thing. Everybody seemed like they were having a good time. And it was one of my favorite shows I've ever played."
The performer sat down near the VIP bleachers to watch Jason Aldean's when Las Vegas native Stephen Paddock began shooting at concertgoers. "I actually had just plugged my phone in to charge it – I don't have my phone, it's still there – and I was going back to get it and a song came on that I liked. I was talking to my manager, Joe, and I was like, 'Let's stay for this one.' Then another one came on, and I was like, 'Let's stay for this one,'" he recounted.
After listening to Aldean's songs, Schneider went back to the backstage area to get his mobile device, and that's when he heard the first shot. "I was honestly convinced it was fireworks or firecrackers," he said.
But it did not take him very long to run away from the venue when the shooting continued. He got separated from everyone else except his manager. Schneider and Joe managed to seek cover under the bleachers, but there was sheer panic because they were unsure where the shots were coming from. At one point, they thought that it was coming from someone in the crowd.
"I was under the bleachers and I think I looked at my manager and said, 'What do we do?' at least 150 times in a span of five minutes. It was just insane. I thought the gunman was in there and I thought, 'It's only a matter of time until they come over to these bleachers,'" he said.
Luckily, Schneider and Joe survived the shooting, but the same cannot be said of the 59 people who died at the event venue and at the hospital. Over 500 innocent individuals were also injured in the "deadliest mass shooting in modern US history," according to CNN.
© Copyright IBTimes 2023. All rights reserved.