COVID-19 NY Update: Sunday's Deaths Lowest In A Month, USNS Comfort Discharges Last Patient
KEY POINTS
On Sunday, New York recorded the lowest COVID-19 deaths in a month
Re-opening phase will also see a return of political battles between NY and Trump's federal government
USNS Comfort treated 182 patients, and all have been discharged
A report that many people died in New York from one cause would normally be headline news with journalists everywhere asking how that could happen. On Sunday, the number of people who succumbed to COVID-19 was 367, and it is being treated as good news.
NY Governor Andrew Cuomo told reporters in Albany that "There is no doubt that, at this point, we've gone through the worst." He added, "And as long as we act prudently going forward, the worst should be over."
The actual "goods news" is that the 367 deaths are a decline from over two weeks ago when 799 people passed away from COVID-19 and that talk of bringing the Big Apple back to life is beginning. The number of hospitalizations is dropping, and the number of new cases is on the decline, evidence that supports Cuomo's statements.
The shut-down began on March 20 affecting about 18 million people with businesses and schools locked down in anticipation of the coronavirus pandemic. Cuomo stressed that the state would remain closed until at least May 15 with the understanding that new cases and hospitalizations must continue to drop before any re-opening.
The plan, described by Cuomo, would have manufacturing and construction reopening first, followed by businesses deemed as most essential. Then, a prudent two-week pause after the first re-openings would allow health experts and officials to assess the risks in proceeding with the re-start.
The monitoring of new hospitalizations, new cases, and testing for antibodies that show whether a person had contracted the virus will parallel the progress of bringing NY back to a normal state. This "new normal" entails that social distancing and the use of facemasks will still in effect. Statewide, the less populated and less affected upstate areas would be re-opened before the NY City area.
Re-opening phase
The re-opening phase will also see a return of political battles with NY City and NY State both displaying criticisms of the federal government and President Donald J. Trump. Governor Cuomo chastised the federal government for not giving more aid to the states while announcing billions of dollars in cuts in NY that will severely affect local areas.
Meanwhile, NYC Mayor Bill de Blasio told reporters, "I can't tell you how alarmed we were. If New York City cannot provide basic services. then there won't be a restart of the economy in New York City or New York State."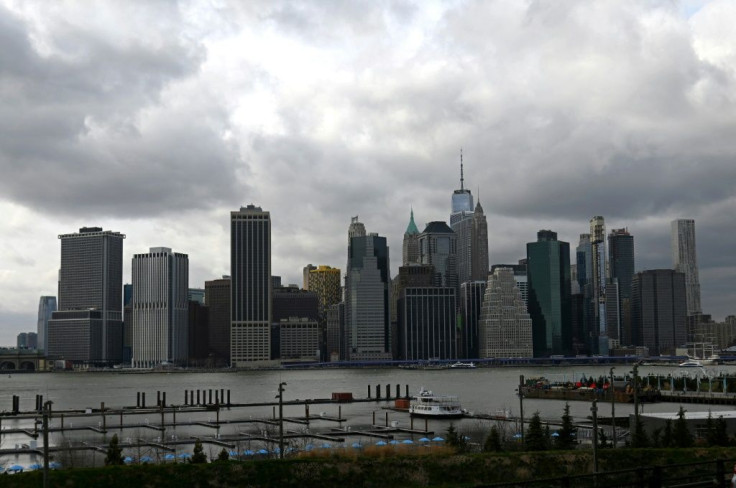 USNS Comfort Discharges Last Patient
One side issue that will certainly be discussed in political circles is the use of the naval hospital ship USNS Comfort. It first docked in the city to handle patients with other ailments to protect them against COVID-19. At that time there was outrage over the lack of hospital beds, so the vessel began accepting patients without regard to whether they tested positive or negative for COVID-19.
As of Saturday, the 1,000-bed hospital ship treated 182 patients, and all have been discharged. Another temporary hospital set up at a Manhattan convention center has also seen lower than projected patient volume. Critics will claim an over-reaction and supporters will probably cite an "abundance of caution."
No one will argue that it is a good sign that the discussions are turning to other topics than COVID-19 and the graphical ironing of a grim statistical line.
© Copyright IBTimes 2023. All rights reserved.
FOLLOW MORE IBT NEWS ON THE BELOW CHANNELS