Is COVID-19 Vaccine The Bible's 'Mark Of The Beast'? Pastors Say 'No'
KEY POINTS
COVID-19 vaccines "have nothing to do with" the term "mark of the beast," according to pastors and experts
They blame the misinterpretations of this Bible passage on social media and people spreading unreliable information
One expert said the driving force behind this belief is a lack of trust in the government and the medical field
Church figures and experts have rejected the idea that the COVID-19 vaccine is the "mark of the beast" as many Americans continue to resist vaccination.
Harvest Christian Fellowship pastor Greg Laurie told USA Today via email that COVID-19 vaccines are not the "mark of the beast," despite a number of Christians believing that they are and that the world is in what the Bible calls "the last days."
The term "mark of the beast," which comes from Revelation 13: 16-18 in the New Testament, signals allegiance to Satan or those who reject God's memorial of creatorship, according to the outlet. However, it has been used by some as a reason to not get vaccinated since doses first became available.
"The Bible speaks of someone identified as the 'Antichrist,' and he will require people have a 'mark' that people will receive to buy and sell. The COVID-19 vaccine – or any vaccines – have nothing to do with any of this," Laurie explained.
Laurie, who has been vaccinated, also emphasized that no one would take the mark unknowingly as it would be a pledge of loyalty to the Antichrist. "God will not doom people for taking something unwittingly," he said.
Pastor Darin Wood of the First Baptist Church in Midland, Texas, recalled having to repeatedly tell churchgoers that the vaccine was not the "mark of the beast."
"There's no indication that the vaccine matches the mark described by the Apostle John," Wood wrote an op-ed in August for the Midland Reporter-Telegram, adding, "I've been sent numerous articles and videos ... that (suggest) the vaccine represents a conspiracy of governmental control or that the vaccine contains some sort of marking agent to indelibly identify those foolish enough to receive the vaccine. It's just not reasonable or logical to presume such a wide conspiracy is even possible."
People, however, continue to use the mark of the beast as a reason to not get vaccinated.
"I understand that people want to get back to how things were, but calling something you don't understand the 'mark of the beast' is extreme and harmful," said Nicole Williams, a traveling intensive care unit nurse who has encountered the mark being used as an excuse to avoid vaccination.
Hennepin Healthcare physician Stephen Smith, meanwhile, said he has not experienced this term being used as a reason to not get vaccinated but has heard other excuses — including the belief that vaccines turned people into zombies, contained microchips or were developed too fast. Some said they did not trust the government or have read somewhere that people have died from getting the jabs.
Like Smith, pastor Laurie also blamed misinterpretations of the Revelation 13:16-18 passage on social media, where people can spread unreliable information.
"Sometimes these statements are packaged to look like Bible Prophecy, but they are false and misapplied because many people do not understand what the Bible actually says about these things," he said.
Professor John Evans suggested that the driving force behind the mark of the beast belief is a lack of trust in the government and the medical field.
Additionally, Evans' studies revealed that the popularity of the term stems from an adherence to a social or political identity and that majority of believers appeared to be politically conservative and from Protestant Christian backgrounds.
"People with spiritual beliefs that all things are influenced by religion are more likely to believe 'mark of the beast,' which is in every Christian's Bible, but people will focus on particular passages in the Bible to support their belief system," Evans, who teaches sociology and religious studies at University of California, San Diego, was quoted as saying.
A study published earlier this year in the New England Journal of Medicine said vaccines from Modern and Pfizer-BioNTech demonstrated 94% to 95% effectiveness against the virus. Another study published in the same journal concluded that a single dose of Johnson & Johnson's COVID-19 vaccine provided protection against the virus and was effective against hospitalization and death.
More than 390 million doses of COVID-19 vaccines have been administered in the U.S. as of Monday, according to the Centers for Disease Control and Prevention. More than 43 million COVID-19 cases and 690,434 deaths have been reported in the U.S., according to data provided by Johns Hopkins University.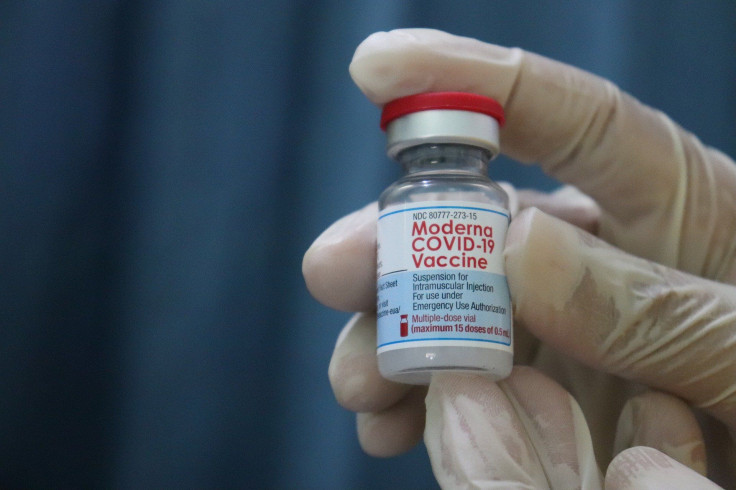 FOR FREE to continue reading
✔️ Unlock the full content of International Business Times UK for free
offer available for a limited time only
✔️ Easily manage your Newsletters subscriptions and save your favourite articles
✔️ No payment method required
Already have an account?
Log in
© Copyright IBTimes 2023. All rights reserved.