Creek Fire Update: Sylmar, Kagel Canyon Wildfire Continues To Grow
This is a developing story. Please check back for updates.
Two major fires raged in Southern California Tuesday, including the Creek Fire near Sylmar. The Creek Fire grew to over 4,000 acres by Tuesday afternoon as hundreds of firefighters were deployed to push back the flames.
The fire began at around 4:00 a.m. local time, Los Angeles County Fire Department Chief Deputy David Richardson said in a Tuesday afternoon press conference. Numerous first responders including the Los Angeles City Fire Department, the Los Angeles County Fire Department and the U.S. Forestry Department were sent to the scene.
"At this time, the fire has grown to over 4,000 acres and still growing, as you can see, with the wind gusts currently facing us here, approximately a couple of miles away from the fire," Richardson said. "You can only imagine the impact this weather is having on the flaming front."
Some 400 firefighters and more than 50 fire engines were deployed to the scene of the fire. It remained unclear how many structures were destroyed, though authorities said many were reported as threatened and some were on fire. The structures in question were specifically in Kagel Canyon and Lopez Canyon. An estimated 2,500 homes had already been evacuated. Temporary evacuation centers were set up for residents' safety.
In addition to the Creek Fire, an even more devastating fire raged in Ventura County. The Thomas Fire had consumed some 45,000 acres by Tuesday afternoon. At least 27,000 people were evacuated and 150 structures had already been destroyed. The fire remained out of control while at least 500 firefighters worked to contain the flames.
Additional resources were being brought in to aid California's firefighters, authorities confirmed. The Santa Ana winds in California this week were described as the season's "strongest and longest," spreading fires rapidly and making firefighting conditions even more difficult. Winds could get worse by Tuesday night, reaching up to 60 mph, CNN reported.
"We're really just trying to catch it around the edges and just pinch it off as quickly as we possibly can," said Ventura County firefighter Jason Hodge. "That's what's driving this fire. So it's a challenge, but everybody's out there working hard and will be through the night."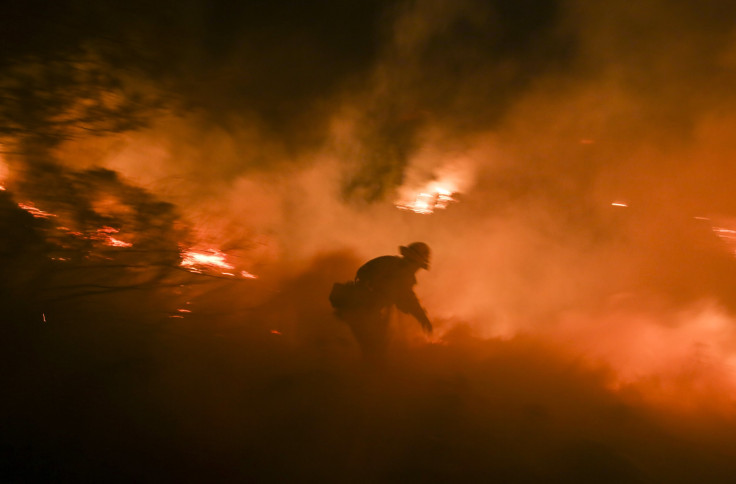 © Copyright IBTimes 2023. All rights reserved.
FOLLOW MORE IBT NEWS ON THE BELOW CHANNELS