Crime Goes Underground In NYC As Illegal Activity On The Subway Increases
KEY POINTS
NYC subway crimes continue in the wake of COVID -19
There were 173 major felonies reported in the subway over the course of March compared to 179 last year
As of March, weekday subway ridership was down to about 530,000 per day
Even as NYC-area commuters continue to work from home and avoid the subway at all costs, the system still remains a hotbed of illegal activity. Crime still continues to plague commuters that are left on a daily basis.
The New York Daily News reports that there were 173 major felonies reported in the subway over the course of March, according to data released by the NYPD over the weekend. While these rates represent a slight decrease from 2019's similar rate of 179, the Subway remains a potentially unsafe means of travel for daily commuters coming in and out of the city.
The drop in crime stands in direct contrast to the much greater drop in ridership. By the end of March, weekday subway ridership was down to about 530,000 per day, or just under 10 percent of pre-pandemic levels. While overall crime continues to fall in the Big Apple, certain types of offenses, including grand theft and burglary are up considerably. Subway burglaries were also up during the same period, from just one recorded in 2019 to five this year.
One of the primary causes of the consistency of subway crime is the rate at which cops are getting sick in the midst of the pandemic. To date, over 4,370 NYPD employees had tested positive for COVID-19, and 5,024 uniformed members — or 14 percent of the department's uniformed workforce — were on sick report. The number of cops out sick is down from a peak of nearly 20 percent of the workforce, said NYPD spokeswoman Denise Moroney.
The shortage of police officers has led a steep decrease in arrests over the past month, even though felonies remain on par with last year's numbers. Between March 16 and April 12, the NYPD Transit bureau reported 128 arrests during the period, down 86% from 931 subway arrests during the same four-week stretch in 2019. Officials speculate that another cause enduring subway crime rates is that there are fewer riders in system to deter potential crimes and intervene in the case of an emergency.
The MTA has addressed the matter by contracting private security guards and shifting more of their own police personnel into the subway.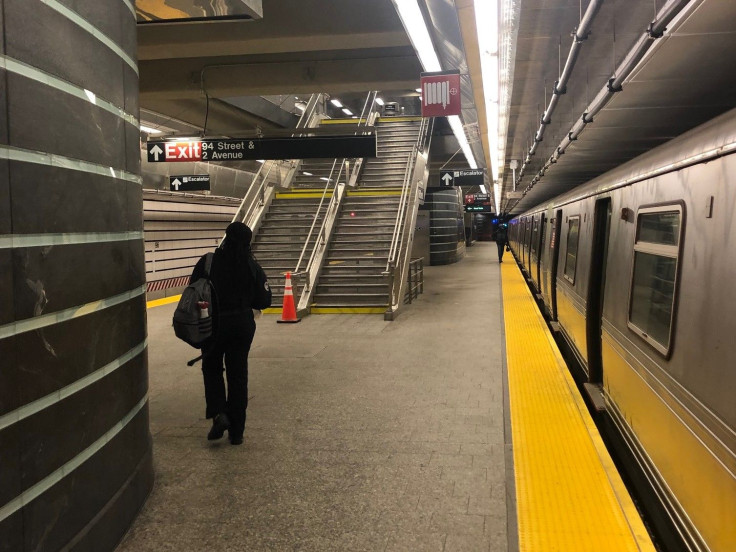 © Copyright IBTimes 2022. All rights reserved.
FOLLOW MORE IBT NEWS ON THE BELOW CHANNELS