'Cyberpunk 2077' Easter Eggs Reportedly Point DLC To Be About Space Travel
KEY POINTS
"Cyberpunk 2077" is set to receive its first major DLC
CD Projekt Red confirms that it could arrive in "early 2021"
Rumors have it that the DLC could involve the Orbital Air Space Center
The first major DLC of "Cyberpunk 2077" could be on its way and if speculations are to go by, it might involve space travel and exploration. It could even send V to the Orbital Air Space Center.
"Cyberpunk 2077" players might soon engage in various gigs, side jobs and missions aboard the Orbital Air Space Center, according to Screenrant. It is an in-game space station hovering over Night City. On the West side of the game's Night City map, players could find the launchpad that allows them to reach the orbital base.
Unfortunately, it is currently barricaded by a fence and inaccessible to players. With the official confirmation that the first major DLC of the game is arriving soon, there is a chance that CD Projekt Red would unlock this area, the site speculated. According to the report, there are lots of Easter eggs and hints suggesting that an adventure in space could happen in the game sometime in the future.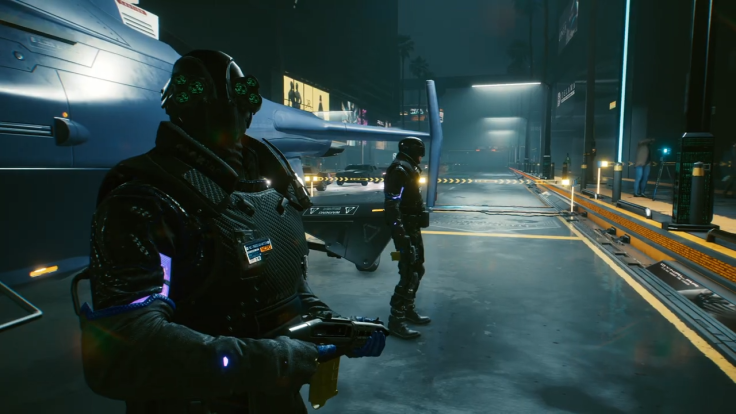 It appears that the Polish gaming studio initially intended to make the Orbital Air Space Center an accessible area. However, considering the extreme pressure the team faced after several delays, it seems that the area was not included at launch, the site noted.
While this theory seems plausible, it is worth noting that this is just a speculation and must be taken with a pinch of salt.
Just a few days ago, several rumors emerged online, claiming that the upcoming DLC would unlock some content that CDPR cut from the game. Someone dropped this idea on 4Chan and labeled the DLC as a "No Man's Sky style comeback."
The Polish developer cut a lot of content from the game, most of which are still in the process of being restored for a launch at a later date, the post claimed, adding that is the version of "Cyberpunk 2077" that the devs originally planned to release. The content cut was due to censorship with the post going into details about NPC kids, different side quests and areas in the game.
CD Projekt Red denied the accuracy of the post on the official forum and said, "We usually do not comment on rumors, but this is simply not true." There is no official news about the release date of the game's major DLC yet but fans could expect it to drop in "early 2021."
"Cyberpunk 2077" is playable on PC, PS4, Xbox One, PS5, Xbox Series X and Xbox Series S.
© Copyright IBTimes 2023. All rights reserved.