Cyprus Backpedals From Plan To Expropriate Bank Depositors' Money In Exchange For Financial Bailout By ECB, IMF and European Commission: Report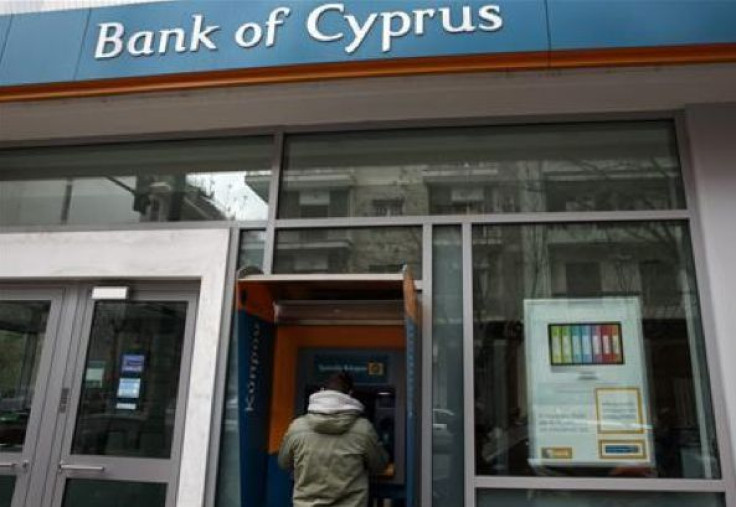 Cypriot government leaders on Monday backed off an unprecedented plan to expropriate a percentage of bank deposits on the tiny island nation in exchange for a desperately needed €10 billion ($12.95 million) financial bailout.
The plan, as announced on Saturday after intense negotiations with the European Central Bank, the International Monetary Fund and the European Commission, the administrative arm of the 27-nation European Union, proposed expropriating 6.75 percent of the balance on deposits below €100,000 ($129,562). Accounts with balances more than €100,000 would surrender 9.9 percent of their assets.
The goal of the plan, which would be implemented by an end run around the Cypriot legislature's approval, was to raise €5.8 billion.
The troika's hard bargaining with Cypriot President Nicos Anastasiades is widely understood to reflect demands from Germany and other creditor nations, which have carried the lion's share of previous bailouts, and the IMF that euro zone countries being rescued carry more of the burden.
"The ECB officials were very blunt," one Cypriot official familiar with the talks told the Financial Times.
What was unprecedented and what stunned markets was that the troika demanded – successfully – that savers, small and large, pay for saving their own financial institutions. Troika leaders threatened to let Cyprus' two largest banks go into liquidation, which would have had the knock-on effect of forcing Cyprus to leave the monetary union.
One reason the troika made the demand was that Cyprus is where numerous Russian oligarchs park their billions, money seen as ill-gotten gains, because of the nation's lax bank rules. Russian President Vladimir Putin's spokesman promptly denounced the terms of the rescue package as "unfair, unprofessional and dangerous," Reuters said.
The proposal was met with near-universal chagrin: Asian markets opened sharply lower and all the main European bourses fell. The euro plunged more than it had in a year, before stabilizing. Gold prices rose to more than $1,600 per troy ounce. The spread of sovereign bonds from the euro zone's peripheral economies over the German bund widened.
On Monday, Cypriot leaders proposed cutting the amount it aims to take from small savers to three percent and struggled to gather support for parliamentary support for the levies. Bank balances from €100,000 to €500,000 would get a 10 percent "haircut" and those above €500,000 would lose 15 percent of their money.
The new plan aims to raise €5.8 billion as the price for getting the €10 billion. It will be discussed on Monday by leaders of the troika, the European Central Bank, the IMF, and the European Commission, in a conference call with Cypriot officials.
© Copyright IBTimes 2023. All rights reserved.