Dakota Access Pipeline Update: Army Corps Of Engineers, Bureau Of Indian Affairs Roped In To Clear Out Protesters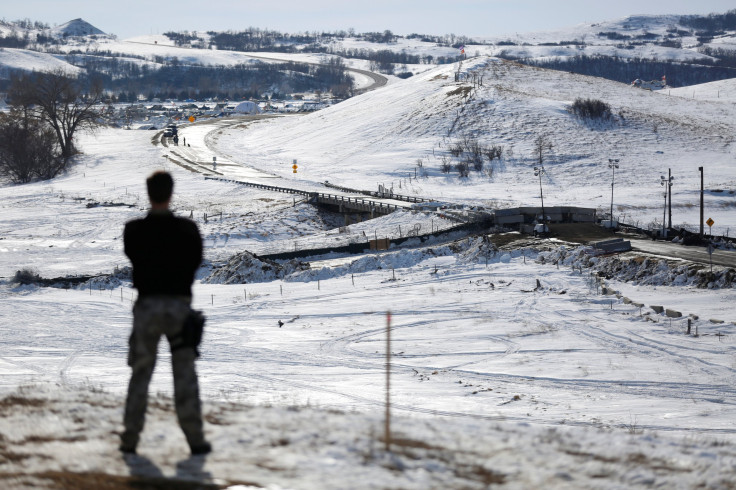 Protesters at the Dakota Access Pipeline camp near Lake Oahe in Cannon Ball, North Dakota, were given evacuation orders by the U.S. Army Corps of Engineers who cited public health and safety concerns, according to a statement released Friday.
The Corps said that it would close the Oceti Sakowin Camp — located at the confluence of the Missouri and Cannonball Rivers — on Feb. 22 because of a "high potential for flooding" in the low-lying area, especially due to a record snowfall in the winter season. They also said that the "unauthorized placement of structures, vehicles, personal property, and fires" contributes to soil erosion and pollution which can result in contaminated waste seeping into both rivers.
"As stewards of the public lands and natural resources, we have a responsibility to the public to prevent injuries and loss of life…we must also ensure our precious water resources are free from pollution due to human activities and respect for all who rely on this water for their livelihoods," U.S. Army Corps of Engineers Omaha District Commander Col. John Henderson said, according to NBC.
Along with the U.S. Army Corps of Engineers, the federal government also announced Friday that it was sending officials of the Bureau of Indian Affairs to help clear protesters from the Standing Rock Sioux reservation.
"North Dakota Governor [Doug] Burgum, the Standing Rock Sioux Tribe leadership, local law enforcement, and local landowners have all warned the public and those still camped of the dangerous spring flooding expected due to the heavy amount of snowfall the state received this winter…the closing of the camps is a matter of public health and safety, and working together at this time will allow for the safe removal of waste and debris that will impact the local environment and protection of those camped," Michael S. Black, Acting assistant secretary of Indian affairs, said according to Washington Post.
According to the Post, nearly 700 people have been arrested in southern North Dakota since the protests began in August over fears that the local water supply could be contaminated and sacred sites destroyed if the construction of the pipeline is allowed to continue.
Although protesters won a major victory in December when the U.S. Army Corps of Engineers denied the builder of the $3.8 billion project — Texas-based Energy Transfer Partners — a permit to complete the final leg of the pipeline, President Donald Trump signed an executive order last week to expedite the construction.
Responding to the president's executive order, the acting secretary of the Army, Robert Speer, ordered the Army Corps of Engineers to grant an easement to Energy Transfer Partners to finish the pipeline, which was later confirmed Tuesday by North Dakota Sen. Heidi Heitkamp, who said so to NBC.
© Copyright IBTimes 2023. All rights reserved.