Dan Marino Congratulates Drew Brees via Twitter for Breaking his Passing Record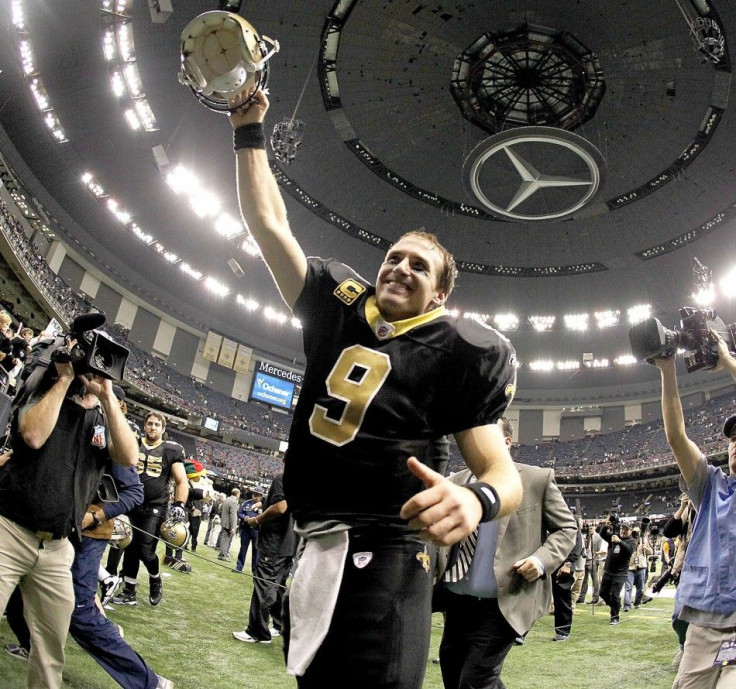 On Monday night against the Atlanta Falcons, Dan Marino's record for the most passing yards in a single NFL season was shattered by New Orleans Saints quarterback Drew Brees as the Saints beat the Falcons 45-16. Marino racked up 5,084 yards in his 1984 season with the Miami Dolphins, while Brees finished Week 15 with 5,087 passing yards and still has one game left in the season to extend his lead.
Marino, who was inducted into the NFL Hall of Fame in 2005, congratulated Brees via Twitter:
Congrats to @drewbrees, he said. Great job by such a special player.
Brees, who had likely just finished a long night of celebrating, also sent out a couple of tweets just before 2:30 a.m.
Celebrating with my teammates. Such a special night. Thanks to so many for making this possible. Who Dat Nation...I love you, Brees wrote. Thanks to @DanMarino for his class and support during this run. It is an honor to attempt to follow the example he set for us all.
On the final Monday Night Football game of the 2011 season, Brees completed 23 of his 39 passes for 307 yards and four touchdowns. Brees also threw two picks in the game, but the Saints were still able to pull out a convincing win over their NFC South rivals. Brees officially eclipsed Marino on his final pass of the game, a 9-yard touchdown throw to Darren Sproles with 2:51 to go in the game.
Honestly, I was really trying not to think about the record or anything, Brees said. I knew we were close. A couple guys mentioned stuff to me on the sideline. I didn't want to hear it. It's like a pitcher with a no-hitter, I guess.
After Sproles celebrated in the end zone, Brees pumped his fist in the air as the home crowd at the New Orleans Superdome went wild. The Saints' offensive lineman Carl Nicks tried to lift Brees onto his shoulders, but the sea of black and gold teammates swarming Brees made it impossible to hoist his QB.
If I could have put him on my shoulders and paraded him around the whole stadium I would have done that. He deserves it, Nicks said. It's like a movie, man. Just a movie ending. It's beautiful. You could tell by everyone's reaction after he did it how much people care about that guy. We all love him.
Towards the end of the game, it looked like Brees might not pass Marino's record against Atlanta after all: He was 30 yards short with 6:55 to go. But when Falcons QB Matt Ryan threw an an incomplete pass to wideout Julio Jones on a fourth-and-one, Brees was given 5:08 and just enough space to go 30+ yards.
I knew after the touchdown to Meachem that we were really close, Brees said. I didn't know how close, but really close, and then we had a couple of those drives that stalled out and I thought, 'You've got to be kidding me' -- especially since the whole game we had been converting first downs, doing all the right things offensively, both the run and the pass, yet we couldn't put a drive together in the fourth quarter and I thought, we've got to get this ball back, we've got to go down and score and put one together.
That's exactly what Brees did. With the win on Monday night, the Saints have locked up at least the No. 3 seed in the playoffs, but can improve to No. 2 if they end up with a better regular season record than the San Francisco 49ers. Both teams are currently 12-3 atop their respective divisions. The 49ers will play the St. Louis Rams while the Saints will play the Carolina Panthers. While there is still one game left to sort out the playoff seeding, New Orleans is still celebrating their quarterback's incredible achievement.
Obviously, it's a special moment for the players, especially Drew, said Saints coach Sean Payton. I couldn't be more proud of him.
© Copyright IBTimes 2023. All rights reserved.