Daniel Berrigan Famous Quotes: Renowned Jesuit Priest, Poet, Peace Activist Dies At 94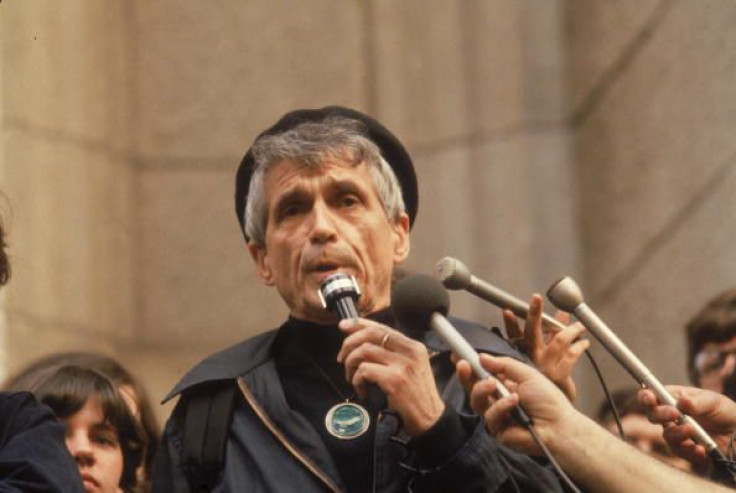 Daniel Berrigan, a renowned Jesuit priest and poet who was among the most influential voices against the Vietnam War, died Saturday in New York City, according to America magazine, a national Catholic review published by Jesuits. He was 94.
Berrigan, who was a Jesuit for 76 years and a priest for 63 years, authored more than 50 books on scripture, spirituality, poetry and resistance to war. But he was best known for helping to shape the protest movement against the war in Southeast Asia during the late 1960s, a defiant position that eventually landed him in federal prison in 1970. He also played a key role in inspiring the anti-draft and anti-nuclear movements along with his brother, Phil Berrigan, a Roman Catholic priest and peace activist who died in 2002.
Here are some of Daniel Berrigan's most memorable quotes:
"If you are going to follow Jesus, you better look good on wood."
"No principle is worth the sacrifice of a single human being."
"The gift we can offer others is so simple a thing as hope."
"One is called to live nonviolently, even if the change one works for seems impossible. It may or may not be possible to turn the U.S. around through nonviolent revolution. But one thing favors such an attempt: the total inability of violence to change anything for the better."
"Faith is rarely where your head is at. Nor is it where your heart is at. Faith is where your a-- is at!"
"The Jesuits I know who have died and all their lives were great teachers, they're the least remembered people."
"You have to struggle to stay alive and be of use as long as you can."
"Because success is such a weasel word anyway, it's such a horribly American word, and it's such a vamp and, I think it's a death trap."
"You can't bank on the outcome."
"Sometime in your life, hope that you might see one starved man, the look on his face when the bread finally arrives. Hope that you might have baked it or bought or even kneaded it yourself. For that look on his face, for your meeting his eyes across a piece of bread, you might be willing to lose a lot, or suffer a lot, or die a little, even."
"A revolution is interesting insofar as it avoids like the plague the plague it promised to heal."
"I don't have to prove my life. I just have to live."
"Because we want the peace with half a heart and half a life and will, the war, of course, continues, because the waging of war, by its nature, is total — but the waging of peace, by our own cowardice, is partial."
"Start with the impossible. Proceed calmly towards the improbable. No worry, there are at least five exits."
"Instead of building the peace by attacking injustices like starvation, disease, illiteracy, political and economic servitude, we spend a trillion dollars on war since 1946, until hatred and conflict have become the international preoccupation."
"Of course, let us have peace, we cry, 'but at the same time let us have normalcy, let us lose nothing, let our lives stand intact, let us know neither prison nor ill repute nor disruption of ties ... ' There is no peace because there are no peacemakers. There are no makers of peace because the making of peace is at least as costly as the making of war - at least as exigent, at least as disruptive, at least as liable to bring disgrace and prison, and death in its wake."
© Copyright IBTimes 2023. All rights reserved.
FOLLOW MORE IBT NEWS ON THE BELOW CHANNELS