'Daredevil' Netflix Series: Will New Villain Reveal The Hero's Red Costume For The First Time?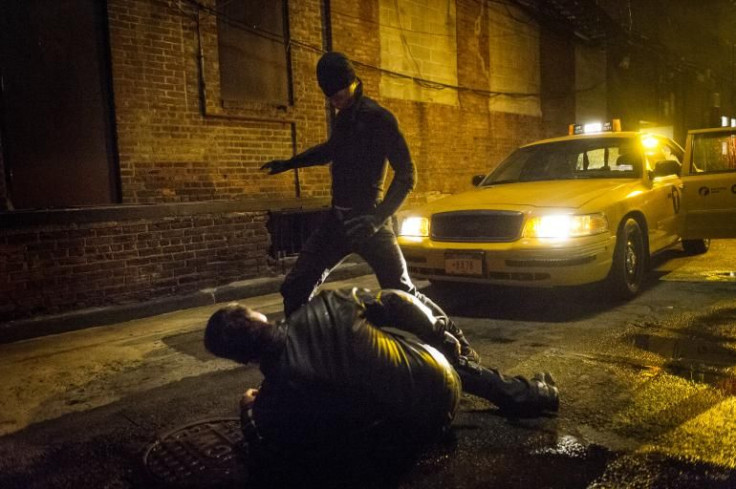 After months of anticipation, Marvel's first Netflix original series, "Daredevil," is a little more than a month away. With the premiere so close, it may surprise many to learn that fans still haven't seen what the character's signature red costume will look like. Now, it seems that the reason may have something to do with the introduction of a classic Marvel villain.
There have been many still images of Charlie Cox as Matt Murdock, the blind lawyer by day and defender of New York City's Hell's Kitchen by night. However, the photos have only revealed Murdock's preliminary homemade costume. The black digs make the character look a little like a ninja, but they are based on the origin story graphic novel, "Daredevil: Man Without Fear" by Frank Miller.
Even the first trailer for the show; while action-packed, gritty and dark, did not reveal anything but more shots of Cox in the ninja-style costume. It was confirmed by Entertainment Weekly months ago that Daredevil will eventually suit up during his 13 episode run on Netflix, prompting many to wonder why his red costume is being kept hidden.
It seems now, if rumors are true, that the reason is simply to avoid spoiling the show's plot. We all know that Vincent D'Onofrio will play Wilson Fisk, A.K.A. The Kingpin, Daredevil's principal villain. However, the character is really more of a devious mobster than someone who could adequately go man-to-man against the Daredevil. Instead, CinemaBlend notes that a classic comic character known as Gladiator will be brought into the mix. Gladiator, whose secret identity is Melvin Potter, is a Daredevil villain from the comic books who dares to become one of the strongest criminals around. To do this, he invents a suit of armor with spinning blades on the cuffs to combat super heroes (very similar to Tony Stark only without all the genius). According to translated reports from a Brazilian website that allegedly visited the set earlier this year, Potter will be brought in to design a suit for Fisk as well as reinforce the armor on all of his vehicles.
With a villain being introduced that can design killer bad guy armor, it's just a hop, skip and a jump in logic to assume that he might have a hand in designing something like the iconic red costume for the hero to do the rest of his crime fighting in.
Curious fans that want to see Daredevil's final look will simply have to wait until the show's first 13 episodes drop on April 12. Following soon after will be the premiere of "A.K.A. Jessica Jones" starring Krysten Ritter, as well as "Luke Cage" and "Iron Fist." The gang will come together for a 13-episode miniseries titled "The Defenders."
© Copyright IBTimes 2023. All rights reserved.