Davos 2016: Need To Embrace Robot Revolution Not Fear It, Tech Leaders Say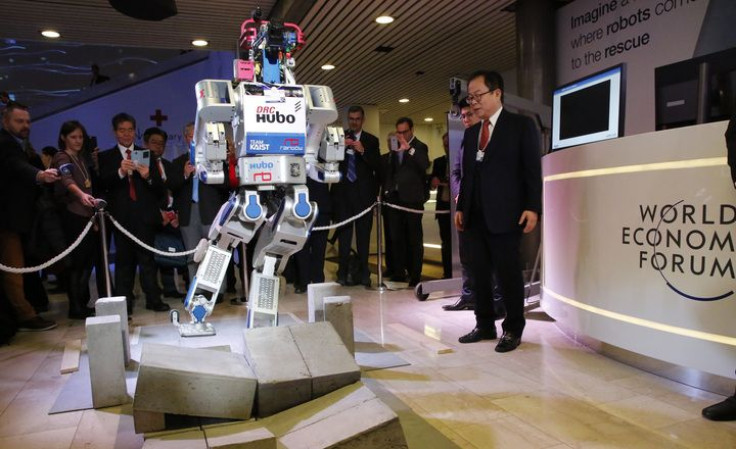 The rise of artificial intelligence, automation and robots should not be seen as a threat to our livelihoods, according to some of the world's most influential leaders assembled in Davos this week. Rather, they urge an attitude of hope when it comes to the imminent onset of the so-called Fourth Industrial Revolution.
That revolution is the theme of the World Economic Forum (WEF), taking place in the Swiss ski resort of Davos, with global leaders addressing the biggest global issues of the day. WEF organizers say the latest industrial revolution, following the introduction of steam power, electricity and electronics, will see the rise of a range of new technologies that will have a significant impact on the way we work and live.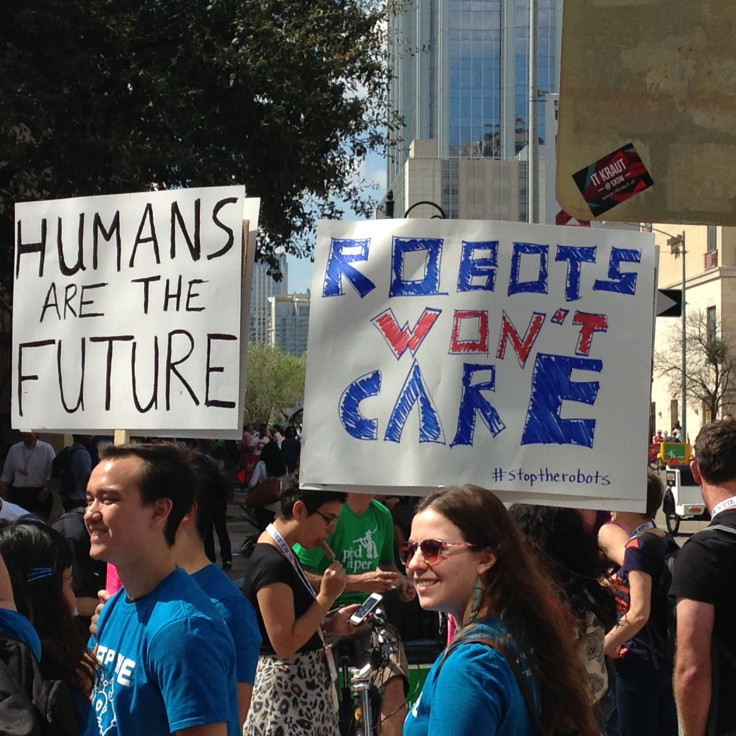 To coincide with the conference, WEF founder and executive chair Klaus Schwab has published a book on the topic, and a report published on the eve of the conference claims that by 2020 some 5 million people will lose their jobs to robots.
The report, called "The Future of Jobs," claims that while advances in areas such as 3D printing, nanotechnology, artificial intelligence, robotics, genetics and biotechnology will lead to the creation of 2 million jobs in 15 major developed and emerging economies, it will also lead to the loss of 7 million positions. While the report says there will be losses in all industries, the most affected will be healthcare, energy and financial services.
On the opening day of WEF 2016 a panel featuring Facebook COO Sheryl Sandberg and Microsoft CEO Satya Nadella addressed the theme of the conference, but rather than being fearful of the rise of technology, the panelists proclaimed that the world should be hopeful about the possibilities that technology can bring.
"While we have major issues that we need to address in terms of jobs that are being destroyed, we also have the possibility of job creation that is even larger," Sandberg said. "The answer needs to be the triumph of hope over fear."
Sandberg said she doesn't believe the Fourth Industrial Revolution will mean that all jobs will be destroyed or that virtual reality will see the end of face-to-face communication or that artificial intelligence will take over for all human intelligence.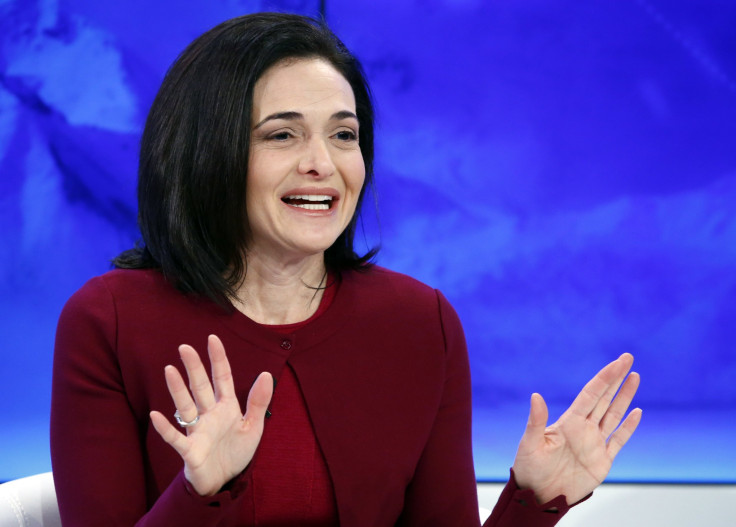 Nadella said he was similarly hopeful and on Tuesday his company announced a new initiative that will see it pledge $1 billion in cloud computing resources over the next three years to organizations it deems are working on projects for "the public good." Nadella said that while he was hopeful about the future, there was a major question to be answered about the results of the Fourth Industrial Revolution: "Is there a digital dividend or a digital divide?"
The fear is that the advancements in technology will benefit those in developed countries more, creating an even bigger disparity between countries, as well as creating a bigger divide within richer countries between the haves and the have-nots.
A UBS report published on Tuesday in Davos seems to back up this worry, saying that "extreme levels of automation and connectivity" have the potential to "dramatically change the course of economic development and the distribution of wealth."
According to UBS Chairman Axel Weber: "Inequality increases not just between developed and developing and emerging countries. It's also within our society. It will have an impact not only between the rich and the poor but also the young and the old."
Nadella, speaking on stage Wednesday, said the revolution would bring "an economic surplus" but "the question is how evenly will it be spread between countries, between people in different economic strata and also different parts of the economy."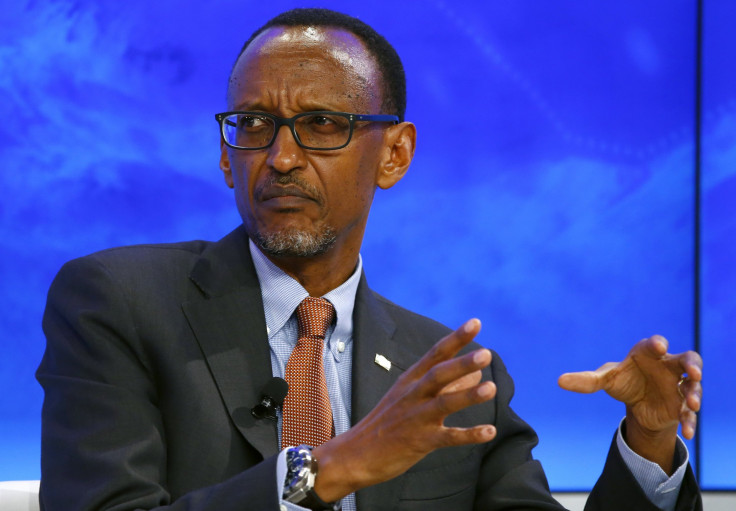 One of the countries which could lose out if the UBS predictions come true is Rwanda, an African country that is only just beginning to embrace technology. Rwanda's president, Paul Kagame, who has overseen this revolution since taking office in 2000, is leading a government initiative that aims to expand technology and connectivity and turn the country, which was ravaged by genocide in the mid–1990s, into a highly digitized, middle-income country by 2020.
To do this, Kagame said Rwanda needs to move from being a consumer of technology to a producer of one, but while others may predict nations like Rwanda will lose out in the Fourth Industrial Revolution, he is hopeful of a positive outcome: "I think we stand a much bigger chance of making progress than failing."
In his book on the Fourth Industrial Revolution, Schwab posits it will not only change entire societies and economies, it will also change the way humans interact. "It stands to transform the essence of human nature and our connections because of 3D printing and super smart robots — and that becomes the relationship."
Anand Mahindra, the Indian automotive billionaire, who was also speaking on Wednesday's panel, said there was some truth to this statement. He recalled seeing a group of girls sitting down for dinner and spending the first 15 minutes staring at their smartphones and not saying a word to each other, as they updated their statuses to tell the world they were enjoying a night out together.
"The essence of that human interaction is being recorded, but it never existed," Mahindra said. "It is some kind of ghost world people are talking about."
Addressing Facebook's role in this real world disconnect, Sandberg admitted that children do need to be taught how to use technology, but that social media can also serve to promote empathy where it simply would not exist in the real world, using the example of the image of three-year-old Syrian refugee Aylan Kurdi whose body washed up on a beach in Turkey last September.
"It would be nice if we could all have all those human connections in person, but most people will not be able to connect with a Syrian refugee in person and so the ability to do that with video and pictures is what is going to create that empathy."
FOR FREE to continue reading
✔️ Unlock the full content of International Business Times UK for free
offer available for a limited time only
✔️ Easily manage your Newsletters subscriptions and save your favourite articles
✔️ No payment method required
Already have an account?
Log in
© Copyright IBTimes 2023. All rights reserved.