As Robots Steal Millennials' Jobs, Young Workers Focus On Skills, Not Careers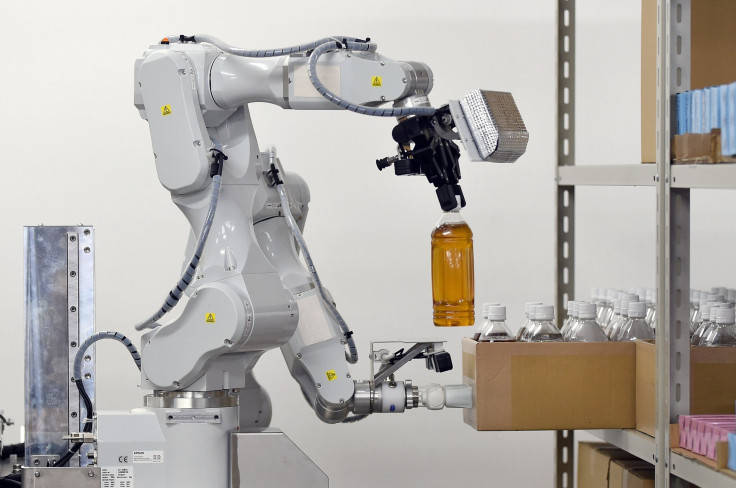 R2-D2, Baymax and WALL-E may have you thinking all robots are cute and harmless, but you probably won't feel that way when they put you out of work. The more technology develops, the more human labor is rendered unnecessary — and millennials could be the first generation to duel the droids for jobs.
Ahead of the World Economic Forum in Davos, Switzerland, this week, an Infosys study found that 40 percent of young people globally said they thought a computer program, robot or artificial intelligence system could do their job within a decade. But millennial career experts in the United States said the generation of 18- to 35-year-olds doesn't appear to be panicking yet about their would-be robot overlords. Coming off the Great Recession into a world where they'll likely have a dozen jobs before retirement, millennials are adapting by collecting tech-related skills they can use in a variety of positions and keeping their job options open in an uncertain future.
"Just being young, in general, there's a little more flexibility," said Aaron McDaniel, a San Francisco-based corporate consultant and author of "The Young Professional's Guide to the Working World." "Millennials are younger, more familiar with technology, still on their search of finding what their dream job is — I think they're much more willing to roll with the punches of some of their jobs becoming automated."
This year's World Economic Forum, a meeting of politicians, business leaders, journalists and celebrities to discuss international economic and societal issues, kicked off Wednesday. Its theme centers around how best to handle a fourth industrial revolution, which by 2020 promises "advanced robotics and autonomous transport, artificial intelligence and machine learning, advanced materials, biotechnology and genomics," according to a report released Monday. These trends and other technological leaps are expected to lead to a global loss of 5.1 million jobs, primarily in white-collar sectors, as bosses find machines faster and more efficient than people in a variety of fields.
This revelation could hit millennials, who will make up half of the workforce by 2020, particularly hard. A third of young respondents to the Infosys survey identified "AI and machine learning" as one of the top three drivers of change they thought would impact their future working life, and a quarter said "advanced robotics and autonomous transport."
McDaniel said he hasn't encountered anyone specifically daunted by droids, but he noted that millennials wouldn't be the first group of people to struggle with modernization. His dad, for example, was a draftsman who never embraced computer-aided design and later left the field because of it. Other jobs made obsolete by innovation including elevator and switchboard operators.
To avoid this, millennials have begun flocking toward training programs to boost their employment prospects. Coding bootcamps, which last year turned out about 16,000 graduates, are one example. They help young people gain expertise that can transfer across industries, said Jill Jacinto, an associate director and millennial expert with the career advice website WORKS.
"It's about knowing that you have adaptable skills with whatever your career is," Jacinto said from New York City. "Even though you have this job right now, it doesn't mean it's going to look the same 10 years from now."
Neil Burton uses a similar mantra at Clemson University in South Carolina, where he's the executive director of the center for career and professional development. Burton said no students have raised questions about a technological takeover, but he does remind freshmen that some of the hottest jobs when they graduate probably haven't even been invented yet.
As for robots, Burton said, they feel "far enough away that it's not something to be too concerned with just yet."
Some industries could be more at immediate risk than others, and it's unclear whether students are preparing in school. The most popular majors in 2014 included history, English, accounting, education, biology, business and nursing — most of which have been on top for years, according to USA Today. Accountants, retail salespeople and machinists made the list of the jobs most likely to be stolen by robots.
Gray Scott, a futurist in New York City, said students of all ages need to understand how quickly technology is progressing. Everything will be automated soon, starting with the fast food and customer service industries, he said. "There is no reason and no way that a human mind can keep up with an artificial intelligence machine by 2035," Scott said.
Looking ahead, he suggested millennials and their younger counterparts start learning how to code, build and maintain the robot workforce. Scott said every high school in the country should have a humanoid robot for its students to learn and experiment with. Keeping up with C-3PO could become a career within itself.
"We're going to become caretakers for the robots," Scott said. "That's what the next generation of work is going to be."
FOR FREE to continue reading
✔️ Unlock the full content of International Business Times UK for free
offer available for a limited time only
✔️ Easily manage your Newsletters subscriptions and save your favourite articles
✔️ No payment method required
Already have an account?
Log in
© Copyright IBTimes 2023. All rights reserved.