'Days Of Our Lives' Spoilers: Abigail Makes A Shocking Decision About Her Vow Renewal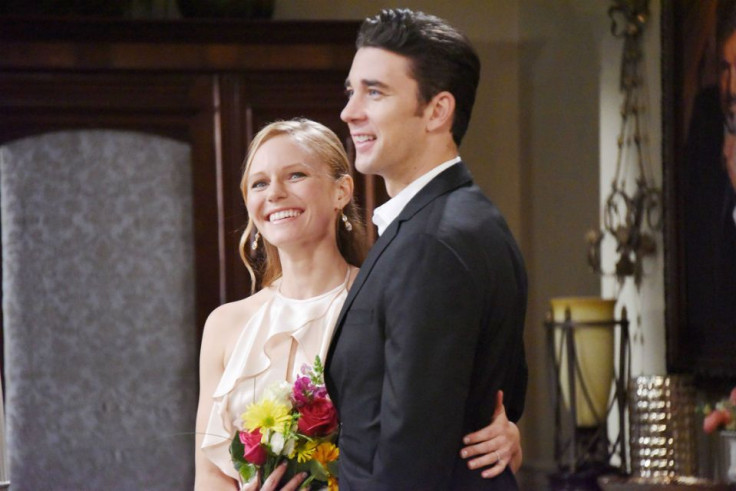 She was all set to renew her vows to the man she loves and reconfirm her commitment to their marriage, but Abigail will make a shocking decision that puts an end to her ceremony with Chad on the Friday, April 14 episode of "Days of Our Lives."
While preparing for their vow renewal on the NBC soap, Abigail (Marci Miller) was looking for photos of Chad (Billy Flynn) from high school to use in the surprise slideshow. While going through the photographs, she found one from Chad's baseball days, which has a note from Gabi (Camila Banus) on the back that discusses their secret signal they had for the sport, which involved Chad tugging on his ear.
Abigail then flashed back to the night Deimos (Vincent Irizarry) tried killing both her and Gabi by poisoning them, and forcing Chad to choose who he would save. Chad did save both women, but went to Abigail with the antidote first. Before he went to her though, Abigail remembered he looked at Gabi and tugged his ear—meaning he would toss the remaining antidote to her after he helped Abigail. Now, Abigail has realized that Chad didn't choose her first out of his love for her, but because he knew Gabi would be able to catch the remaining antidote and administer it to herself.
Read: Nicole Considers A Desperate Move Against Scooter On "Days of Our Lives"
Now, with that knowledge in mind, Abigail will be more insecure than ever when it comes to her marriage to Chad, and she will wonder if the vow renewal is a good idea any longer. However, the ceremony will still begin, but her doubts will play through her mind. Finally, when it becomes too much, she will stop the nuptials and tell Chad that she realizes he still loves Gabi too—and because of that, she can no longer marry him.
"Days of Our Lives" airs weekdays on NBC.
© Copyright IBTimes 2023. All rights reserved.