'Days Of Our Lives' Spoilers: Ed Attempts To Make Things Right With Kate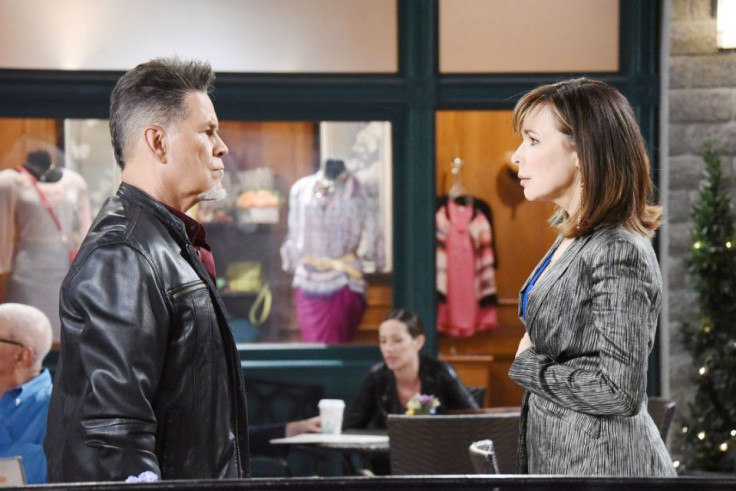 They've been making one another jealous with possible other love interests and fighting their feelings, but Ed and Kate will finally decide to try and work things out on the Friday, April 7 episode of "Days of Our Lives."
Previously on the NBC soap, Kate's (Lauren Koslow) connection to DiMera enterprises and Ed's (A. Martinez) being a part of the Hernandez family forced them apart when the two families, as well as the Kiriakis clan, all went to war. Since then, Kate has been wounded by seeing Ed share kisses with Chloe (Nadia Bjorlin), but the two have since decided to talk things through and see if they can salvage what they once had together.
Ed has told Kate that she is the woman he wants, and she has finally agreed to hear him out as he promises the only thing he wants to do is romance her. The pair have plans to meet at the club in order to talk about their connection, but unfortunately for them both, they may never make it to their meetup.
Read: Tripp Learns More About Ava On "Days Of Our Lives"
Ed is one of the priorities when it comes to Deimos (Vincent Irizarry) getting back at all of his enemies, after the Hernandez patriarch threatened him when he tried to kill Gabi (Camila Banus). Now, Deimos is working on a plan to eliminate all of his enemies as quickly as possible, and has started putting a plan into motion to get them all. If Ed winds up in the wrong place at the wrong time, he could become a victim to one of Deimos' hired thugs. Before she finds out what really detained him, Kate will be angered by his decision to stand her up. But when she learns that he was detained—possibly permanently—because of Deimos, she will become both devastated that she's lost another man, and also more passionate than ever when it comes to joining the fight to take down Deimos.
"Days of Our Lives" airs weekdays on NBC.
© Copyright IBTimes 2023. All rights reserved.