'Days Of Our Lives' Spoilers: The Fallout Continues From Deimos' Murder
Everyone who attended the Marton house party is now a suspect when it comes to Deimos' shocking murder, and the fallout from the discovery of his dead body is only set to continue on the Friday, June 30 episode of "Days of Our Lives."
Deimos (Vincent Irizarry) drugged all of the drinks at the party in an effort to get the cursed amulet from Sonny (Freddie Smith) on the NBC Soap. He had hoped and intended to get it so he could quickly sell it off, using the money to sustain production of his drug Halo before he fled town for good. However, before the night was over, he was dead, after someone in attendance stabbed him in the heart with a knife. Unfortunately for the police, literally everyone in attendance at the party had an axe to grind with him, meaning any of them could have committed the crime. Since they were all drugged though, none of them remembers what happened, and no one can say who actually committed the murder.
Read: 4 Moments You Missed Last Week On "Days Of Our Lives," "Young And The Restless," And "Bold And The Beautiful"
Some people have had random flashbacks to the night before since then, remembering small bits and pieces of how things went down, though no one can recollect what exactly happened that led to Deimos' murder. However, Lani (Sal Stowers) recalled when she, JJ (Casey Moss) and Eli (Lamon Archey) went after Deimos to confront him after Gabi (Camila Banus) saw him in the women's bathroom, and she said she remembered seeing JJ attack him. Because some blood was then discovered on JJ's sleeve, he has quickly become a prime suspect in the murder.
Now, Lani is feeling somewhat guilty about implicating her boyfriend in the crime, especially since they had run into a problem during the party, while under the effects of the drug. Halo 2.0 had led JJ and Gabi back to one another and Lani saw them dancing, and later kissing, and her jealousy caused her to then turn around and make out with Eli. Now, her guilt over what happened with him, as well as her implying that her boyfriend committed murder, will have her feeling awful about how things are turning out.
However, other fallout will also occur from the incident. The drug in everyone's systems was potent, wiping nearly everyone's memories of what they did the night of the party, and while they were under the influence, causing them to all act in strange ways.
Among those people were Rafe (Galen Gering) and Hope (Kristian Alfonso), who had left the party and gone to Horton Square, where Rafe proposed to Hope. After she turned him down, the two headed back to the house, but woke up in the garden the next morning. Since then, Hope has been questioned as a prime suspect in the murder as well, because she knows Deimos was the one responsible for Bo's death, and she previously went rogue by murdering Stefano for it when she believed he had orchestrated the kidnapping that kept her husband away for so long.
Read: Nicole Begins Her Community Service With Eric On "Days Of Our Lives"
After the questioning though, Hope passed out, and is now hospitalized, with the effects of the drug possibly too much for her system to handle. Her health could now be on the line because of it.
"Days of Our Lives" airs weekdays on NBC.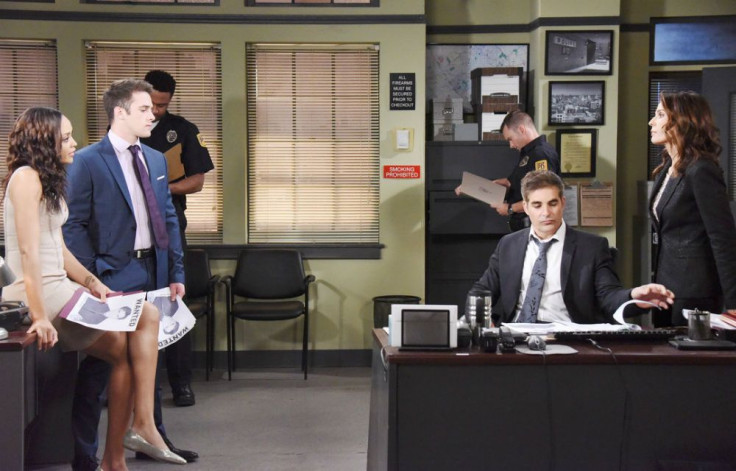 © Copyright IBTimes 2023. All rights reserved.