'Days Of Our Lives' Spoilers: How Will Brady React To Kristen's Shocking Reveal?
She was planning a huge scheme involving stealing another woman's baby in order to get him back in her life, only to learn she was actually pregnant with his child already. However, Kristen's dreams for a future with Brady could be dashed as she reveals the news on the Tuesday, Oct. 1 episode of "Days of Our Lives."
Kristen (Stacy Haiduk) was initially furious when Rolf (William Utay) told her he couldn't take Sarah's (Linsey Godfrey) embryo and implant it in her, but when he revealed the reason was because she was already pregnant thanks to the fertility treatments she went through in Nashville, she immediately became ecstatic. She knows the baby is genuinely Brady's (Eric Martsolf) because of when they slept together during her time masquerading as Nicole (Arianne Zucker), and she can't wait to share the news with him that they are going to be parents.
"Kristen informs Brady she's pregnant with his child," spoilers for the NBC soap reveal.
However, her hopes that Brady, who has been conflicted by feelings he still has for her despite knowing that all the evil things she's done makes her someone dangerous to be with, will be ecstatic, will likely be dashed. According to a preview clip for the week's episodes (see above), he is less than thrilled.
"I don't want to have a baby with you!" he says in the clip.
Naturally, Kristen will be pissed off that he isn't as excited as she is—and she could find herself trying to do whatever she can to convince him that they have been blessed with a miracle that proves they should be together after all.
Meanwhile, following Sarah's decision not to go through with her abortion, Nicole may become suspicious that she's hiding something from Eric (Greg Vaughan), and could figure out a way to get the information from Xander (Paul Tefler).
"Xander gives Nicole what she wants," spoilers state.
"Days of Our Lives" airs weekdays on NBC.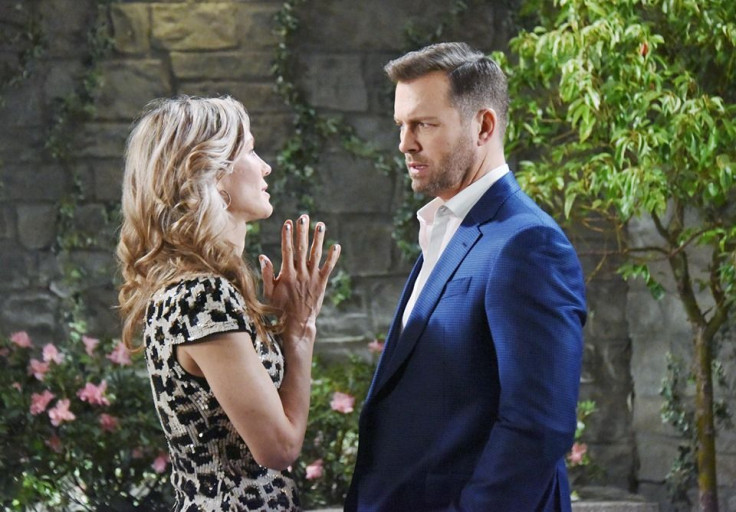 © Copyright IBTimes 2023. All rights reserved.