'Days Of Our Lives' Spoilers: Will Lani Be Able To Save Her Wedding Day?
She was shocked when Gabi revealed that she had control of the pacemaker that would keep Julie alive and that she planned to use it to get revenge. Now, with her wedding day to Eli officially here, Lani will do everything she can to try and save herself and her happy ending on the Friday, Nov. 1 episode of "Days of Our Lives."
After forcing Lani (Sal Stowers) to beg for Stefan's (Brandon Barash) heart in order to save Julie (Susan Seaforth Hayes), Gabi (Camilla Banus) decided it wasn't enough to make her feel better as she grieves her husband's death on the NBC soap. As a result, after learning that Julie needed a pacemaker and realizing that DiMera owned the company that manufactured it, Gabi had a perfect revenge scenario. After proving to Lani she could control the pacemaker from her phone, she told the other woman that if she didn't dump Eli at the altar, then she would blow Julie's heart up.
Now, Lani has been frantic to try and find some way to thwart Gabi's plan, but with her wedding day officially arriving, she may be forced to resort to begging once again as she tries to find a way to let them both be happy.
"Lani suggests a compromise to Gabi," spoilers reveal.
Of course, Gabi isn't going to be in a compromising mood, because all she wants is revenge for Stefan not only being shot (Lani pulled the trigger), but also not being given a chance to ever make it back to her because of the heart donation. Since she blames Lani for everything, she isn't going to let her walk away with the man she loves, since the best way she feels she can get revenge is making Lani feel the same pain she does.
Of course, it won't all be bad for Lani on her wedding day, since the happy event will bring some other special people back to Salem to honor and celebrate her.
"Tamara Price (Marilyn McCoo) returns to Salem for daughter's wedding," spoilers state.
Still, if she can't successfully get Gabi to back down, even seeing her mother again won't be able to give Lani the happy and beautiful day she wanted.
"Days of Our Lives" airs weekdays on NBC.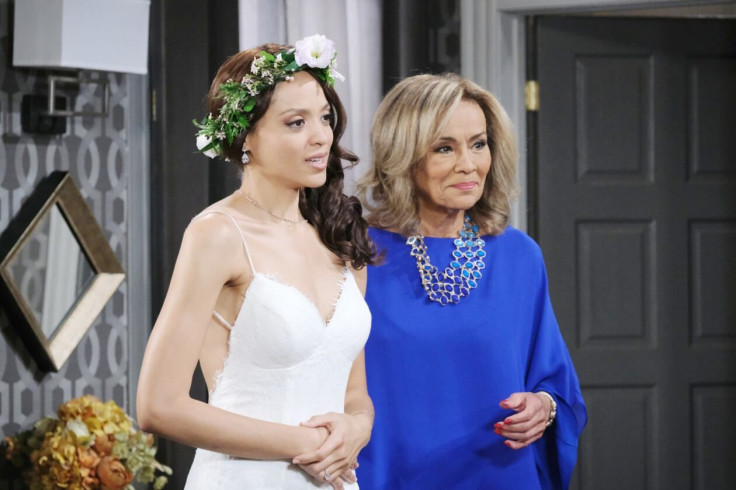 © Copyright IBTimes 2023. All rights reserved.