Debate Live Updates 2016: Hillary Clinton, Donald Trump Best Quotes, Memes, Twitter Reaction And Analysis As It Happens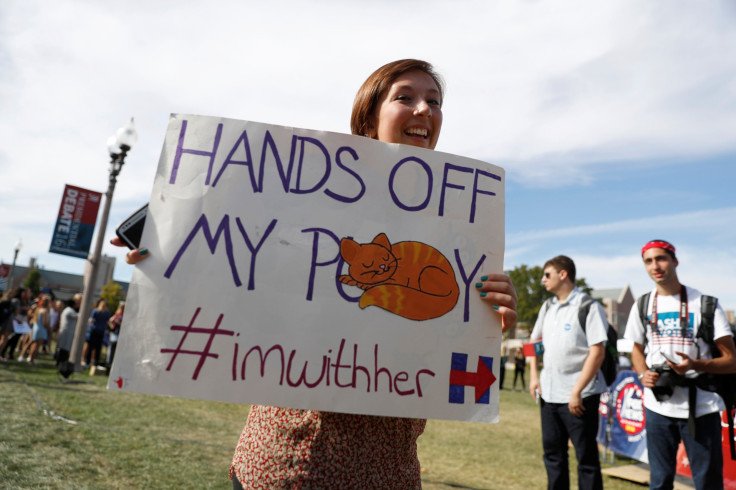 UPDATE: 10:38 p.m. EDT -- The candidates were asked to say one nice thing about each other. Hillary Clinton said Donald Trump has a good relationship with his children, while Trump said Clinton was a fighter who never gives up. And with that, the second debate was over.
UPDATE: 10:30 p.m. EDT -- Hillary Clinton apologized for calling some of Donald Trump's supporters "deplorables" during her campaign. "My argument is not with his supporters, it's with him, about the hateful and divisive campaign he has run.. what he has said about African Americans, Latinos... he's never apologized for," she said.
Trump said the nation is divided and needs a president who will bring people together..
"Believe me, she has tremendous hate in her heart. When she said deplorables... she's got tremendous hatred. And this country cannot take another four years of Barack Obama, and that's what you're getting for her," he said.
Trump defended his occasional Twitter rants. "Twitter happens to be a modern-day form of communication. You can like it or not like it. I'm not unproud of it," he said.
UPDATE: 10:15 p.m. EDT -- Donald Trump said he disagrees with his vice presidential nominee Mike Pence on how to respond to Russian airstrikes in Syra. Pence said if Russia continues killing innocent Syrians, the U.S. should use military force to stop the campaign.
"He and I haven't spoken and I disagree," Trump said.
UPDATE: 10:02 p.m. EDT -- Donald Trump said Sunday he pays his federal taxes, but he also seemed to admit that his declaration of almost $1 billion in personal losses in 1995 allowed him to not pay federal income taxes for years. The New York Times broke the story about Trump's taxes this month after he refused to release his tax returns, unlike every modern presidential candidate.
"Of course I do," Trump said about working to lower his taxes. "I understand the tax code better than anybody that's ever run for president."
UPDATE: 9:49 p.m. EDT -- Donald Trump said the son of a Muslim military family he attacked over the summer for denouncing his proposed ban on Muslim immigrants is, "an American hero.. and if I were president at that time he would be alive today." Trump denounced Clinton for backing the Iraq War that killed army captain Humayun Khan.
"The Muslim ban is something that in some form has morphed into extreme vetting," he said of his proposal against Muslims. "It's called extreme vetting."
He added of Clinton's support for immigration reform: "She has bad judgment."
UPDATE: 9:38 p.m. EDT -- Moderator Anderson Cooper and Donald Trump tangled Sunday night over his plans for health care reform. Trump said he will cover preexisting conditions without requiring people to have health insurance, but Cooper said insurance companies won't go for it.
"You're going to have plans that are so good, because we're going to have so much competition," Trump said.
UPDATE: 9:30 p.m. EDT -- Donald Trump said during the debate Sunday that if he wins the 2016 election, he will get a special prosecutor to investigate Hillary Clinton's private email server. Trump also accused Clinton of not winning the Democratic primary race against Bernie Sanders "fair and square."
He then let Clinton go first when a member of the town hall asked a question. "I'm a gentleman," he said.
UPDATE: 9:22 p.m. EDT -- Donald Trump said Bill Clinton has abused women and Hillary Clinton has attacked the alleged victims. Hillary Clinton did not address the claims against her husband, instead noting that Trump never says sorry to the people he insults, including President Barack Obama, who he for many years said was not born in the United States.
UPDATE: 9:15 p.m. EDT -- Republican Donald Trump said "I hate it" when asked about a 2005 video that showed him joking about grabbing women. He said he will go after the Islamic State group and focus on larger issues facing the nation.
"You bragged that you sexually assaulted women," said moderator Anderson Cooper.
Trump denied that his remarks carried that meaning. "Certainly I'm not proud of it, but this is locker room talk," Trump said, adding, "You hear these things. They are said."
Trump denied that he had ever grabbed a woman "by the pussy," as he said in the 2005 video.
Hillary Clinton responded by saying the video does represents Trump's views on women.
"This is who Donald Trump is," she said, linking the video to his remarks against Muslims, veterans, Latinos and overweight women during his campaign.
"We will respect one another," she said to voters.
Trump concluded: "It's just words, folks."
UPDATE: 9:07 p.m. EDT -- Hillary Clinton and Donald Trump declined to shake hands at the start of the second presidential debate. They did shake hands during the first debate in September.
UPDATE: 9:04 p.m. EDT -- Anderson Cooper and Martha Raddatz will moderate the 90-minute presidential town hall Sunday night at Washington University in St. Louis. Shortly before the debate, GOP nominee Trump held a Facebook Live event with four women who have accused former President Bill Clinton of sexual misconduct. They are expected to attend the debate.
UPDATE: 8:50 p.m. EDT -- Donald Trump held a press conference with Paula Jones Sunday night where she and others went after Bill Clinton for allegedly raping a handful of women during his service as Arkansas governor and president. But in 1998, Trump called Jones a loser. Here's the clip of the interview on "Hardball with Chris Matthews" that aired on Aug. 27, 1998:
Jones accused Bill Clinton in 1994 of sexual harassment. He settled Jones' sexual harassment case against him by paying her $850,000 in 1999. The settlement was officially characterized as not being an admission of guilt, the Associated Press reported at the time.
"I am a big Trump supporter, I think he would be our next best president since Ronald Reagan... I would have liked to have sat up there with all of the women and maybe make Hillary nervous," Jones recently told the "Inside Edition" news magazine TV show. "She can't be trusted," Jones said of Hillary Clinton. "She is for herself."
UPDATE: 8:43 p.m. EDT -- Officials with Hillary Clinton's presidential campaign said they are aware Donald Trump held a surprise press conference Sunday night with women who have accused Bill Clinton of raping them. The campaign called it a "stunt" and said they would focus on real issues during the debate Sunday night between the candidates.
UPDATE: 8:28 p.m. EDT -- Donald Trump's campaign manager Kellyanne Conway urged Hillary Clinton to support the women who claim Bill Clinton raped them by mentioning them Sunday night during the second presidential debate. Conway's tweet came shortly after Trump released a press conference on Facebook Live Sunday with four women who accused Bill Clinton of sexual harassment.
UPDATE: 8:05 p.m. EDT -- Republican presidential nominee Donald Trump held a press conference on Facebook Live Sunday night before the second presidential debate alongside four women who have accused Bill Clinton of sexual harassment. One of the women, Juanita Broaddrick, claimed that former president Clinton raped her, and that those actions speak louder than Trump's words.
Apparently alluding to a video that surfaced in which Trump talked about touching women's genitalia, a reporter asked the GOP nominee about touching women without consent.
"Why don't you go ask Bill Clinton that?" said Paula Jones, one of the four women sitting alongside Trump.
UPDATE: 7:45 p.m. EDT -- President Barack Obama said Republican nominee Donald Trump's remarks about women cannot be repeated in front of children. He called Trump "insecure" and unfit for the White House.
"One of the most disturbing things about this election is just the unbelievable rhetoric coming at the top of the Republican ticket. I don't need to repeat it. There are children in the room," Obama said at a campaign event in Chicago Sunday. "But demeaning women, degrading women, but also minorities, immigrants, people of other faiths, mocking the disabled, insulting our troops, insulting our veterans, That tells you a couple things. It tells you he is insecure enough that he pumps himself up by putting other people down."
He added: "Not a character trait that I would advise for somebody in the Oval Office."
UPDATE: 7:30 p.m. EDT -- Voters aren't rushing to embrace Hillary Clinton after a leaked video Friday showed Donald Trump making disparaging remarks about women. Before the Sunday night debate, a POLITICO/Morning Consult poll taken after Trump's remarks were made public showed Clinton ahead at 42 percent, a 1-point gain. Trump, however, was sinking. He was at 36 percent, far below his 38 percent to 43 percent support in recent polls.
Original story:
With Donald Trump threatening to bring up Bill Clinton's many alleged extramarital affairs as he fought off accusations that he casually made jokes about sexually assaulting women, the second presidential debate Sunday night became perhaps the most must-watch television event of the 2016 campaign.
Hillary Clinton had already pulled ahead in the polls after she was declared the winner of the first presidential debate in September, but an explosive video released Friday knocked down Trump even further ahead of the second debate, an event many pundits said he needed to win to stay viable in the race. The 2005 video published by the Washington Post showed Trump advising Billy Bush to "grab them by the pussy" to nab women's attention. The remarks were taped during Trump's visit to the NBC entertainment show "Access Hollywood." A growing number of Republican leaders, including Arizona Sen. John McCain, said over the weekend they would no longer support Trump and urged him to drop out of the race.
With just one month to go before Election Day, Trump said in a series of tweets Sunday he would not drop out and threatened to refocus the campaign debate on the alleged sexual misconduct carried out by Bill Clinton, husband to Democratic nominee Hillary Clinton, while he served as president and before that governor of Arkansas.
"So many self-righteous hypocrites. Watch their poll numbers - and elections - go down!" read one Trump tweet Sunday.
"Tremendous support (except for some Republican "leadership"). Thank you," another read.
Trump and Hillary Clinton were slated to face off at a town-hall-style debate in St. Louis. CNN reported the first questions would focus on the video.
Clinton communications director Jennifer Palmieri told reporters on Clinton's campaign plane: "We understand that this is uncharted territory ... to face an opponent that is in the grips of a downward spiral in terms of his own party belatedly walking away from him."
Trump over the weekend said, "Bill Clinton has actually abused women" and Hillary Clinton "bullied, attacked, shamed and intimidated" her husband's "victims."
A public opinion poll by POLITICO/Morning Consult found 39 percent of voters said Trump should drop out, and 45 percent said he should stay.
© Copyright IBTimes 2023. All rights reserved.