Demi Lovato Hit With Copyright Infringement Suit; 5 Other Musicians Who Got Sued For Their Songs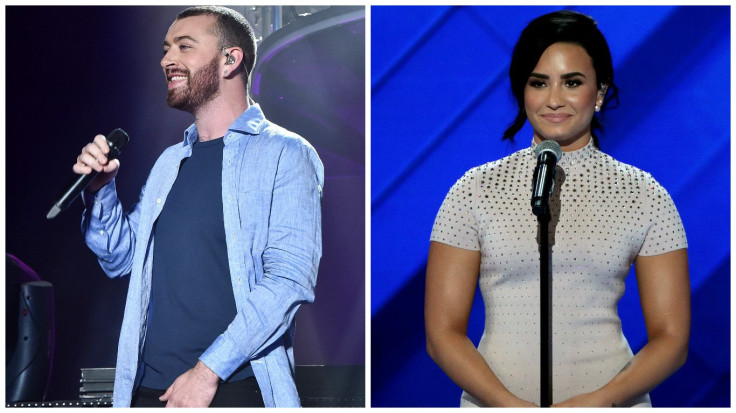 Demi Lovato is facing a copyright infringement lawsuit for her song "Stars."
Derek Miller and Alexis Krauss, collectively known as Sleigh Bells, have filed a case against Lovato for allegedly taking parts of their 2010 song "Infinity Guitars" and incorporating them into "Stars," according to Entertainment Weekly.
The duo first called out the "Cool for the Summer" singer for the alleged copying in November on social media. Lovato's camp denied the allegation at that time.
A clause in the lawsuit states: "A comparison of the two songs reveals that, at the very least, the combination of the hand claps and bass drum, structured as 3 quarter beats and a rest, with the bass drum providing a counter-rhythm to the hand claps, is at least substantially similar in both works."
Lovato isn't the first artist to get sued for allegedly lifting a part of another artist's song. Here are some of the most famous cases of alleged copyright infringement in the world of music.
Coldplay for "Viva La Vida"
The British band was hit by a lawsuit from guitarist Joe Satriani, according to MTV. Satriani alleged that the band ripped off a portion of his song "If I Could Fly." The case was settled out of court.
Beyonce and Jay Z for "Drunk in Love"
The power couple was called out by Hungarian singer Monika Juhasz Miczura, also known as Mitsou, for sampling her voice in the 2014 hit "Drunk in Love," according to the New York Post's Page Six.
"Mitsou's voice was sampled and digitally manipulated without her permission," the lawsuit reads. "All together, Mitsou's vocals are featured for over 1.5 minutes of the 5.5-minute song."
Mitsou lost the case.
Pharrell Williams and Robin Thicke for "Blurred Lines"
Marvin Gaye's family filed a lawsuit against Williams and Thicke for allegedly lifting parts of the soul singer's "Got to Give It Up." After over a year of trial, Williams and Thicke were ordered to pay the Gaye family $5.3 million. The family will also get a portion of the song's future royalties, according to The Hollywood Reporter.
Vanilla Ice for "Ice Ice Baby"
David Bowie's camp knew the similarity between the legendary singer's 1981 collaboration with Queen, "Under Pressure," and Vanilla Ice's 1989 hit "Ice Ice Baby" was uncanny, so they filed a lawsuit. The case was settled out of court, and Bowie and members of Queen were given writing credits for Vanilla Ice's song.
Sam Smith for "Stay With Me"
The British balladeer was caught with a lawsuit filed by Tom Petty's publishers. After settling the matter out of court, however, Petty's camp said the similarities between Smith's song and Petty's "I Won't Back Down" was "a musical accident." Still, Petty was given songwriting credits, according to The Independent.
© Copyright IBTimes 2023. All rights reserved.